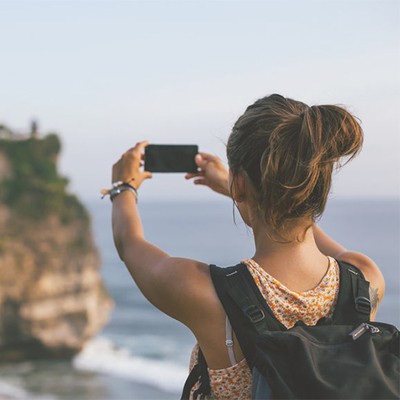 10 Tips For Solo Travel

Going it alone on holiday can be a daunting prospect, especially if you're a woman. But that hasn't seemed to stop us jetting off at a moment's notice – according to Hitwise, the audiences pushing searches for solo travel have been women (55%) between the ages of 25-34, and it's only getting more popular. From safety tips to how to take a good picture without any help, here are some handy tips for those ready for independent travel - from the women who have already done it.

1. Try A Hostel
No matter how much you love your own company, travelling alone can get lonely at times. The perfect way to meet new people and make new friends is to stay in a hostel, where you share a room and social spaces. Erica Virvo, director of global operations at Nomadic Matt says it's one of her favourite things to do. "My top tip for travelling solo as a woman is to stay in hostels. I love staying in hostels as a woman because you get to meet people — and you can meet people that you can then travel with. When you're travelling with other people, it's harder to do that."

2. Learn To Take Your Own Photos
Travel writer and blogger Sophie Nadeau, AKA Solo Sophie, has 34k followers on Instagram – so you could say she knows how to take a pretty good single holiday snap. The blogger says she's often asked how she takes such good pictures when she travels alone. "There's absolutely nothing wrong with asking someone to take a photo of you and it's a great way to force yourself out of your comfort zone," she advises. "In fact, asking strangers to take your picture is also a great way to strike up a conversation and even make new friends in the process… When I was in Italy, I ended up going for ice cream with someone I had only asked to take my photo!"
She also advises buying a selfie stick or a sturdy tripod. "[I have] a smartphone app where I can control my camera remotely from my smartphone. This has proved super useful in situations where I want to be in the frame."

3. Understand The Culture
Julia Ponds, head of editorial content and Skyscanner, recommends taking note of the culture of the country you're visiting, in order to be respectful of the way different people live. "It is so important to understand the customs of the place you're visiting. See how the locals dress and adapt," she says. "If you're going to France, dress a little more nicely, don't dress like an American in slumpy shorts and flip-flops. You'll get treated better if you're dressed like a French person. In India, wear long flowy trousers and long flowy shirt and you'll be in a much better situation than if you're in a Western tank top that just makes you stand out."

4. Keep In Contact With Family And Friends
We're sure your mum will appreciate the update no matter what, but if you're travelling alone, you must make sure you keep in contact with friends, family and relatives so they know where you are should something happen to you. Ciara Johnson, who goes by the name @hey_ciara on social media, has 24k followers on Twitter and over 32k on Instagram. She says travelling has made her a more confident person, but as a woman safety is a priority for her – including staying in contact. "Thanks to 2018 tech, I use google maps, translation apps, and drop my pin to friends/family often. I'm not above using my phone to stay safe, but I avoid pulling it out on the street or walking around with my head down bc I gotta be aware (sic)," she wrote in a Twitter thread. "Thanks to Tmobile, I have free texting & data around the world. Family & friends are literally a text or phone call away. Make sure someone, anyone...knows where you are & where you're staying."

5. Have A Backup Plan
Kiki – also known under her Insta name, The Blonde Abroad – is no stranger to travelling solo and says her biggest tip is to always have a contingency plan: "Keep the address of your hotel somewhere on your person in case you get lost, need directions, or need a taxi to bring you back."
As people travelling alone often only have themselves to rely on, it's important you store your valuables in a well-concealed place between destinations and carry some contingency cash on you for emergencies:  "I always keep an extra $50-100 somewhere safe in my luggage or on me when I'm exploring for the day," Kiki says."Your shoe or bra are great hiding places!"
6. Always Get Travel Insurance
When you're planning a big trip, it can feel very unromantic to SOMETHING all the boring bits and pieces that go along with it. But things like travel insurance will be vital – and you'll be really stuck without it. "Our mantra is 'never leave home without it'," Sarah and Terry Lee of LiveShareTravel.com told Solo Traveller. "In 2004 when my dad was taken ill while on a cruise, his insurance was crucial. Without his insurance, we as a family would have been bankrupted. His stay in the cruise ship hospital, an unscheduled stop at the Panama Canal, ambulance and three-week hospital stay in Panama, plus a medical team being sent from the UK to escort him home on two flights cost over £250,000. When you have huge emotional worries, you really don't need financial ones as well.
"For us, the basic coverage includes a minimum of £10 million for medical care, including repatriation. Our travel insurance is covered by one of our banks and we get a better deal due to holding an account with them."

7. Get A VPN For Internet Surfing
If you're going to be on the road for a while and will need to use public WIFI or do a spot of internet banking en route, Janice Waugh from SoloTravellerWorld.com recommends you protect your identity using a VPN – "a Virtual Private Network that protects your identity with end-to-end encryption of your personal data". You can install it on all your electronic devises, and just switch it on when you need it. Not only will it help when you need to make secure financial transactions by encrypting all your online data to ensure you can't be hacked, but it'll give you Google search results in English and let you go on sites like Netflix even when you're out of the country – perfect for those rainy day afternoons abroad.

8. Learn How To Say No
Sometimes when travelling to countries that have "foreigner-fascinated cultures", the attention women can get as solo travellers can get a little bit overwhelming. Rough Guides suggest you learn how to say "No, thank you" in the local language, as well as the nonverbal gesture for "no," to effectively communicate with locals. "Also have local help numbers, such as the tourist police, programmed in your phone," they add. "You'll probably never need them, but just knowing you have them can give you the confidence to deal with awkward situations."

9. Be Wary About Posting Pictures In Real Time
Ciara also advises that you think twice about sharing pictures of yourself that disclose where you are the moment you take it. Instead, save social media posting until after you've left the area – that way, no one will be able to follow you. "When it comes to posting on social media, I never post in real time," Ciara adds. "I never tag locations while I'm actually there. I usually only post photos or share where I was, once I've left. You really never know who's lurking."

10. Reserve Things In Advance
If you're embarking on your first big trip on your own, try not to overwhelm yourself by just winging it all the way – plan and reserve a few things in advance to bring down the stress levels, because you only need one thing to go wrong when travelling alone in a foreign country for it to get very daunting, very quickly. "Go easy on yourself and book your accommodation and airport transportation in advance," Kiki advises. "Depending on your accommodations, ask if the hotel will send a driver to pick you up from the airport, or has a recommended shuttle service. Keep the hotel's number and address with you, in case you need to call them when you land or let the driver know where to go."
DISCLAIMER: We endeavour to always credit the correct original source of every image we use. If you think a credit may be incorrect, please contact us at info@sheerluxe.com.