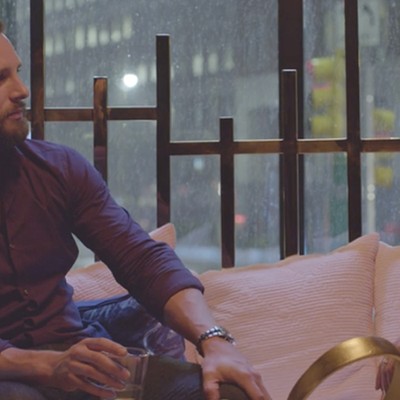 Dating Around: The Feel-Good Show New To Netflix

Netflix has yet again given the people what they want: a hybrid of First Dates and Made In Chelsea that's solely made for easy watching in mind. And is it any good? Here's what we thought, below…

We'll be honest – this is not the type of show to grip you right away – Dating Around is a slow burner. The first episode is a white guy named Luke who works in property. He's attractive and meets five different, equally attractive women. Then he decides which one to go out with again. That's it, that's the entire premise. It's people who date other people. No one gets dramatically kicked off, there's no voice over or talking heads. No host or matchmaker. The dates are just in a restaurant, so all in all it's a pretty simple formula.
 
But, it becomes really addictive. With the wealth of reality dating series around that have some kind of quirky hook – Married at First Sight sees strangers getting married, Naked Attraction puts couples together based on their rude bits, Take Me Out sees men do literally anything to win a date – this is just a simple watch. It brings old-fashioned dating back on the scene – just two people getting to know each other, finding out each other's likes and dislikes, and discussing how expensive it is to live in the city (the show is set in New York).
 
And the best bit about it is the amount of diversity there is. The white millennial from the first episode isn't a regular occurrence – instead there are singles of colour, LGBTQ people, singles in their 60s (in fact, look out for the OAP who tells his dates the same frog joke every time), all handled without a hint of mockery that is so present in other dating shows. "We didn't want (daters) to sit down and say something outrageous, like in a 2005 reality show," co-creator Chris Culvenor told USA Today. Instead, they told the cast: "This is a real first date: Think about who you are, the stories you tell, what you want to want to get across."
It's just another one to add to Netflix's canon of Nice and Happy Shows That Make You Feel Good Inside, slotting in nicely alongside the likes of Queer Eye and Tidying Up with Marie Kondo. Cutting between five different dates in one episode, all striking a different tone, from the widower who talks about his deceased wife to the women who ends the night abruptly and says to herself: "My God, I'm going to go home and masturbate."
 
It also has a stunning aesthetic in some parts. Edited like an episode of Made in Chelsea (and with a smilier soundtrack to boot) but a Master of None quality and sometimes even Only God Forgives lighting, filled with authentic dialogue that extends way beyond the vapid conversation on the likes of Celebs Go Dating. At one point, we meet an Indian woman who shuts down her ignorant white male date in a tense exchange.
 
But like Made in Chelsea, some bits do ten to veer off into the unrealistic. Some sequences are too polished to be real – namely the parts where couples tend to dance outside – and if you think about that too much the whole thing becomes a little bit surreal. However, if you can get over these bits, the actual dating footage feels natural, even awkward in some parts, enough to be real.
 
The payoff is very low stakes - it's literally just a game of who gets a second date - but that's kind of what makes it so appealing. Free of humiliating eliminations, or competition, or moments that will live in infamy on YouTube. It's just nice. Truly.
 
Dating Around is available to watch on Netflix now.
DISCLAIMER: We endeavour to always credit the correct original source of every image we use. If you think a credit may be incorrect, please contact us at info@sheerluxe.com.