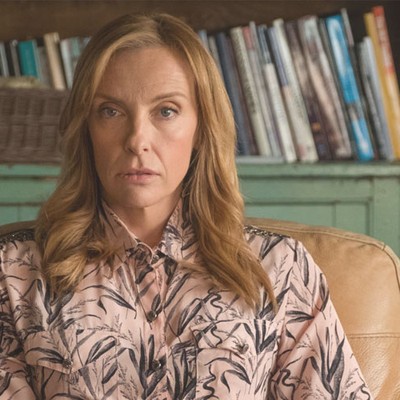 The New X-Rated BBC Drama To Watch Tonight

Set your TV reminders: new BBC series Wanderlust airs tonight, and it's already got everyone talking. Dubbed the 'steamiest drama ever', The 'X-rated' show sees actress Toni Collette take on her raunchiest role yet, including having a real orgasm on screen within the first few minutes – something never before seen on the Beebs. Intrigued? Here's what you need to know…

What's the premise?
Set in Manchester, the six-part series follows the lives of Joy and Alan Richards, a couple with three children who have been happily married for 15 years (albeit with a slightly lacklustre sex life). But after cheating death in a cycling accident, psychotherapist Joy finds herself re-evaluating her life.
Sexually frustrated – and having tried and failed to keep the spark alive – she decides to propose the idea of an open marriage, to which her husband agrees, and they both soon find themselves drawn to new people. Cue, a whole lot of sex scenes.
Along with the idea of whether monogamous marriages are an outdated concept – and if sleeping with other people really can bring a couple close together – the series also explores "relationships, love and all the things we really care about," as star Collette herself puts it.
 

Who else stars?
Alongside Collette (Little Miss Sunshine; Muriel's Wedding), the show stars Steven Mackintosh (Luther; Lock, Stock and Two Smoking Barrels) as husband Alan, Zawe Ashton (Fresh Meat) as Alan's colleague Claire and Royce Pierreson (Line of Duty, Our Girl) as one of Joy's long-term psychotherapy patients.
 

What are critics saying?
'X-rated', 'raunchy', 'steamy' and 'filthy' are all words cropping up a lot in the press, but in a largely positive way. The series has been praised for its unflinching honesty – as the Radio Times put it, it's "Very, very truthful. Sometimes painfully so."
Likening Wanderlust's accurate portrayal of sex in middle age to Fleabag (sex for millennial women) and The Inbetweeners (sex, or the lack of it, for teenage boys) the Telegraph said: "Certain television programmes are so good at capturing changes in dating mores, erotic satisfaction and performance anxiety that they act as sexual barometers for entire generations."
Ahead of the show's debut tonight, the Daily Mail also reported that the BBC is braced for complaints about the expletives (there are 14 instances of the F-word in tonight's episode alone), drug taking and racy sex scenes.
So racy, in fact, that a spokesman for campaign group Mediawatch-UK said the organisation feared Wanderlust was "nothing more than soft porn dressed up as a mid-life crisis". We predict the Ofcom lines will get pretty busy come 9pm…
 
So just how graphic are the sex scenes?
Well, firstly, there are a lot of them – expect to be greeted by two sex scenes and a solo female masturbation scene within the first six minutes. Later in the series you can look forward to more erotic encounters with numerous partners – including particularly steamy rendezvous with a policeman – hand jobs, fumbling and awkwardness (think Joy's 16-year-old son walking in on her masturbating. But they're not graphic or gratuitous; as Collette says, "Sex is a part of life and it's a very lifelike show".
Colette has also said she's proud to be starring in such a sex-filled drama, and one honour in particular: "Someone told me I was the first woman to have an orgasm on the BBC… I'm happy to take the accolade."
However, this is definitely not one to let the kids watch. The head of BBC drama, Piers Wenger, recently admitted he was "terrified" about the potential response to the amount of sex on screen, admitting: "We've never seen anything like it on BBC One."
 

Anything else to know?
Wanderlust was originally a play, which debuted in 2010 at the Royal Court Theatre and garnered excellent reviews. It even led playwright Nick Payne – who also created the script for the BBC show – to be shortlisted for the Evening Standard's 'Most Promising Playwright' award.
There are some more successful names behind the TV series too – it's product by the team behind hit BBC drama Doctor Foster and is directed by Luke Snellin; best-known for his work on Our Girl and My Mad Fat Diary.
 
Wanderlust premieres on Tuesday 4th September on BBC One at 9pm, with new episodes airing weekly
 
DISCLAIMER: We endeavour to always credit the correct original source of every image we use. If you think a credit may be incorrect, please contact us at info@sheerluxe.com.