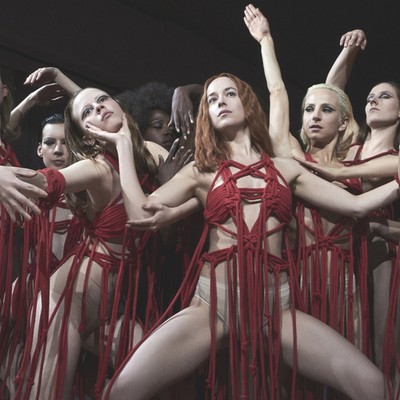 SL Film Review: Suspiria

A largely faithful remake of Dario Argento's 1977 horror masterpiece, Suspiria has been reimagined by Call Me by Your Name director Luca Guadagnino. Suspenseful and strangely feminist, a stellar cast sprinkles a touch of magic over this tale of witchcraft and womanhood…

What's the premise?
Luca Guadagnino's latest film follows on the heels of his critically acclaimed Call Me By Your
Name. Yet it couldn't be more distinct. Rather than focusing on the burgeoning relationship
of two men in sun-drenched Italy, Suspiria turns its attention to the world-renowned Helena
Markos Dance Company in rain-soaked Berlin, and the coven of witches that occupies its
ranks.
We're introduced to the bleak setting by Chloë Grace Moretz's Patricia. We find her braving
Berlin's radical RAF protests of 1977 to speak with her long-term psychotherapist Dr Jozef
Klemperer (Tilda Swinton – more on this later), who has surmised that her supernatural
suspicions about the school are delusions. She tells him of sacrificial dances designed to
resurrect school founder Markos. Distressed and disjointed, this is the last we see of Patricia,
although we hear much of her erratic behaviour – and sudden disappearance – once we're
permitted to enter the academy ourselves.
The film is largely told through the eyes of American dancer Susie Bannion (Dakota Johnson),
who arrives in Berlin to audition for the world-famous Madame Blanc (Tilda Swinton).
Brought up in a Mennonite household in sparse Ohio, the school's sexualised, frantic dance
routines couldn't be further from Susie's sheltered life at home – although we do learn that
she ran away to New York three times to watch Blanc and the company perform.
Once Susie's part of the troupe herself, she quickly vaults to the role of lead dancer. As she
tackles the school's trademark 'Volk' routine for the first time, Olga – the dancer she
replaces – breaks down and accuses the company's teachers of witchcraft. As more girls
disappear, inquisitive Dr Jozef and dancer Sara (Mia Goth) begin to uncover dark and sinister
secrets as they explore the depths of the studio's hidden underground chambers.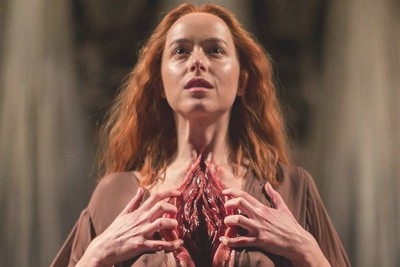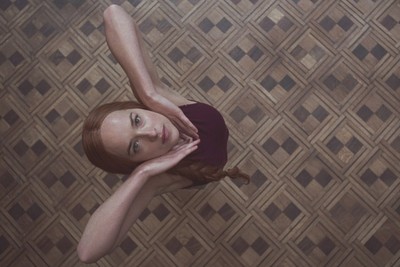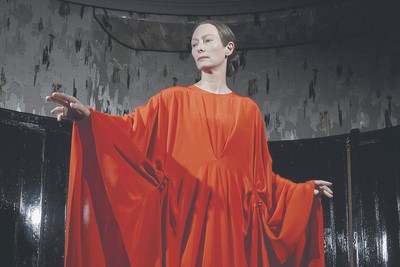 Who stars?
Reuniting his A Bigger Splash stars, Guadagnino selected Dakota Johnson and Tilda Swinton to play leads Susie and Madame Blanc. While Johnson plays the innocent, awestruck Susie with relish, like every film she's in, Swinton steals the show. As the mysterious, chain-smoking Blanc, she is in turns terrifying and magnetic. But where she really impresses is in the role of 82-year-old Dr Jozef – a fact hidden from audiences via heavy prosthetics (including a fake penis) and an elimination from the credits. Swinton even went as far as creating a fake IMDb profile for "octogenarian newcomer" Lutz Ebersdorf – it was only this month that the truth was revealed. That this went undetected throughout film festivals and press previews is credit to Swinton, who plays the largely German-speaking role with conviction. To top it off, Swinton also plays the decrepit 'mother' Markos in the final scenes, alongside herself as Blanc. She hasn't got an Oscar for nothing…
Back in the studio, much of the cast is made up of professional dancers – indeed the scenes in which the girls rehearse and perform are some of the most impressive. Yet notable performances among them come from Mia Goth (Nymphomaniac II, A Cure for Wellness) as Susie's confidante, model Alek Wek as foreboding dance instructor Miss Millius and Russian dancer and actor Elena Fokina, who twists and turns as the tortured – and later mutilated – Olga in one of the film's most disturbing scenes. Special mention must also go to Jessica Harper, who plays Dr Jozef's long-lost wife Anka. As the actor who played Susy in Argento's original Suspiria, this is a noble tribute to the cult classic.

Did SL rate it?
Described by Guadagnino as an homage rather than a remake, Suspiria is a supernatural retelling that focuses on suspense, rather than scares. Bolstered by Radiohead frontman Thom Yorke's eerily beautiful soundtrack, the tale unfolds in pacey fashion, showing us the unusual going-ons through overheard plots being developed in the staff quarters (something only ever implied in the original), violent behind-the-scenes deaths shown in tandem with the unsuspecting dancers, and stolen conversations.
Described by Guadagnino as a film that focuses on "the uncompromising force of motherhood", it comes as no surprise that men barely feature at all – a fact all the more pertinent when you consider that the only major male character is played by a woman. Right from the film's early scenes, we watch as Susie tends to her sick mother, who describes her as "a sin". By the time the credits role, Susie has taken on her own form of motherhood in an entirely different sense – all accompanied by a blood-red palette that matches the aesthetic of the original.
Argento's Suspiria was censored at the cinema as part of the British Board of Film Classification's crackdown on 'video nasties' in the late 70s and early 80s. We were braced for scares, but instead found a film that uses visceral body horror and artfully shot nightmares to tell the story – alongside a climax that's such a bloodbath it almost borders on comical. If you're after a hands-over-your-eyes fright fest, this one might not be for you. But if you're a fan of creepy, beautifully depicted tales – a la Black Swan – we predict you'll love this sinister, supernatural thriller.
Suspiria is in cinemas now.
DISCLAIMER: We endeavour to always credit the correct original source of every image we use. If you think a credit may be incorrect, please contact us at info@sheerluxe.com.