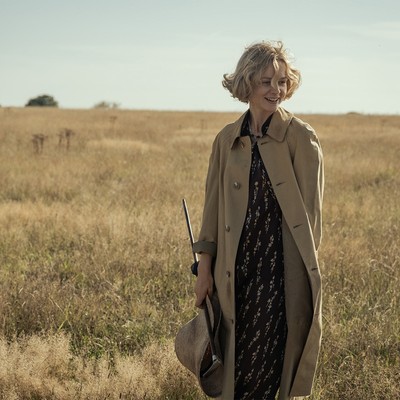 What To Watch This Weekend: The Dig

As WWII looms, a wealthy widow hires an amateur archaeologist to excavate the mysterious burial mounds on her estate. When the pair makes a historic discovery, the echoes of Britain's past mirror its uncertain future. Starring Carey Mulligan, Ralph Fiennes, Lily James and Johnny Flynn, The Dig is the ideal feel-good film to watch in lockdown. Here's why…

Like Mank and Wonder Woman 1984 before it, The Dig was supposed to get the big-screen treatment. But with cinemas still closed, the film is landing on Netflix this week, bringing a little bit of cinematic magic to living rooms across the UK.
Based on John Preston's novel, which was turn in inspired by real-life events at Sutton Hoo in Suffolk, The Dig begins in 1939, as the threat of war hangs over the country. The story focuses on Edith Pretty (Mulligan), a widow with a dormant fascination with archaeology. She and her late husband bought a vast plot of land with the intention of discovering what lies beneath the unusual mounds that came with it. With war imminent and museums reluctant to embark on new archaeological digs, Edith hires Basil Brown (Fiennes), an amateur archaeologist, to excavate the mounds, which they both believe to be Viking burial grounds. Along with the help of two inexperienced farmhands – and Edith's young son Robert (wonderful newcomer Archie Barnes) – Basil begins to dig.
The story is brought to life by director Simon Stone. It was Stone's sold-out 2017 production of ​Yerma​ at The Young Vic – which went on to receive critical acclaim and an Olivier Award for lead actress Billie Piper – that brought his work to wider attention. His background in theatre is apparent throughout The Dig, which is very much a character study. A working-class man who left school at 12, Basil is an expert in archaeology despite not having any formal training, and taught himself German, French and Latin to communicate with academics in the field. When his former employers from Ipswich Museum arrive on site, they are only too ready to undermine his efforts. Despite their contempt for his lack of qualifications, the academics try to persuade Edith to release him to help their own excavation of a Roman villa. She refuses.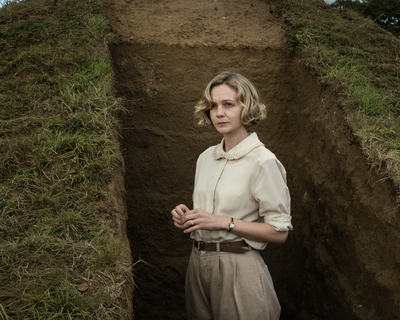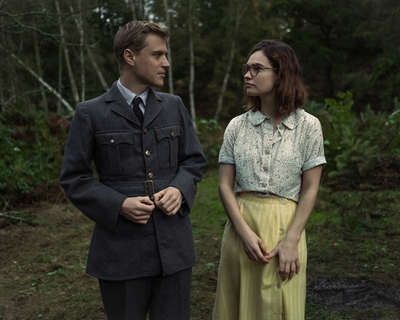 Edith is a fascinating character, at once steely and determined, yet with depths we don't see until halfway through the film. Bridging a class divide, Edith and Basil form a strong bond and she stands her ground multiple times to keep him involved in the project, even when national interest builds and specialists from the British Museum arrive on site. Charles Phillips (a marvellously pompous Ken Stott), James Brailsford (Eamon Farren) and William Grimes (Arsher Ali) are all astounded at what Basil has uncovered, yet he is sidelined once again. 
One of the archaeologists Phillips brings on board to help with the dig is Peggy Piggott (Lily James), an immensely likeable young graduate and the real-life aunt of the novel's writer. Edith's cousin Rory Lomax (Johnny Flynn) also comes to assist Basil, and the two form an attachment, despite Peggy's marriage to another of the archaeologists. Awaiting drafting to the RAF, Rory is the film's only fictional character, and is brought in to highlight the reality of war, which casts a shadow over the thrilling discoveries in Edith's garden. 
We'll be honest: if you're after something fun and frivolous, this probably isn't the film to settle in for on a Friday night. Like the digging itself, it's a slow, rewarding watch that values great acting over action. Moving and memorable, with an outstanding cast and beautiful cinematography, The Dig is just the thing to enjoy on a locked-down Sunday evening.
 
The Dig is available to watch on Netflix from 29th January
Visit Netflix.com
INSPIRATION CREDITS: NETFLIX
DISCLAIMER: We endeavour to always credit the correct original source of every image we use. If you think a credit may be incorrect, please contact us at info@sheerluxe.com.