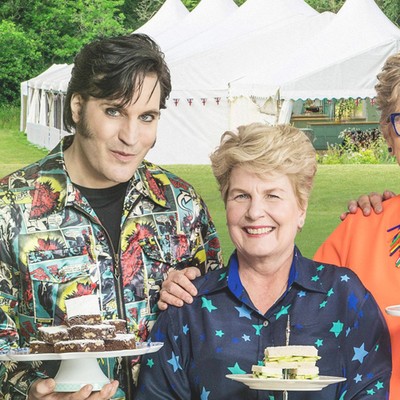 Why We All Still Love The Great British Bake Off

Time to dust off those cake tins and reclaim your apron: The Great British Bake Off is back on our screens for ten glorious weeks. And as we wave goodbye to warm weather and long summer nights, the feel-good show is just what we need…

Tonight, the nation's favourite cookery show (sorry, MasterChef) returns to our screens, as Paul Hollywood and Prue Leith get ready to put their waistlines to the test in search of Britain's best home baker. Across the country – and in the SheerLuxe office – people who never usually burden themselves with cooling racks and piping bags are getting ready to do battle over Battenbergs as they host bake-offs of their own, all in honour of the hit show.
Carefully chosen to be aired on a Tuesday night, the show is escapism in its finest form. Even the fact that the judges do all the deciding for us means that we as viewers get to do absolutely nothing for one whole hour – there's no associated app, or public vote, which has the added benefit of there being zero people in the office proclaiming "If you didn't pick up the phone, you can't moan," the morning after your favourite contestant inevitably gets eliminated.
Now nine years in, the show has almost become as British as the royals and fish and chips. So when it was announced back in 2016 that the show had been bought by Channel 4 and would be moving from its spot on the BBC – and, more crucially, that show originals Mary Berry, Sue Perkins and Mel Giedroyc wouldn't be moving over – there was genuine uproar. In fact, Paul Hollywood, already the comedy villain of the series due to his sarcastic put-downs, was faced with real criticism, with many fans taking to Twitter to call him "greedy" and a "traitor".
Yet all fears were allayed when series eight arrived on Channel 4 last autumn. Yes, there were ad breaks, but actually many found that these were handy for running to the kitchen for sweet treats when hunger inevitably struck (genuine question – has anyone ever managed to make it through an episode without craving a massive slice of cake?). But more importantly, most were thrilled that Mary Berry replacement Prue Leith (who jumped ship from the Beeb's Great British Menu to take over), and 'Mel & Sue' successors Sandi Toksvig and, somewhat oddly, The Mighty Boosh's Noel Fielding, all turned out to be excellent additions. In fact, apart from the personnel, the format hadn't changed a bit – even Mary Berry's much-copied patterned Zara jackets had been metamorphosed into Noel's wide array of loud shirts. A few episodes in, the transition seemed a distant memory.
Which leads us back to this year's contest. Tonight, we'll get to know the 13 amateur bakers who've been selected to do battle. Although 'battle' really isn't the right word. One of the show's appeals is that the competition is all very sporting – if there are any bitter rivalries between bakers, we're never afforded a look. Because unlike other reality shows such as Love Island and The X Factor, we're not shown sob stories or staged arguments. Rather, it's about encouragement, from the judges, presenters and the bakers themselves.
And, crucially, it really is all about the baking – from gravity-defying edible structures through to real cake-based disasters (we'll never forget poor Iain's baked Alaska meltdown). Sure, watching the likes of Netflix's stylishly shot Chef's Table or some of Britain's very best chefs eliminate one another with Michelin-worthy meals in Great British Menu comes with its own satisfaction. But Bake Off's strength lies in the fact that it offers something we can all emulate at home: whether you're a star baker or baked-Alaska-disaster kind of cook, the show celebrates the DIY approach – even if it's just making a cuppa and ten-minute traybake while the show's on. Let's just hope that Prue doesn't accidentally reveal the winner on Twitter this time…
​The Great British Bake Off returns at 8pm on Channel 4.
DISCLAIMER: We endeavour to always credit the correct original source of every image we use. If you think a credit may be incorrect, please contact us at info@sheerluxe.com.