The Best Black Tights: Tried & Tested

Tights season is well underway. But if you thought fashion girls were still braving bare legs in sub-zero-temperatures, not so – the likes of Giorgia Tordini and Pernille Teisbaek are officially making them cool again. The trick to making them work? Finding a decent pair – something our Features Ed knows plenty about…

As someone with a penchant for skirts on the shorter side, tights are a requisite in my wardrobe come autumn – not only as a means of fending off hypothermia, but an essential modesty-protector (some have such a tendency to ride up, I can only wear them in the colder months with 80 denier, should I happen to flash the Central line my knickers). But tracking down the perfect pair has been a life-long quest.
One of those clothing items so fraught with perils (too saggy, too snaggy, those uncomfortable digging-in waistbands) put on a pair of sub-par tights and you'll likely spend the day regretting it. Then there's the oft-overlooked power they have to make or break an outfit, especially anything fitted. Those aforementioned waistbands can look ten times worse than a VPL, creating lumps and bumps where you were certain there weren't any before.
Try on 'the one', however, and you'll feel like you just bought yourself a new pair of legs. While I can't fault M&S and Primark for affordable, everyday options, having splashed out on a few higher-end styles – from innovative new start-ups to the 'Rolls-Royce of hosiery brands' – I'm officially a fancy tights convert. As painful as it is to admit, there really is no comparison when it comes to smoothing, shaping prowess.
Based on a lot of trial and error (and even more ladders along the way), here are my current favourites…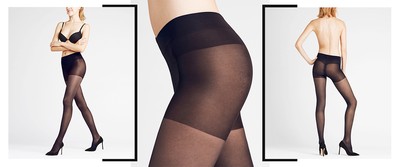 Falke
The style: Leg Energizer Invisible, 15 denier, £39 from Falke.com
The sell: Made with a compression effect that stimulates legs all day, these tights are designed to provide comfort and support for those who feel the strain of sitting or standing for long periods of time. A transparent mesh structure also provides a shaping effect, giving legs a "naturally beautiful appearance".
The verdict: Spending almost £40 on a pair of perilously-thin tights isn't an option for everyone. Just like their more purse-friendly 15 denier cousins, they are but mere fabric, and so will obviously rip if you catch them on something sharp – but (and this is a big one), they make your legs look bloody fantastic and feel amazingly light and free. Ideal for a special evening out teamed with a killer pair of heels, a la Ms Tordini, or – if budget allows – the most flattering possible way of improving your circulation at the office.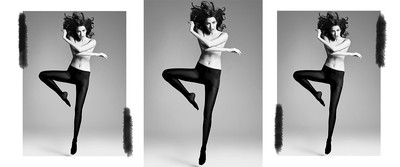 Item m6
The style: Beauty Tights, 60 denier, £56 from ItemM6.co.uk
The sell: These "miracle" tights promise to both create an instantly slimmer silhouette (thanks to the medical-grade compression technology) and smoother skin over time, too. The latter is all down to the unique high-tech yarn, made with ceramic crystal particles melted into it – these tiny crystals (too small for the eye to see) reflect the body's own heat and convert it into infrared radiation, which penetrates into deeper layers of the skin and supposedly help to break down cellulite.
The verdict: If it's compression you're after, this German brand offer gold standard (well, you wouldn't expect anything less from one of the world's leading medical compression stocking manufacturers). They're slightly harder to slip on than other styles, but once I'm wearing them it's comfort all the way – the fit is like a second skin, albeit with a few clever touches that make my legs look shapelier in all the right places. The difference in puffiness at the end of a long day is noticeable, which does reduce the appearance of cellulite, but they're no miracle cure (sadly, none such exists).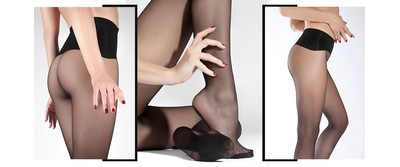 Hēdoïne
The style: The Bold, 20 denier, £28-£30 from Hedoine.com
The sell: By combining the highest quality Italian yarn with modern 3D knitting techniques, new-kid-on-the-hosiery-block Hēdoïne claim to have reduced the risk of ladders, and therefore resultant faux pas, to an absolute minimum. The soles are also reinforced to help make them last even longer. And on the flattery front, they boast a smoothing seamless waistband in two heights – 'Low' and 'High'.
The verdict: Despite the brand's big claims, these tights lived up to hype. They really did banish all those common bug bears: pressure marks, sagging and seams poking through dresses. The waistband was comfy and flattering, and the silky smooth yarn made our legs look expensive (although there were no extra shaping benefits, aside from on the waist). Now the big question: did they rip? Surprisingly, not even a snag, despite only being 20 denier and being worn all day and night. Impressive.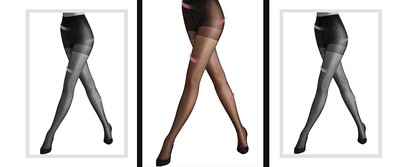 Wolford
The style: Miss W Leg Support, 30 denier, £31 from Wolford.com
The sell: Providing strong support for the legs, along with compression shaping on the stomach area, these matt, semi-sheer tights are "geared perfectly towards the anatomy" (in layman's terms, they're made with different 'pressurised' areas to both shape the body and boost blood flow). They also boast a slim reinforced heel, no elastane in the toe area and a wide knitted waistband to ensure the utmost in comfort.
The verdict: Firstly, I have to mention the thickness – 30 is the Goldilocks porridge of deniers for me. Sturdier than your 15s and 20s, yet still sheer enough to pull off that Saint Laurent feel when teamed with thigh-skimming cocktail dresses and leather minis. And when a hemline puts some serious leg on show, there's no other pair I'll turn to than these. They slim my calves, and my knees (along with all the rest: bum, tum, thighs) so impressively, I'll catch sight of myself and start wondering if I've been to the gym.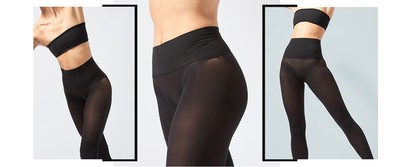 Heist
The style: The Eighty, 80 denier, £22-£24 from HeistStudios.com
The sell: Even, jet black coverage that "keeps the warm in and the winter out". Featuring Heist's signature adaptive waistband – designed so it won't roll, twist, or dig in – in one of two styles: 'Low' to sit on your hips, or 'High' to cover your stomach. They're also seamless, which the brand claim makes them invisible under clothes.
The verdict: With a thread count that puts Egyptian cotton to shame (5,000 spirals, for those who care), these tights are seriously strong and cosy. Thanks to that seamless technology, they really are undetectable – even under thin silk skirts. And incredibly comfy too; the only seam is on the foot, sewn at the base rather than meeting awkwardly at the tips of your toenails. Out of the two styles, I'm a big fan of the 'Low' waistband, which smooths my hips and lower abdomen in all the right places. If you've written off tights for being uncomfortable, this is the pair to convert you.
 
DISCLAIMER: We endeavour to always credit the correct original source of every image we use. If you think a credit may be incorrect, please contact us at info@sheerluxe.com.