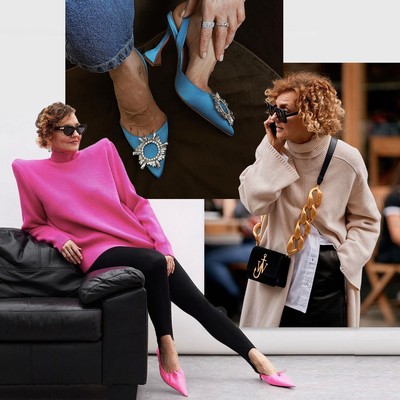 Me & My Instagram: Vens Wife Style

One of the most recognisable faces on the street style circuit, Renia Jaz (aka @VensWifeStyle on Instagram) proves it's more than possible to look cool and chic by dressing how you want, regardless of your age. From Fashion Week favourites to getting the perfect shot, she reveals the secrets behind her enviable feed…

My most liked photo is...
this look from 2019, where I'm wearing a Tibi top and Jacquemus' Le Chiquito mini bag. The size of this bag was the subject of some interesting conversations… but I love this outfit, as it's so in line with my style DNA. It's comfy, yet fun, and the whole look is elevated by one unique accessory. 
The people who help me take my Instagram photos are...
my daughter or my husband. They are my little entourage; we go everywhere together, and they always have a camera with them ready to take some pictures. However, the majority of my most-liked images are street-style images, particularly those taken by The Style Stalker.
This is my favourite Instagram outfit...
I'm wearing a Miu Miu puffer jacket and a Prada skirt and tie – the minute I saw these pieces on the runway I couldn't wait to wear them. They feel so original, which is exactly what I look for when I'm buying clothes. Better still, iit was such a comfortable look, which makes it perfect for everyday wear.
I usually edit my photos...
using VSCO. I like my photos to feel warm, so I tend to play with the contrast and temperature to achieve that look. I also adjust the exposure, as I prefer my images to be a bit darker, too.
My most saved photo
features the Jacquemus Le Chiquito bag again, but this time worn as a bracelet. You obviously can't fit a lot inside it, but the photo shows fashion doesn't always have to be practical – it's okay to have a bit of fun with it.
My standard pose is usually quite natural.
I love street-style photos and how dynamic they feel, so in many of my photos you'll find me walking. I seem to be on the phone in a lot of Fashion Week pictures, too, which makes sense, as I do spend so much time on my phone. It must be a natural pose for me.
I wasn't sure whether to post this photo...
I'm wearing a Nanushka dress, which I love, but I'm used to wearing oversized pieces, and this was very tight. Even so, I'm happy I posted it as my followers seemed to love it – it goes to show how important it is to push yourself out of your style comfort zone every now and then.
Stories are for showing the 'behind the scenes'.
They offer an insight into what I do and who I am in my free time. I also love to use them to start a conversation with my followers. Whether it's about a meal I just made or a new bag I'm excited about, I love chatting about it in my DMs. 
This is the photo that makes me happiest...
I always love seeing my friends during Fashion Week as it gives us the chance to catch up, support each other and talk about fashion. This photo was taken during London Fashion Week before the A.W.A.K.E. Mode show, and I'm wearing one my favourite outfits from the brand. 
There's no set recipe to capture a good photo.
Sometimes it takes two minutes and other times it's more like half an hour. It usually requires some patience and plenty of good lighting.
The fashion piece that features the most on my feed...
is footwear. I have a real thing for a great pair of shoes, so you'll see them a lot on my Instagram.
I regret sharing this outfit.
My legs aren't my strongest asset, so although the length of my shorts looked perfect at home, they didn't look quite right in the photo. The length just wasn't very flattering on me.
This was the most difficult image to capture.
I really wanted to shoot on the beach, but it was such a cold and windy day, so it took forever to get the shot, as my outfit and hair were all over the place. I love the end result, but it wasn't a quick job.
Confidence makes a good Instagram photo.
Whenever I'm excited about my outfit, I feel better and it shows in the images. Somehow, shooting becomes easier and I have more fun with it, which makes the end result more satisfying.
My favourite backdrop is...
this one in Paris in front of the Eiffel Tower. I just love taking photos in this city – every street and corner looks magical. This image was taken last year during Paris Fashion Week – I'm wearing Tibi and Bottega Veneta bag.
I couldn't possibly choose one favourite Instagram account, but...
some of the people I like to follow the most are Tiffany Hsu (@HandInFire), Anna Vitiello (@AnnaRVitiello), Pernille Teisbaek (@PernilleTeisbaek), Jeanette Madsen (@JeanetteMadsen), Tamu McPherson (@TamuMcpherson) and Oumayma Elboumeshouli (@OumaymaBoumeshouli). 
My favourite photo was taken by...
The Style Stalker. I was in my element – enjoying the excitement of Fashion Week while on the phone to my son. I love the look I wore that day and the JW Anderson bag is such a statement piece. It's also the most-liked photo on The Style Stalker's profile, which makes me happy.
I try to upload pictures that are true to my style.
If I don't think the outfit is right or polished to perfection, then I won't post it. All of my photos represent outfits I actually wear day to day.
This photo sums up my Instagram the most.
It shows exactly what I love: fun, playful clothes – and unique shoes.
One word to describe my Instagram would be…
surprising.
Follow Renia @VensWifeStyle
DISCLAIMER: We endeavour to always credit the correct original source of every image we use. If you think a credit may be incorrect, please contact us at info@sheerluxe.com.