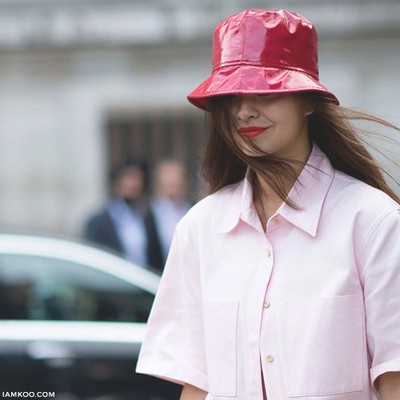 Why Are Bucket Hats Everywhere?

Fashion is in the midst of a throwback period, but has the bucket hat trend taken things too far? SL's fashion ed thinks so…

Usually when I write about an odd trend, there's a logical line of defence. Last week's cycling shorts? Flattering if you're straight up and down. Bulky, ugly dad trainers? Ideal for making legs look slimmer. But every so often a look comes along that that is pretty hard to stand up for. The bucket hat is one of those.
Like many 90s relics (shell suits, kitten heels, cargo pants) the bucket hat is having a renaissance this year. But unlike its fellow fashion throwbacks, the look has little going for it. Part Noel Gallagher at Glasto, part Kevin and Perry, it covers your eyes, flattens your hair and converts even the chicest of outfits into something that would be appropriate for a bit of afternoon gardening. Not stylish, not grown-up and certainly not luxe, it's the trend I'll be avoiding this year.
However. When I began to think about hats, I struggled to find any that could truly be defined as flattering. From wide brimmed fedoras to fancy, Ascot-ready offerings, the purpose of hats isn't really to enhance or resize any features – they're largely just a vehicle to give your outfit that je ne sais quoi. More appropriate, more polished, more on-trend – unless you're having a genuinely bad hair day, there's not really much aesthetic justification for any form of headgear at all. Think a beanie really makes you look cooler? Maybe the bucket hat is just summer's equivalent.
Some are supporting their practical value. "Chalk it up to nostalgia or maybe the fact that I'm just plain practical, but lately, I've recommitted to wearing the hat," Aemelia Madden wrote for WhoWhatWear UK. "Especially when I'm planning on spending a day in the sun (because what's better than a trend? One that's practical)." And she makes a fair point – if it keeps your head protected from the sun's rays, maybe the bucket hat does have some value. And she's not the only one convinced – in the first quarter of 2018, Prada reported tessuto bucket hats were amongst their bestselling items.
There's no denying fashion girls have fallen for the look. From Leandra Medine to Lucy Williams, those in the know are teaming the awkward accessory with everything from swimwear to summer separates to add an extra dose of fashion to their outfits – and hey, if Chanel can parade plastic versions down the runway, who am I to say they're not cool?
Personally, I'll be opting for summer's slightly more refined straw boater trend. But if you do fancy a hat that's bang up to date, the bucket could just be the one for you.
 
DISCLAIMER: We endeavour to always credit the correct original source of every image we use. If you think a credit may be incorrect, please contact us at info@sheerluxe.com.