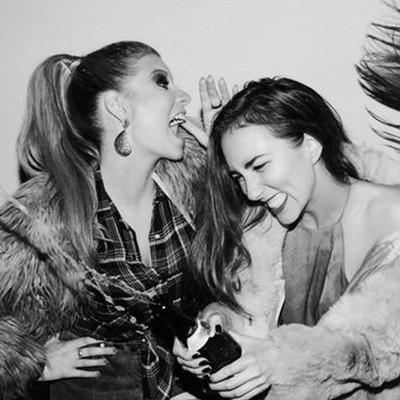 Are Hen Parties Getting Too Expensive?

We all love a wedding, from the ceremony to the planning to the highly-anticipated hen party. But no one can deny that the bride's final celebrations of singledom tend to pull on the purse strings. So, are hen parties getting a little too pricey – and do we even enjoy them all that much?

For anyone who's ever been on a hen party, it probably won't come as a surprise that the average spend on a stag or hen is a whopping £507 a pop. According to a survey conducted by personalised clothing brand Banana Moon, 28% of people found they spend more on weekend getaways for their bride-to-be friends than they do on actual holidays. With that in mind, along with the fact a third of hen do-goers were expected to use their annual leave to attend the celebrations, it's no wonder a quarter of the 1,000 people surveyed dropped their own vacation plans in order to do so.
And when it comes to parties overseas, the costs are even higher. Another recent survey of 2,000 Brits by Hotels.com estimated the average cost of a hen do is £998-per-guest. That includes around £136 for flights, £125 for accommodation, £119 for drinks, £101 for food, £78 and £64 for trains; whole those expected to don fancy dress can expect to spend an extra £67 on clothes they'll most likely never wear again.
And the rising financial figures show no sign of slowing down. Not only is it becoming increasingly commonplace for hen and stag dos to span several days, there trend for destination dos is growing, with more brides- and grooms-to-be are choosing to celebrate in sunnier climes. According to research from consumer insight site Hitwise, the last three years have seen a 233% increase in searches for 'hen do abroad'.
As Tom Bourlet, of hen planning site Hen Heaven, reveals: "The cost of a hen do has increased approximately 3% in the past 12 months, however the biggest jump was between 2014 and 2015. The cost of a hen do on average in 2014 was only £209, whereas in 2015 it increased to £290. In 2016 it was £295 and last year it was £304. This means since 2014 it has increased by 45%."
Unfortunately, this huge spike in costs can make the experience far less fun (four out of five UK adults say the cost of hen dos is a source of major worry) and even prevent some guests from attending altogether – the average group size of both stag and hens has fallen significantly in recent years.
And even if we can afford to go, is it really all worth it? It seems that, despite forking out massive amounts for the send-off of the bride's dreams, the hens themselves don't really seem to enjoy the experience all that much. In a 2016 YouGov survey 41% of people said they considered stag and hen celebrations outdated.
Telegraph writer Sally Newall said of the tradition: "Big wage packet or not, every girl I know complains about hen dos. The gripes range from having to give up precious annual leave to annoyance that their in-box is clogged up with emails from henzillas obsessing over every tiny detail. Or being forced into doing an activity they'd usually run a mile from – belly dancing, for example, has been known to reduce some less coordinated hens to tears."
So just why are people still splashing out? Let's face it, we'd do anything for our girlfriends – even if it involves shelling out a small fortune for a good send-off. And considering the average couple spends around £30,111 on their wedding, it can seem a small price to pay for a spot at your pal's special day.
In this culture of wedding one-upmanship, it's easy to lose sight of what's most important when it comes to your friend's special day. As the wedding industry continues to grow and morph into something that places status above love - making bridezillas of us all - it's important to remember that if you can't afford to splash out on your friend's hen, that doesn't make you a bad person – just like being unable to afford a big wedding, isn't a sign that your marriage is doomed.
But if you have splashed the cash for a friend's oh-so expensive hen, you better guarantee you're going to enjoy yourself to the max – read up on our top six rules for surviving a hen here.
DISCLAIMER: We endeavour to always credit the correct original source of every image we use. If you think a credit may be incorrect, please contact us at info@sheerluxe.com.