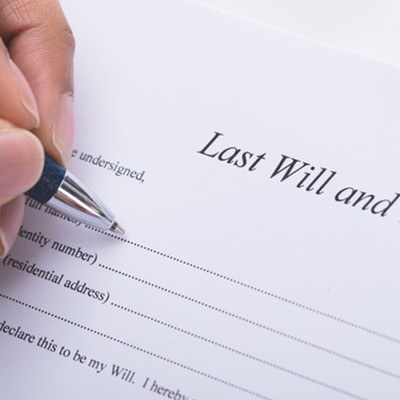 Everything You Need To Know About Writing Your Will

Creating a will may not be something you want to think about – at any age – but it's a necessary part of growing up, especially if you own a property, have children or want to pass heirlooms onto someone specific. But they're not all that easy to understand: what are you supposed to include, and what exactly is the difference between an executor and a trustee? We spoke to two experts to find out everything we need to know about the will-writing process…

You Don't Need To Be A Certain Age To Write A Will
"Some people might think they don't need to make a will because they don't have much money in the bank or don't feel old enough, but this isn't necessarily the case. You need to think about who you want to pass your belongings on to – it's important to put this information in a will so your family and friends can honour your wishes once you've passed away." – Liz Alley, Divisional Director of Financial Planning at Brewin Dolphin
"In your younger years, it might be appropriate to make a will if you share ownership of a property with a friend or partner. Later on, it might be when you marry or have children. You should consider your will whenever there are any major changes in your circumstances, such as inheritance, divorce or a change in your personal circumstances. In later life you may need to consider inheritance tax issues and family circumstances, including the marital circumstances of your children and whether grandchildren may need assistance." – Tim Adams, Partner and Head of the Private Wealth & Tax at leading Surrey law firm Barlow Robbins
 

Don't Wait Around To Write One
"If someone dies in the UK without a valid will, their property is shared out according to 'rules of intestacy', meaning your estate can only be inherited by close family (your spouse/civil partner, siblings, children, parents and aunts or uncles). So, unless you have a will, intestacy rules could force an outcome that is completely contrary to your wishes. For example: unmarried partners have no inheritance rights whatsoever under the intestacy rules. Unless you make provision for them in your will, they'll inherit nothing, even if you've lived together all your life." – Liz Alley

Always Use A Solicitor
"Although it's possible to make a 'homemade' will, there really is no substitute for seeing an experienced solicitor to ensure all relevant factors are considered, including tax. The rules for ensuring validity of a will are very strict and many are rejected by the courts due to improper execution.
"A good solicitor will listen to what you have to say and suggest the most effective means of achieving your objectives. You may well be asked questions you hadn't considered, such as what would happen in the event of an accident wiping out your entire immediate family. You can discuss in confidence your family situation and your financial position, so that your solicitor can give you the best advice. You'll have the assurance of knowing that when the time comes your family will have the least stressful job to do in sorting out your affairs." – Tim Adams

Find A Solicitor That Specialises In Will Writing
"Usually personal recommendation is best. Ask your friends. Otherwise you need to identify a firm which has a degree of expertise. One shouldn't presume that just any solicitor can produce a decent will – it's a specialised job. Don't be afraid to ring around and speak to a few firms. You might speak to a solicitor on the phone with whom you feel you can work with place your trust in." – Tim Adams
 

And If You Can't Afford A Solicitor?
"There are plenty of charities that offer solicitor will-writing schemes. These are usually completely free – you're encouraged, not obliged, to make a donation." – Liz Alley
 
Understand The Basic Keywords
Estate: Basically, everything that you own. This can be 'real estate' or land and 'personal estate', which is pretty much everything else. One also has to consider 'moveable' (assets that can be moved from one place to another with ease) and 'immoveable' (items that cannot be moved without being destroyed or altered) assets. The estate for distribution (i.e. what remains after the payment of fixed legacies, expenses and taxes have been passed out) is called the "residuary estate".
Assets: A blanket term for your belongings, including your money, pension and investments, property, cars, jewellery and pets.
Beneficiaries: The people who you choose to leave your assets to in your will.
Executors: An executor is someone named in a will, or appointed by the court, who is given the legal responsibility to take care of your financial obligations, when you are gone.
Trustees: If your will contains ongoing trusts – for example, in favour of young children – then trustees must be appointed to manage the child's ultimate entitlements. Often the executors and trustees are the same individuals. Professionally drawn wills often refer to trustees where they're acting as executors initially and may become trustees once the administration of the estate is complete. Just because you see the word 'trustee' or 'trust', it needn't imply that there are any ongoing trusts.
Guardians: Parents appoint a guardian in the unfortunate and unlikely event both parents pass away. This is the person who will have parental responsibility for your child when you're gone.
Intestacy: Where someone dies without leaving a will. The law dictates who will benefit, and usually those beneficiaries are entitled to deal with the administration as 'administrators' (like executors, but there is no will). Otherwise the process of administration is much the same.
 
Choose An Executor You Can Trust
"When it comes to your executor, choose someone you trust to organise your financial affairs. This could be a family member or a professional, such as your solicitor or accountant. You can have more than one executor." – Liz Alley

 
Tell Your Family Sooner Rather Than Later
"We want to encourage families to sit down together and talk about their wishes. The conversation doesn't have to centre on money or be upsetting; it can be nice to talk to older family members about heirlooms they want to pass on. We want to help people start these conversations so they don't leave it too late. Sometimes a health scare can prompt people to talk to their loved ones about inheritance matters. However, there are some positive events, like a birth in the family or getting married that can also make people evaluate their plans. Using these opportunities as a way of talking to relatives about how you would like to pass on your wealth." – Liz Alley
 

Review Your Will Every Few Years
"Reviewing should be done roughly every five years and when anything life-changing happens that could affect your circumstances – including the birth of any children or grandchildren and marriages or divorce. Wills are revoked when you marry, so even if you have written a will to include your spouse before your marriage, you'll need to renew it afterwards. This is also important if you have children from a previous marriage: although your new spouse would benefit from your estate through the intestacy rules, your children might not.
"You may also want to write a will or redraft your existing one if you are in the process of separating from or divorcing your partner, because if you die before your divorce is complete, your spouse or civil partner can still inherit your estate." – Liz Alley
 

Know What Happens Once You're Gone
"If a solicitor has made your will for you then they usually offer to look after it for you, often free of charge. In the event of your death your solicitor will only release the details of the will to the executors after they've produced proof of death and proof of their identity." – Tim Adams
 
For more information and advice about wills, visit BrewinDolphin.co.uk and BarlowRobbins.com
DISCLAIMER: We endeavour to always credit the correct original source of every image we use. If you think a credit may be incorrect, please contact us at info@sheerluxe.com.