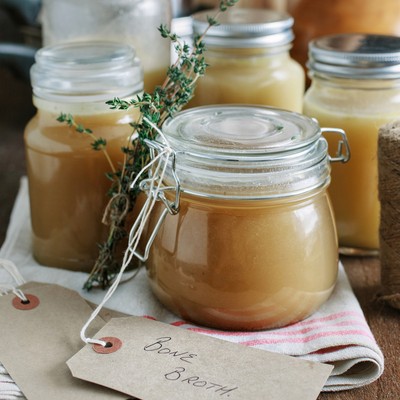 7 Tasty Ways To Use Bone Broth

If there's one food we should all be consuming right now, it's bone broth. Great for supporting the gut (and thus the immune system), bone broth can also help reduce inflammation – warding off infection – smooth skin, aid digestion, make hair shinier and ease sore muscles. Although time-consuming to make, this kind of broth freezes well and once defrosted, can help you make plenty of nutritious meals in minutes. Here's how to whip one up, and what to serve it with…

How To Make Bone Broth: Ligia Lugo, The Daring Kitchen
Get some bones. Always save the bones from anything you cook. You can also visit a local butcher, farmers market or even order some online.

Fill a large pot 80% of the way with bones and cover with cold water. The water should cover the bones by 2-3 inches.

Bring to a boil over high heat and then reduce to a simmer for an hour or two.

Periodically skim off fat and impurities.

Add chopped vegetables like carrots, tomatoes, onion and aromatics like parsley.

Continue simmering for 12-18 hours making sure that the bones are submerged.

Strain the broth using a fine-mesh strainer.

Season with salt and let the broth cool.

Transfer to storing containers and refrigerate overnight.

Skim off any fat that solidified from the top.

Store the broth for up to five days in the fridge or up to six months in the freezer.
Tips when making broth:
Skim the broth often, this removes impurities and fat and will make your broth clear and clean.

Don't skimp on the cooking time – simmer the broth for the full 12-18 hours for the best results.
 
Visit TheDaringKitchen.com
 
Inspired? Here are seven tasty recipes using bone broth…
Asian-Inspired Collagen Broodles (Bone Broth Noodles): Ossa Organic
Ingredients
200g

of dried rice noodles
250g

of mixed Asian mushrooms, like shiitake, oyster or enoki
1

tbsp

of grass-fed organic ghee
Method
Step 1
Step 2
Add the dried rice noodles, fish sauce, organic ghee and mushrooms, and simmer for ten minutes.
Step 3
Add a pinch of pink Himalayan salt, chilli flakes and spinach leaves to serve.
Kimchi, Mushroom & Noodle Broth: Daylesford
This kimchi broth is a great 'go to' dish for warming the chilliest of evenings and is packed full of bright, bold Asian flavours. Not only does it contain bone broth which is great for boosting the immune system and fighting off coughs and colds in the winter months, the addition of kimchi also makes this dish great for your gut.
Ingredients
Handful of mixed mushrooms
400ml

of chicken/vegetable stock
Method
Step 1
To start the broth, slice the onion and sweat down a little in a suitable pan with a little oil until starting to soften.
Step 2
Add the crushed garlic and grated ginger and continue to sweat down over gentle heat.
Step 3
Add the mushrooms, making sure they are cut into similar sized pieces, so they cook at a similar rate.
Step 4
Once they have started to soften add the stock and bring to a simmer.
Step 5
Add the noodles and taste for seasoning. Add a little soy if needed.
Step 6
To finish, add the shredded greens and kimchi for the final minute or two and, off the heat, add the lime juice and chopped coriander.
Step 7
Have a final test of the seasoning and serve up in deep bowls.
Pho With Healthy Hoisin: Carla Oates, The Beauty Chef
The Bondi Markets have the most exquisite pho, but this version does this restorative Vietnamese soup justice. Often, it's the commercially made condiments that have the most additives, so consider this a delicious, healthy version of hoisin.
Ingredients
6

cups of beef bone broth
1

small carrot, peeled and coarsely chopped
5cm

knob of ginger, bruised
2

strips of mandarin peel (optional)
250g

of dry rice noodles, or zucchini noodles
1

½

tbsp

of freshly squeezed lime juice
4

large handfuls of bean sprouts
2

large handfuls of Thai basil leaves
2

large handfuls of Vietnamese mint leaves
2

large handfuls of coriander sprigs
2

red birds-eye chillies, thinly sliced
For the hoisin sauce

⅓

cup of brown miso paste
1

tbsp

of apple cider vinegar
1

clove of garlic, peeled and coarsely chopped
2cm

knob of ginger, peeled and chopped
1

tsp

of five spice powder
Method
Step 1
Place the spices in a medium saucepan and toss over low heat for 3-4 minutes, until fragrant.
Step 2
Add the bone broth, carrot, spring onions, the ginger and mandarin peel, if using, and bring to the boil over high heat.
Step 3
Decrease the heat and gently simmer for 30 minutes.
Step 4
Wrap the beef fillet tightly in plastic wrap, to make a nice round shape. Freeze for 30 minutes, or until partially frozen, firm but not solid. This helps to make it easier to slice thinly, for serving.
Step 5
Meanwhile to prepare the hoisin sauce, soak the dates in the boiling water for 10 minutes.
Step 6
Combine the dates and their soaking liquid with the remaining ingredients in a high-speed blender. Blend until smooth.
Step 7
Soak the noodles in boiling water, or according to the packet instructions, until softened. Strain.
Step 8
Strain the broth, discarding the solids. Return to the pan. Add the tamari and lime juice.
Step 9
Unwrap the partially frozen beef. Using a sharp knife, slice into very thin rounds.
Step 10
To assemble, divide the noodles among four serving bowls.
Step 11
Top with slices of raw beef, bean sprouts, fresh herbs and chilli. Ladle over the hot broth.
Step 12
Serve with lime wedges. Drizzle with chilli and hoisin sauces, as desired.
Chef's Tip: The hoisin sauce can be stored in an airtight container in the refrigerator for up to 3 weeks. It makes a wonderful marinade for meats, especially pork and beef.
Visit TheBeautyChef.com
Winter Sunset Soup: Jasmine Hemsley
The beauty of soups, stews and dahls is that you can't really mess them up. They're easy to tweak and you can taste as you go; just be sure that everything is wonderfully tender (whole lentils take much longer from scratch, but freshly cooked is always better than tinned) before serving, for best digestion.
Ingredients
1

tbsp

of ghee (or coconut oil for a vegan option)
2

-3

tbsp

of fresh ginger, finely chopped
2

medium parsnips, chopped into small chunks
1

large or

2

small beets, chopped into small chunks
1

large sweet potato, chopped into small chunks
750ml

-1lt

of bone broth or veg stock
½

cup of red split lentils
½

tsp

of sea salt (if using homemade bone broth, otherwise adjust to taste at the end)
Generous grind of black pepper
Method
Step 1
In a large pan, sauté the leeks in the ghee until soft. Add the chopped ginger and cumin and sauté again.
Step 2
Add the parsnips first and cook for a few minutes, then add the beetroot and sweet potato.
Step 3
Add 750ml of bone broth or veg stock, and the rosemary, split lentils and sea salt if using.
Step 4
Bring to the boil, cover and simmer on low for about 20 minutes until the vegetables are completely tender. Carefully remove the sprigs of rosemary and discard.
Step 5
Use a stick blender to purée the soup to your liking, adding more hot water, broth or stock if needed. Taste and adjust seasoning, stirring in a generous grind of black pepper and ladle into bowls.
Step 6
Dress with extra virgin olive oil, a squeeze of lemon juice and a final grind of black pepper to serve.
Chicken Pho: Tom Kerridge, Lose Weight & Get Fit
This Vietnamese pho is full of aromatic flavours, such as cinnamon, coriander, ginger and lemongrass, and topped with loads of fresh herbs. Feel free to play about with the seasoning and spices to find the perfect balance for you.
 
Ingredients
1

.5 litres of fresh chicken stock
15g

of dried porcini mushrooms
2

.5cm piece of fresh ginger, thickly sliced
3

garlic cloves, lightly bashed
¼

tsp

of black peppercorns
¼

tsp

of Chinese five-spice powder
2

lemongrass stems, lightly bashed
3

spring onions, white and green parts separated
750g

skinless chicken thighs (bone in)
200g

of carrots, julienned
Sea salt and freshly ground white pepper
A large handful each of mint, coriander and Thai basil
1

bird's eye chilli, finely sliced
Method
Step 1
Pour the stock into a medium saucepan, place over a high heat and add the dried porcini, ginger, garlic, spices, lemongrass and white spring onions. Add the chicken thighs, bring to a low simmer and cook gently for 25 minutes or until the chicken is tender.
Step 2
Meanwhile, put the carrot julienne and rice noodles into a large heatproof bowl, pour on boiling water to cover generously and leave to soften for 10 minutes. Finely shred the green spring onions for the garnish.
Step 3
Pour the broth through a strainer into a jug, remove the chicken from the strainer and set aside for later; discard the rest of the contents. Return the flavoured broth to the pan and place over a medium-high heat.
Step 4
Bring back to the boil and let bubble for 5 minutes to reduce and intensify the flavour. Stir in the fish sauce and lime juice. Season the soup with a pinch of sea salt if needed and a small pinch of white pepper.
Step 5
Shred the chicken, discarding the bones, then add to the broth to warm through for 2 minutes.
Step 6
Drain the noodles and carrot and share between warmed bowls. Scoop the chicken out of the pan and add to the bowls. Ladle over the broth and finish with the spring onions, beansprouts, herbs, chilli and lime wedges.
Chef's Tip: Allow the strained broth to cool at the end of stage 4 then freeze in a suitable container. Shred the chicken and freeze separately. Defrost both at room temperature, then reheat the broth thoroughly in a pan over a medium heat. Continue as above.
Visit Waterstones.com
Hot & Sour Soup: Andrew Scott, Miele
Ingredients
1

.5kg of chicken bones (carcass is better)
6

medium egg noodle nests
Method
Step 1
Place the chicken bones into a large pan or stock pot and add the cold water.
Step 2
Peel and chop the ginger into fine pieces and slice the chillies and lemongrass. Add to the pot.
Step 3
Add the ponzu and fish sauce to the pot.
Step 4
Bring the soup to the boil and simmer for an hour.
Step 5
Finely slice the spring onions, coriander and lime leaves. Add the noodles to a pot of water, boil and simmer until cooked.
Step 6
Once the broth has cooked, strain it through a fine sieve and add the cooked noodles, finely sliced spring onions, coriander and lime leaves.
Miso Noodle Soup: Melissa Hemsley
Ingredients
10g

of seaweed, such as dulse or arame
330g

of buckwheat noodles
3cm

piece of ginger, finely chopped or grated
1

fresh red chilli, deseeded and finely chopped (or to taste)
1

bunch of spring onions, sliced
200g

of shiitake mushrooms, roughly sliced
4

eggs, at room temperature
400g

of cabbage, shredded
To serve:

Toasted sesame oil, for drizzling
1

tbsp

of black sesame seeds
Method
Step 1
Soak the seaweed (if using) in water according to the packet instructions, then drain, rinse in fresh water and roughly chop before setting aside. Boil the kettle.
Step 2
Fill a saucepan with boiling water and cook the noodles according to the packet instructions until al dente (about five minutes instead of the usual six to eight), then drain, rinse with cold water to stop them cooking, and set aside.
Step 3
Meanwhile, melt the oil in a second, larger saucepan over a medium-high heat. Add the ginger, garlic, chilli and white parts of the spring onions and fry for two minutes, stirring occasionally.
Step 4
Add the mushrooms and cook for three to four minutes, stirring occasionally, then add the stock and bring to the boil. Reduce to a medium simmer to cook for two minutes and then add the cooked noodles back to the pan to heat through for one minute before removing from the heat.
Step 5
While the mushrooms are simmering, fill the original pan with boiling water and lower the eggs into the pan. Simmer over a medium heat for six and a half minutes (for a just-runny yolk), then cool the boiled eggs under cold water, peel and halve.
Step 6
Remove the soup pan from the heat, drop in the shredded cabbage and the soaked seaweed, then mix together the 'miso stir-in' in a small bowl and stir through the soup.
Step 7
Divide the soup among four bowls, add the egg halves and top with the remaining chopped spring onions and a drizzle of toasted sesame oil. Sprinkle the egg halves with sea salt and black sesame seeds and serve with a lemon wedge if you wish.
Haven't got time to make your own? Here are six fuss-free cheats to use instead…
DISCLAIMER: We endeavour to always credit the correct original source of every image we use. If you think a credit may be incorrect, please contact us at info@sheerluxe.com.