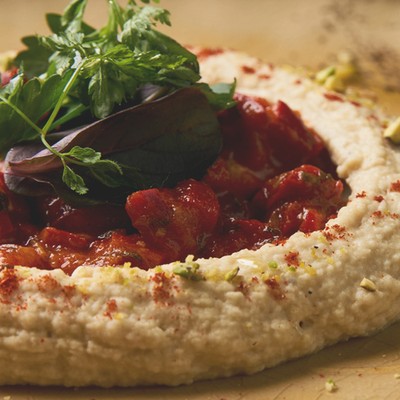 How To Cook With Harissa

Whether it's dolloped in a sandwich or rubbed onto meat, if you're a fan of spicing up your meals then you've likely heard of harissa. And if you haven't, this is about to become your new favourite hot sauce.

For the uninitiated, what is harissa?
Harissa is actually more of a paste, made with hot peppers and chilli. But there's so much more to it that just a hint of heat – it can be hot or smokey or sweet. Earthy or lemony, garlicky or peppery. It is what you make it, essentially. It originates from North Africa, particularly Tunisia, but you don't have to go halfway around the world to experience it – plenty of supermarkets sell the red stuff, usually in paste or powder form. The word harissa comes from the Arabic word 'harasa', meaning 'to pound'.
And what's so special about it?
Well, harissa is experiencing a boom similar to that of za'atar – we're currently going through a renaissance of Middle Eastern cuisine here in the UK and our interest in harissa has spiked. The great thing about it is how varied it can be. Recipes change from region to region, but the essential ingredients include red peppers, serrano peppers and Baklouti pepper, garlic and coriander. From there, the world is your oyster – other traditional ingredients include saffron, mint, and sometimes rose. The rose isn't a constant in all harissa, but many believe the floral sweetness balances out the intense spice.

How do you use it?
There are endless ways to use harissa. In Tunisian cooking, harissa is typically used in stews or as a meat rub, but is can be used to elevate any dish – even a splash in your standard tomato sauce or slicked on a slice of bread is delicious.
"I love using harissa, it has a great warming hot flavour and it's very versatile," says chef Nick Deverell-Smith, owner of The Churchill Arms in Paxford. "Harissa is great at this time of year as we're approaching barbecue season – I marinate my king prawns and squid with harissa, it just works so well with fish."
Tony Kitous, founder of Lebanese restaurant Comptoir Libanais, tells us: "I love it in scrambled eggs on the morning, or swirled into yoghurt to make a dip, which softens the heat." Meanwhile, London chef and owner of Tasting Sicily, Enzo Oliveri, likes to use it on meat before he braises it, "in some of my soups and in my arrabbiata pasta". Willie Harcourt-Cooze, author of The Chocolate Bible, loves the versatility of harissa: "I love it as a perfect accompaniment to oily fish, lamb and pork however it can also be served with a Moroccan tagine." And, as Willie points out, there is no end to the ingredients you can add. "I love chillies, but I don't love them so hot that they mask the flavour of everything else – that's why I balance the heat of my harissa by adding in roasted red sweet peppers. It adds another depth of flavour and takes away a little heat from the chillies. Of course, I add cacao too for another layer of taste."

Can I make it myself?
Good news: you don't need to leave the house to get great harissa – it's super easy to recreate at home. The easiest way to 'make' it is to buy the powder version from the shop and simply mix with oil or rosewater and garlic. But to make it from scratch, Willie shows us how:
INGREDIENTS:
16 long red chillies
4 large red peppers
1/2 tsp of cumin seeds
150ml of virgin olive oil
10g of 100% Cacao (preferably Madagascan)
1 tbsp of balsamic vinegar
Pinch of salt
METHOD:
"First, I wrap the chillies in foil and bake them alongside the unwrapped peppers. I roast for 25 minutes, then peel, deseed and blend, leaving a little texture. Then, I toast the cumin seeds and grind with a pestle and mortar. I add the oil and the peppers, cumin and chillies to a saucepan and bring it to a boil over a medium heat. Then I add the remaining ingredients and spoon into jars."
 
And like we said, there really are no strict rules – renowned chef Yotam Ottolenghi adds sherry vinegar and preserved lemon peel, while Jamie Oliver adds smoked paprika and rose petals. Chef Mark Hartsone from La Fosse in Cranborne looks for fragrant notes of coriander and rose in his harissa. "My top tip is to save your own organic rose petals and coriander seeds so you can make your own 100% homegrown harissa." 

Are there any health benefits?
Harissa isn't necessarily known for its health benefits, but surprisingly there are a few, depending on what you put in yours. London nutritionist Clarissa Lenherr gives us the lowdown:
Garlic: Harissa is full of raw garlic, which is the most potent form when it comes to health benefits. Garlic can help fight all types of infection – fungal, bacterial, parasitic, and viral – supports the regulation of blood sugar, lowers blood pressure and cholesterol and has anti-inflammatory properties.
Chilli: Chilli is rich in vitamin C, which is an important antioxidant our bodies cannot make on its own. It's important for collagen creation, and also boosts your immune system and bone health. Chilli peppers are rich in beta-carotene, a form of vitamin A that is essential for maintaining healthy mucous membranes to help protect the body from invading pathogens.
Cumin: Thymol, a compound in cumin, is known to stimulate the glands that secrete acids, bile and enzymes. This can help boost our digestive health and lead to proper digestion and absorption of nutrients.
Fennel seeds: These are a rich source of polyphenol antioxidants that are potent anti-inflammatory agents that have powerful effects on your health. They are also a fantastic help for those who suffer with digestive issues. Fennel seeds can help smooth the muscles in the gastrointestinal tract and reduce bloating, gas and stomach cramping.

I'm sold – so which one should I choose?
If you don't consider yourself the next Gordon Ramsey, we won't judge you for buying a jar of harissa from the shops. And there are some great versions out there that you can pick up from the supermarket – here are just a few of our favourites:
Sainsbury's Harissa Paste: A nice, cheap alternative to making it yourself, Sainsbury's paste contains cumin, coriander, caraway seeds and lemon juice for a slightly zesty flavour.
Fortnum & Mason Harissa Rub: You might not necessarily know Fortnum & Mason for their Middle Eastern fare, but this fiery hot rub is for those who can't get enough of the spice. You can either use this as a dry rub or mix with water to form a paste.
Waitrose Cooks' Ingredients Harissa Paste: To get a taste of that authentic rose harissa mix, Waitrose have a great 'Ruby Rose' harissa, made with roast peppers, smoked paprika and rose petals.
Belazu Rose Harissa: Another paste made with rose petals, this Belazu version is packed with spices – and for those looking for a vegetarian seal of approval, this sauce has been Vegetarian Society-approved.
Biona Organic Harissa Chilli Relish: Perfect for barbecue season, this feisty little relish can be dolloped atop a burger or stirred into a grain dish – or even mix through with mayonnaise for a spicy garnish.
Harry Brand Harissa Mayonnaise: Yes, all our prayers have been answered with the existence of harissa mayonnaise. Add oomph to a jacket potato or spoon it into buns whilst they wait for flame-grilled meats – or liven up your mum's green salad at the family barbecue.
Harissa Recipes
Here are some amazing meals to make with your new favourite spicy sauce, from seared chicken to a warming aubergine stew…
DISCLAIMER: We endeavour to always credit the correct original source of every image we use. If you think a credit may be incorrect, please contact us at info@sheerluxe.com.