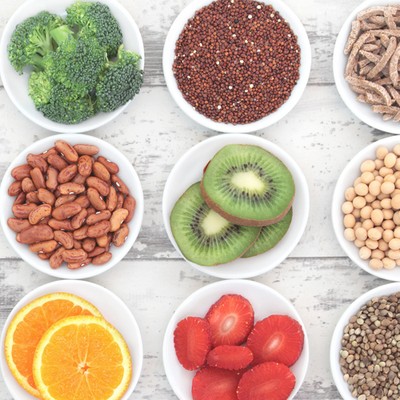 8 Retinol-Rich Foods To Try Now

Dermatologists have been banging on about the power of retinol (AKA, vitamin A) for years. From improving fine lines to smoothing uneven complexions, it has a host of skin-boosting benefits. But it's not just your skincare that can help keep lines at bay, it's your diet too. Here are eight vitamin A-enriched foods to add to your diet now…

Need-To-Know: Retinol v Carotenoids
Before we get started, it's worth noting that there are two types of vitamin A found in foods. The retinol variation is primarily found in animal-sourced foods, while the other comes from plant-based foods (beta-carotene, often called pro-vitamin A). That's not to say vegetarians and vegans can't benefit though. Beta-carotene can be converted to retinol once in the body, but to be effective, you need to be consuming a lot of it daily (carrots, pumpkin and squash). To reap the benefits fully, look to these eight retinol-rich sources below that are proven to give you a boost from the inside out…

1. Milk
This everyday staple is rich in vitamin A, D and of course, calcium. Though it's worth noting that the amount of retinol inside is affected by the fat content. The higher the fat, the lower levels of vitamin A. So, look to non-fat milk as opposed to whole milk. As well, check the labels for ones that state 'fortified with vitamin A' – these just pack an extra punch but are often hard to come by.

2. Cheese
If there was ever a reason to stockpile cheese, this is it. The amount of vitamin A varies depending on the type you're buying, but cheddar, cottage cheese and goats' cheese are all reported to contain healthy amounts.

3. Salmon and Mackerel (Oily Fish)
It's no secret that oily fish is good for our skin and internal system. But it also contains high units of retinol, as well as essential omega-3 fatty acids and protein. Look to tuna, trout, herring and cod too for a further dose of the good stuff.
4. Cod Liver Oil
In a similar vein to above, cod liver oil is proven to strengthen your heart, fight off Alzheimer's and clear up your skin with the help of complexion-enhancing retinol. A single teaspoon will provide you with 90% of your needed intake of vitamin A.

5. Baked Sweet Potato
Not only does this reportedly have more potassium than a banana, it's also packed with vitamins and is proven to support healthy vision and brain function. Ideal for veggies and vegans wanting to up their A-game.

6. Hard Boiled Eggs
Eggs are known as a superfood for a reason: aside from their hefty dose of retinol, recent reports have shown that eating a couple a day could reduce your insulin resistance, in turn decreasing your risk of diabetes.

7. Meat and Poultry
Chicken, beef and lamb liver, deliver a feeling of fullness while still being packed with vitamins, especially A. They're all great sources of protein, B vitamins, iron and vitamin D too for healthy bones and skin.

8. Prawns
One of the best sources of vitamin A is surprisingly from shrimps. They deliver heaps of retinol, no matter how you consume it. They're also rich in minerals, protein and omega-3 fatty acids to promote heart and brain health.
DISCLAIMER: We endeavour to always credit the correct original source of every image we use. If you think a credit may be incorrect, please contact us at info@sheerluxe.com.