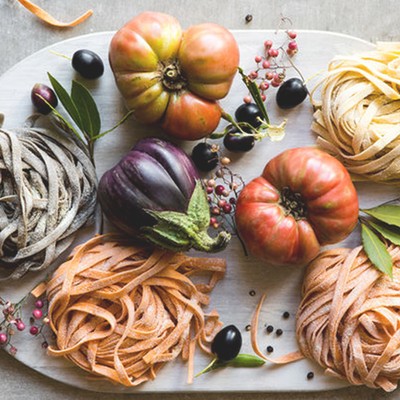 Answering Google's Most-Asked Questions: Organic Food

With people embracing healthier living, the use of organic foods is on the rise. But what is organic food, and why is it better for us? We put Google's most-asked questions on organic food to Clare McDermott, Business Development Director at the UK's leading organic certifier, Soil Association Certification.

What is organic food?
Organic food is food as it should be. This means grown or produced using fewer pesticides, no artificial additives or preservatives, and with no GM ingredients. Organic standards have the highest standards of animal welfare: organic livestock are always free range and are not routinely treated with antibiotics.
 
Under European law, all organic food and drink must be certified as such and is inspected at every stage of production. Soil Association Certification certifies over 70% of organic products in the UK, so if you look for the Soil Association organic symbol when you shop you can be sure what you're buying has been produced to the highest standards.
How to grow organic food?
To grow certified organic vegetables, it must meet the standards required under European law as a minimum. This means ensuring soil hasn't been chemically treated, looking for seedlings from plants that have been raised without chemical fertilizers and pesticides, and are GM-free, meaning the seedlings haven't had genes from another plant inserted into its DNA or has altered DNA.
What pesticides are used on organic food?
Many people don't realise almost 300 pesticides can be routinely used in non-organic farming and these are often present in non-organic food we eat, despite washing and cooking.
Just 20 pesticides are permitted in organic farming, but these are either of natural origin – like soft soap or pheromones – or simple chemical products such as ferric phosphate and sulphur, and these are only used when absolutely necessary. In fact, if all farming was organic, pesticide use would decrease by 98%.
 
We don't allow any systemic pesticides (pesticides that are absorbed by the plant when applied to seeds, leaves or soil) and campaign against their use, such as the neonicotinoid insecticides suspended by the European Union due to their negative impact on pollinators. No herbicides are allowed in organic farming.
Why is organic food better?
Organic works with nature, not against it. Intensive agriculture causes soil erosion, chemical run-off into water systems and can mean some weeds and insects become resistant to herbicides and pesticides. Organic farming, on the other hand, doesn't rely on synthetic or petroleum-based pesticides or fertilizers, and significantly reduces water and soil contamination. This allows wildlife to thrive. In fact, studies have shown wildlife is 50% more abundant on organic farms than non-organic because of the complete absence of manufactured herbicides and the severely restricted use of pesticides.
Healthy soils are also a major store of carbon, containing three times as much carbon as the atmosphere and five times as much as forests. If all UK farming was converted into organic, at least 1.3 million tonnes of carbon would be taken up by the soil each year – the equivalent of taking nearly one million cars off the road.
As the threat of antimicrobial resistance grows – leading medics believe 50m people a year could die because of antibiotic resistance by 2050 – farming methods, like organic, that dramatically decrease the use of antibiotics in livestock will become ever more important.
Why is organic food more expensive?
Organic can sometimes be more expensive, but not every time. Staples like pulses, pasta, rice and wholegrains are often the same price and when you can, buying directly from farmers or through box schemes helps, too. If you plan meals in advance, eat less but better quality meat, or try different, cheaper cuts and seasonal ingredients, eating organic can be achievable for everyone. 
Where organic does cost more, you're paying for the extra care farmers place on the environment and animal welfare. Organic is definitely worth the cost. By buying organic food, you buy sustainable, ethically grown, reared and produced food. 
 
If you're worried about the cost of buying organic, here are a few of our top tips for buying organic food on a budget:
Shop in season: Buying organic fruit and veg in season gives the best value for money. Eat Seasonably lists the fruits and veg that are best to eat right now.  
 
Try the basics: Milk is a great place to start. It's widely available and often costs only a fraction more than non-organic milk.
 
Stock up on organic essentials: As they have a longer expiry date, organic store cupboard essentials can be great value. Items like organic baked beans, pasta and canned tomatoes are often sold for the same price as the same non-organic items.
 
Try a different cut of meat: Eating less, but better quality meat is good for our health and the planet. Trying lower cost organic cuts like shoulder or belly can make a big difference to your wallet – and they have more beneficial nutrients too. Pop into your local butcher for advice on cuts or make a weekly roast which can provide a couple of meals.
 
Look for deals online: And try to buy your food as close to the producer as possible. Find out where your nearest farm is by visiting the Soil Association website and stock up on supplies from your local farmer.

Is organic food better for you?
Groundbreaking research published in the British Journal of Nutrition found significant nutritional differences between organic and non-organic food. Scientists from Newcastle University found organic fruit, vegetables and cereals are up to 68% higher in a number of key antioxidants and contained less cadmium, nitrogen and pesticide residues, which are potentially harmful. They also found both organic milk and meat contain around 50% more beneficial Omega-3 fatty acids thanks to higher grass, clover and forage content of the animals' diet, and more desirable polyunsaturated fats than non-organic. The nutritional differences also apply to organic dairy like butter, cream, cheese and yoghurt. The findings shatter the myth that how we farm does not affect the quality of the food we eat – what you get out is only as good as what you put in.
And for those of you who enjoy the occasional tipple, organic wine avoids the added sulphites in non-organic wines, meaning the risk of an achy head following a night of indulgence is thought to be greatly reduced.  

What are the best organic foods?
It's hard to say which organic foods are best – they're all good! Organic is now available across the UK in over 8,000 outlets, from supermarkets and independent shops to box schemes, restaurants and online. Here are a few places to start if you're looking to get into eating organic soon: 
Organic milk and dairy contains around 50% more beneficial Omega-3 essential fatty acids than non-organic. 
Opt for a vegetable box scheme and enjoy fresh, organic fruit and veg delivered right to your door. 
Eat less, but better quality meat, from animals grazed in a truly free-range environment and fed a natural diet.
Organic eggs are more ethical than free-range, with chickens given much more space to roam and exhibit their natural behaviours, thus reducing their stress. 
Staples like pulses, pasta, rice and wholegrains and ranges like baby food are often the same price as non-organic.
Cooking and eating seasonally is a great way to ensure a more sustainable diet.
Shop local – visit your local farm shop. The Soil Association has an extensive network of more than 150 farms across the UK. Find out where your nearest farm is and stock up on supplies from your local farmer.
Buy organic bread. Tests by the Defra Committee on Pesticide Residues in Food (PRiF) found that almost two-thirds of wholemeal bread sampled contained glyphosate, a weed killer used widely on farms.
Buy strawberries. Recently published Pesticide Action Network-UK (PAN) data shows almost 92%% of non-organic strawberries sampled between 2011-2015 contained pesticides. 
Visit TheSoilAssociation.org for more information.
DISCLAIMER: We endeavour to always credit the correct original source of every image we use. If you think a credit may be incorrect, please contact us at info@sheerluxe.com.