Ayurvedic Recipes From Jasmine Hemsley

A true cheerleader of ayurvedic living – the ancient approach to food, medicine and all-round
wellness – Jasmine Hemsley's bestselling book East by West, has become one of the most talked-about cookery books of the last year. As part of her Week with SheerLuxe, the author, cook and all-
round vision of health, shares her favourite recipes.
From warming breakfasts to hearty one-pots ideal for the change in weather, and
her now famous 'golden milk', here are Jasmine's top five dishes to cook this week.

Coconut, Lime and Mint Ladoo
Jasmine says: "The original bliss ball or 'energy ball', an Indian ladoo is a ball-shaped sweet  that's usually made of nuts and dried fruit. The process of turning the quick mixture into even-sized balls is like a little meditation in itself! And a fun one to involve the kids.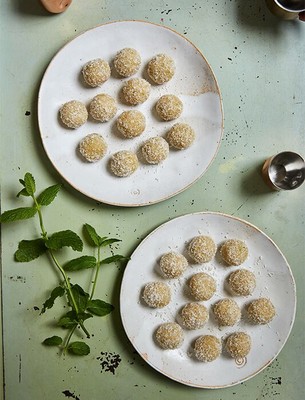 Ingredients
200g

(1

¾

cups) ground almonds
140g

(1

¾

cup) desiccated coconut
Method
Step 1
Blitz the ground almonds, 60g (¾ cup) of the desiccated account, the maple syrup, zest, vanilla extract, peppermint extract, coconut oil and sea salt in a food processor, until chunky but evenly mixed.
Step 2
Taste the mixture and add a drop more of the peppermint extract if needed, then blitz again.
Step 3
Take small pieces from the bowl and roll them into twenty-four bite-sized balls with the palms of your hands. Refridgerate for around 20 minutes, until firm.
Step 4
Spread out the remaining desiccated coconut and roll each ladoo in it until completely covered. Store somewhere cool or in the fridge for up to a week.
Kitchari
Jasmine says: "Kitchari (also spelled kitcharee, khichadi, kitchadee, kitchari and in many other variants) is one of the staple healing foods in Ayurveda. It is believed to balance the Doshas, support the tissues, detoxify the body and purify the digestive system. In India, it is used to nourish the elderly and sick, and it is often a baby's first food since it is easy to digest. This Ayurvedic 'chicken soup' is perfect for when you are feeling under the weather, exhausted after a long trip or in need of a cleanse or a comforting hug."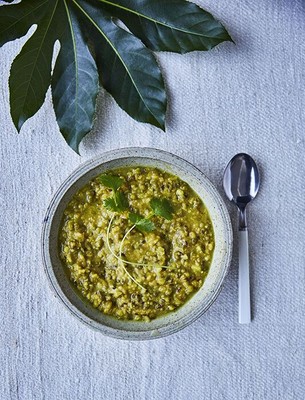 Ingredients
70g

(

⅓

cup) white basmati rice, soaked for

1

hour
70g

(

⅓

cup) mung dal (or mung beans, soaked overnight)
5cm

(2in) piece of fresh ginger, finely chopped, or

1

/4

tsp

ground ginger
pinch of sea salt, to taste
fresh coriander, to serve (optional)
Method
Step 1
Rinse the rice and mung dal three times.
Step 2
In a heavy-bottomed pan, melt half the ghee and sauté the bay leaf and asafoetida. Add the mung dal, rice and water and simmer for 20-25 minutes, lid on, until tender. Add more water as necessary.
Step 3
In a separate pan, make a tarka. Melt the remaining ghee, then add the cumin seeds and cook gently until they start to pop. Add the ginger and sauté until golden brown. Add the tumeric and sauté for a few more minutes.
Step 4
Add the tarka to the rice and dal mixture. Cook for 5-7 minutes, stirring often. Season with salt and pepper and serve with fresh coriander, if desired.
Pink Pepper Lamb Hotpot with Sautéed Red Cabbage and Mint
Jasmine says: "Inspired by the English classic of Lancashire hotpot, this dish celebrates one-pot low and slow cooking. The recipe renders a medley of ingredients, including tougher cuts of meat, into a melt-in-the-mouth, easy-to-digest dish. "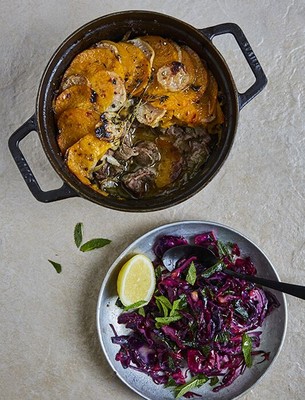 Ingredients
500g

diced lamb, mutton neck fillet or shoulder sea salt and freshly ground black pepper
1

1

/2

tbsp

butter, melted, plus extra to grease
1

/2 large butternut squash (about

600g

), peeled and cut into

5mm

(

1

/4 in) slices
150g

turnips, cut into

5mm

(

1

/4 in) slices
1

1

/2—2

tbsp

crushed pink peppercorns
4

sprigs of thyme, leaves picked
1

large leek, sliced into

5mm

(

1

/4 in) rounds
500ml

(2 cups) bouillon stock
For The Red Cabbage

1

tsp

black mustard seeds
300g

(3 cups) thinly shredded red cabbage
15

—20g (

¼

—

1

/3 cup) mint leaves, chopped
1

/2 —1

tbsp

lemon juice sea salt, to taste
Method
Step 1
Preheat the oven to 170ºC (fan 150ºC/gas mark 3). Season the meat lightly with salt and pepper.
Step 2
Butter a 24cm (91/2in) high-sided casserole dish and arrange one third of the slice butternut squash and turnips in the bottom. Season with a little of the pink peppercorns and sprinkle with thyme. Top with the meat and bay leaves and season in the same way, followed by the leek, also seasoned in the same way.
Step 3
Arrange the remaining slices of squash and turnips on top of the leek like overlapping fish scales, and season with salt and pepper. Pour enough stock over the top to come just up to the base of the topping (lift up a piece to check), then brush with the melted butter.
Step 4
Cover and bake for 2 hours, then uncover and bake for another 30-40 minutes, until the top is golden and crisp.
Step 5
Around 10 minutes before the end of the cooking time, make the sautéed red cabbage. Heat the ghee in a large frying pan and add the mustard seeds. Sauté until they pop and re fragrant. Add the cabbage and sauté for 10-15 minutes until just tender, adding one or two tablespoons of water if needed. Toss through the other ingredients and serve immediately with the hotpot.
Zac 'n' Cheese with Basil Courgettes
Jasmine says: "This is a really great meal to make from scratch. It's comforting, filling and just rich enough. Don't be put off by the long list of spices — it's worth it! The cottage cheese gives this a protein boost, along with the lentils, and makes a thick mellow sauce with the addition of carrots and smoked paprika."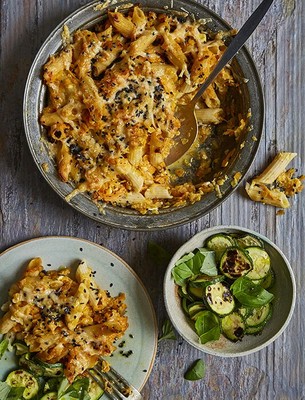 Ingredients
200g

(2 cups) brown rice penne or other type of pasta
100g

(1/2 cup) red split lentils, rinsed
3

medium carrots (about

300g

), grated
1

tsp

apple cider vinegar
200g

(scant

1

cup) full-fat cottage cheese or homemade whole-milk ricotta
4

pinches of freshly ground black pepper
2

pinches of ground white pepper
2

pinches of ground nutmeg (optional)
65g

(1/2 cup) sunflower seeds
40g

(scant

1

/4 cup) Pecorino (or Parmesan), grated black sesame seeds, to decorate (optional)
To Serve

2

Large Courgettes, sliced into rounds
Extra-virgin olive oil, for drizzling handful of fresh basil, torn
Method
Step 1
In a medium pan, cook the pasta until just al dente (follow the packet instructions but reduce the cooking time by a minute or so). Drain and set aside.
Step 2
In the same pan, melt the butter and sauté the garlic for a few minutes. Add the lentils, water, carrots and paprika and simmer, lid on, for 20 minutes until very soft. If the mixture is very runny, allow to simmer for a further few minutes with the lid off.
Step 3
Add the Dijon mustard, salt, apple cider vinegar, cottage cheese, black and white pepper and nutmeg, if using. Blend until smooth, then taste and adjust the seasoning. The sauce should be really smooth and creamy - if it seems too dry, add a splash of water.
Step 4
Fold in the cooked pasta and then transfer the whole thing to an ovenproof dish (about 20 x 16cm/8 x 6 in in size), smoothing it out with the back of a spoon.
Step 5
Sprinkle over the sunflower seeds and Pecorino evenly. Top with black sesame seeds, if using, and grill for 5 minutes until lightly browned.
Step 6
Meanwhile, dry-cook the courgette slices in a ceramic-lined or seasoned cast-iron frying pan until tender and browned, then transfer to a dish, drizzle with olive oil, season lightly and cover with torn basil.
Golden Milk
Jasmine says: "Gorgeously bright, rich and caffeine-free, Golden Milk is the ultimate Ayurvedic recipe and can help improve digestion and circulation. Versions of the drink, known as turmeric latte, have hit the hip cafes, meaning that non-coffee drinkers can enjoy something different from herbal tea.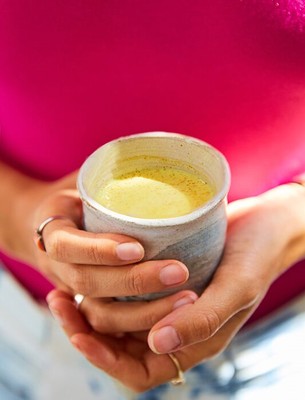 Ingredients
175ml

(

¾

cup) whole milk or

250ml

(1 cup) almond milk
2

.5cm (1in) piece of fresh ginger, grated (around

½

tsp

), or

1

tsp

ground ginger
¼

tsp

freshly ground black pepper
Method
Step 1
Place the milk in a small pot or milk pan. If you are using dairy milk, add 120ml (½ cup) of water. If you are using almond milk, add 60ml (¼ cup) of water. Add the remaining ingredients, apart from the jaggery, and gently simmer for 10-15 minutes.
Step 2
Add a splash more hot water if needed. Stir through the jaggery to taste, strain and serve.
Jasmine's  East by West Golden Milk also launches at LEON on 13th September.
 
DISCLAIMER: We endeavour to always credit the correct original source of every image we use. If you think a credit may be incorrect, please contact us at info@sheerluxe.com.