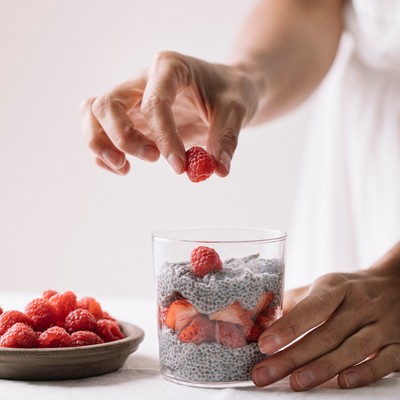 How To Get Your 30g Of Fibre Every Day

According to a recent study, only 10% of us get our daily 30g dose of fibre. An unsung hero in the nutritional world, fibre not only supports a healthy gut, it also reduces your risk of disease. From simple swaps to the products to try, here's how four experts recommend you get yours.

All products on this page have been selected by our editorial team, however we may make commission on some products.
Make Some Simple Swaps...
Jenna Hope, registered nutrition consultant
SWAP: Mashed potato
FOR: Mashed chickpeas
"This is a great swap that will add a hefty dose of fibre to your plate. If you still want the creamy texture of mashed potatoes, go for half mashed chickpeas and half potato. Adding chickpeas and other beans to bolognaise is also a good idea."
SWAP: Butter on toast
FOR: Avocado on toast
"Avocados may not seem like the most obvious source of fibre but they offer around 5g of fibre per 100g. Swapping regular jam for chia jam is also a fibre-rich option."
SWAP: Regular sliced bread
FOR: Seeded sourdough bread
"I love Bertinet Bakery's Seeded Sliced Sourdough, which contains 4g of fibre per 100g. Sourdough also contains live cultures which are great for the gut."
Yasmin Alexander, registered nutritional therapist
SWAP: White pasta/courgetti
FOR: Red lentil pasta
"Replacing a starchy carb with a very low-carb, watery vegetable won't cut it on the fibre front. Instead, swap white pasta with a red lentil or green pea pasta, both of which are widely available now. These pastas are naturally gluten-free and full of both fibre and protein."
SWAP: Honey on porridge
FOR: Chicory root syrup
"Chicory root is a fantastic source of fibre – drizzle it over porridge, have on toast or in tea and coffee."
Hannah Braye, nutritional therapist at Bio-Kult
SWAP: Breakfast cereal
FOR: An oat-based breakfast
"Switch your standard boxed breakfast cereal for porridge oats, and top with two tablespoons of milled flaxseed, as well as fruit and nuts. If you usually add honey to your porridge, try a homemade berry compote instead."
SWAP: Juices
FOR: Smoothies
"Fruit and vegetable juices may seem like the healthy option, but they offer little in the way of fibre once the pulp has been removed. Instead, make a smoothie that contains vegetables as well as fruit, and add nuts, seeds and avocado for added fibre."
Kathryn Danzey, founder of Rejuvenated
SWAP: Toast with peanut butter
FOR: Toast with almond butter
"We all love a slice of toast with peanut butter but try swapping it for almond butter, which contains nearly double the amount of fibre. Try almond butter with slices of apple or porridge for an additional dose."
SWAP: Wholegrains
FOR: Pearl barley
"Wholegrains are naturally high in fibre, but if you really need a boost, opt for pearl barley instead. Barley is a great substitute for rice and 100g of uncooked hulled barley contains just over 17g of fibre."
SWAP: Apples
FOR: Raspberries
"Apples are a fantastic, nutrient-rich snack, but try swapping with a cup of raspberries instead, which contain 8g of fibre per cup – nearly double the amount of fibre in one apple."
SWAP: Granola
FOR: Chia seeds 
"If you love a bowl of granola in the morning, replace with chia seeds, or a chia seed pudding. A 30g portion of chia seeds contains 10g of fibre as well as a good amount of protein and omega-3."
Try These Unsung Heroes…
Beetroot: "Beets are packed with fibre and can be used in so many ways. Add them to salads or try in soups and smoothies. They can even be grated and added to chocolate cake." – Kathryn 
Pears: "Pears are often overlooked in favour of apples but gram for gram, they're higher in fibre and can help control blood sugar levels, making them the perfect fruit to keep you full." – Kathryn 
Bananas: "While you may think a soft fruit like a banana doesn't contain much fibre, one medium banana actually contains more than 3g. Add to smoothies, porridge and fruit salads." – Kathryn 
Kiwis: "Kiwis may not be your go-to fruit, but they're a great source of a particular type of fibre that helps keep you regular." – Sophie Medlin, dietitian
Dark chocolate: "There is around 11g of fibre per 100g of 70-85% cacao, which is equivalent to around 3g of fibre per square." – Hannah 
Avocado: "Half a medium avocado contains 3g of fibre, or 10% of your daily target, similar to an apple." – Yasmin 
Keep an eye out for these nutritionist-approved products on your next supermarket trip…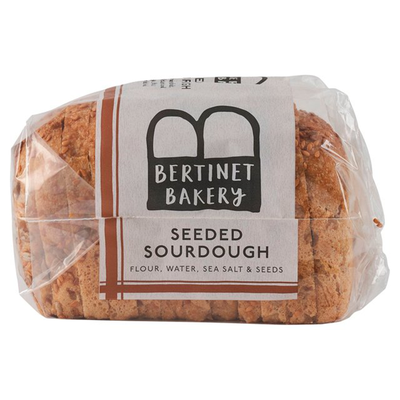 Bertinet Bakery Seeded Sourdough, £3.80
"Use this bread to make a sandwich with roasted vegetables, hummus and falafel for a fibre-rich lunch." – Jenna  Available at Waitrose.com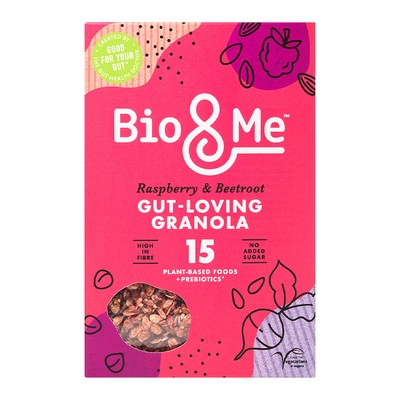 Bio & Me Granola, £3.99
"A great breakfast option which is packed with 15 different plant-based fibres, each bowl contains around 10g of fibre." – Yasmin  Available at BioAndMe.co.uk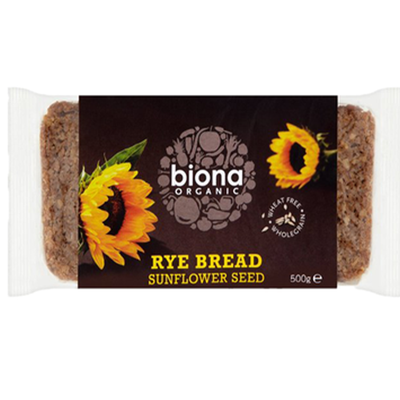 "Rye bread is one of the healthiest, if not the healthiest, breads on the shelves. It contains 6g of fibre per 100g serving." – Kathryn  Available at Ocado.com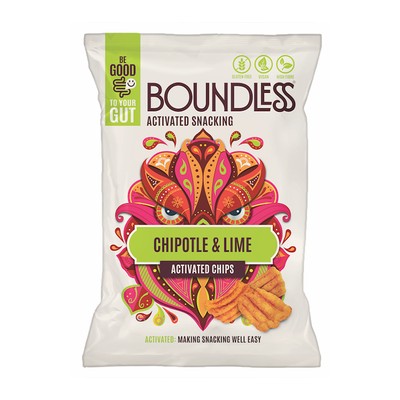 "If you're looking for a healthier and more fibre-rich alternative to crisps, try Boundless crisp-like snacks, which are made with a fibre-rich, gluten-free grain called sorghum." – Yasmin  Available at WeAreBoundless.co.uk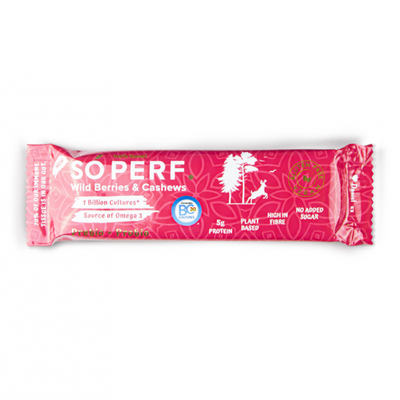 "These are the perfect snack option – they're packed with antioxidants, nutrients, fibre, protein and omega-3. Each bar contains 11g of fibre." – Sophie  Available at SoPerf.com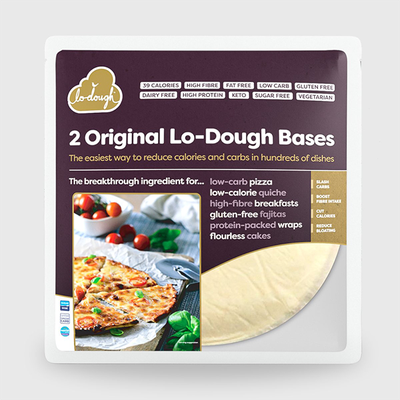 "Lo-Dough is a brand to look out for – the wraps can be used as a pizza base and contain over 9g of fibre per serving." – Yasmin  Available at LoDough.co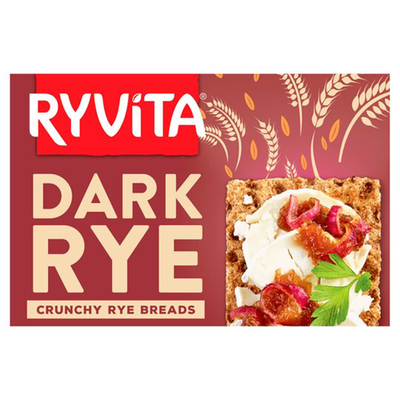 "Ryvita are a great snack choice – they are rich in fibre, and you can add a multitude of toppings." – Kathryn  Available at Sainsburys.co.uk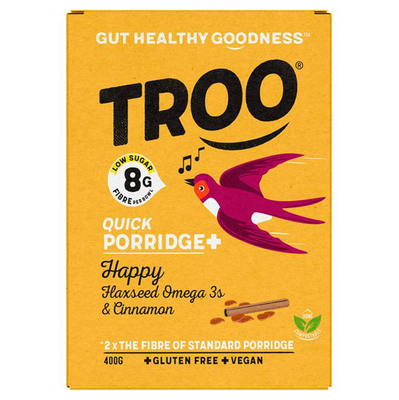 "This porridge is very high in fibre – it contains 25% of your daily dose in one portion – thanks to oats, flaxseeds and chicory inulin." – Yasmin  Available at Sainsburys.co.uk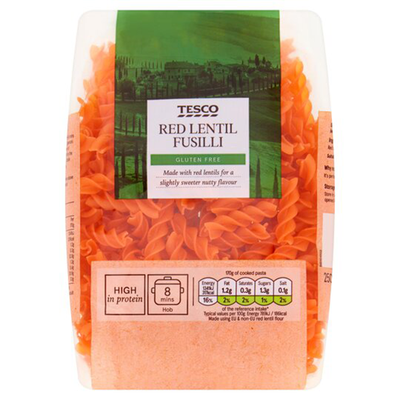 "Made with red lentil flour, this pasta has a nutty flavour and contains nearly 6g of fibre per serving." – Sophie  Available at Tesco.com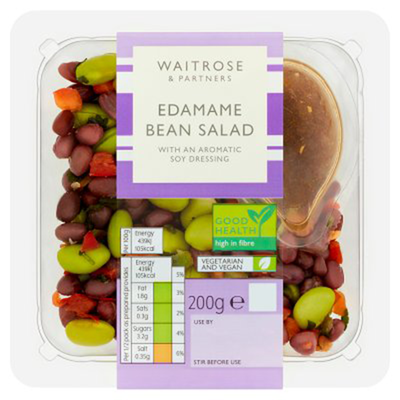 "Pots of edamame salad are a great way to top up your fibre. You can also add edamame beans to stir fries, rice and salads." – Kathryn  Available at Waitrose.com
DISCLAIMER: We endeavour to always credit the correct original source of every image we use. If you think a credit may be incorrect, please contact us at info@sheerluxe.com.