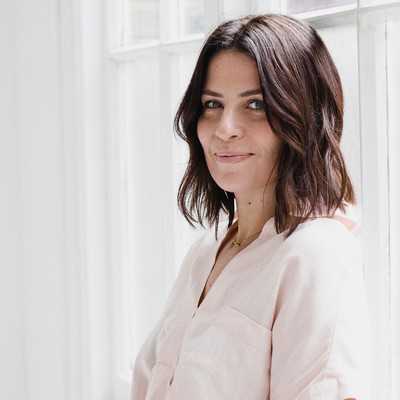 My Week On A Plate: Claire Paphitis

Crippling mentstrual migraines put Claire Paphitis on a path to Ayurveda. Within weeks, her symptoms improved, but it wasn't until the death of her mother just weeks after giving birth to her daughter that she rediscovered her passion for this ancient system of healing. Having worked in the classical music industry for 12 years, Claire retrained as an Ayurvedic consultant and today, she's one of the wellness world's go-to experts. Here's an inside look at her weekly food diary…

MONDAY
Breakfast: The week starts at 7:30am and the first thing I do is use my Urban Veda copper tongue scraper to give my tongue a few scrapes. In Ayurveda, optimal digestion is considered to be the foundation of health, and given digestion begins in the mouth, it's vital to remove any toxins that may obstruct optimal functioning. Tongue scraping also helps stimulate digestion for the day ahead. For breakfast, I make a simple Ayurvedic rice porridge with rice flakes, almond milk, cinnamon and nutmeg. In Ayurveda, we believe that warming foods nourish digestion and rice flakes can help balance the body.
Lunch: On busy days, I need something warming, sustaining and easy to digest to give me the energy I need to get through the day, so I make a big batch of kitchari, an Ayurvedic staple made with mung beans, basmati rice, cumin, coriander, root ginger and salt. Mung beans are a complete protein source, and this dish takes only a few minutes to throw together – you can then leave it to simmer on the hob while you get on with work. 
Supper: I log off around 3pm so I can collect my daughter from school. She tends to have leftovers of whatever I had for lunch for her supper, so it's a warming bowl of kitchari for her, too. My husband and I then eat together after she's gone to bed at 6:30pm. I make a dish with wholemeal spaghetti and a sauce made with butternut squash, nutmeg, cloves, cinnamon and rosemary topped with toasted pumpkin seeds. Since using Ayurveda to treat my menstrual migraines, I no longer include tomatoes in my diet. As a lover of Italian food this makes life tricky at times, but this butternut squash alternative ticks all the boxes.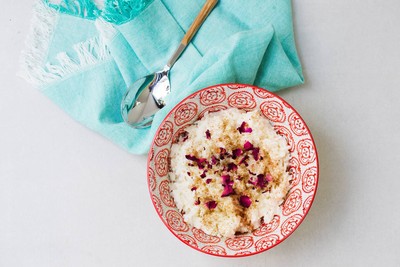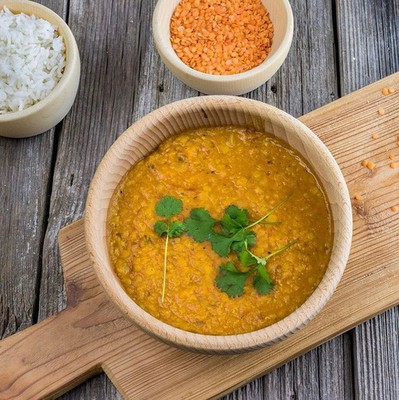 TUESDAY
Breakfast: Today is a manic day in the clinic. I often see five or six patients back-to-back, and the hour-long sessions can be intense, so a sustaining breakfast is crucial. Today, I made a riff on our usual rice porridge by combining some mung beans with white basmati rice, coconut milk, cardamom, a little maple syrup and some flaked almonds. It's like a healthier version of rice pudding.
Lunch: After a filling breakfast, I'm not massively hungry at lunchtime, so I make some soup with sweet potatoes, leeks, ginger and cumin. Ayurveda asks you to listen to your body at all times, particularly when it comes to hunger cues. We so often eat when we aren't truly hungry or often don't pause to eat properly when we are hungry – grabbing a coffee instead to suppress hunger. I try to tell my patients to understand the importance of tuning into this and understanding what their body is trying to tell them. So today, a light soup was enough for me.
Supper: I bake some cod this evening, which I wrapped in foil with green pesto, lime juice, mangetout and broccoli. I've always had a sweet tooth, but it's balanced out since following an Ayurvedic diet, so a couple of dates after dinner is usually plenty.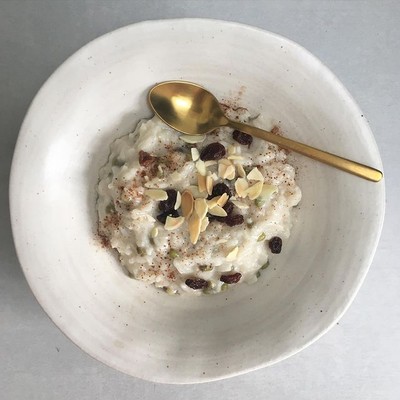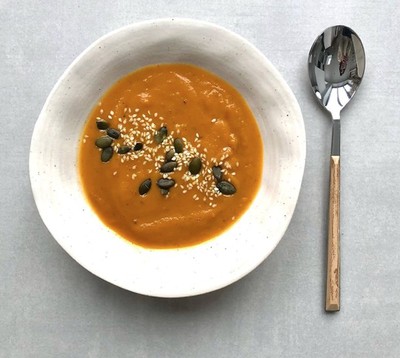 WEDNESDAY
Breakfast: It was a beautiful sunny morning today, so I go for a walk through the Surrey Hills where we live. I try to practice what I preach, so after two busy days of work I need to recharge my batteries and being in nature is the perfect tonic. I blend some almonds, dates, cinnamon and warm almond milk to take in a thermos to enjoy during my walk – it's a great breakfast when you don't have much of an appetite. When I get home, I have a cup of tea and a slice of fresh sourdough from our local bakery with some butter and blackcurrant jam. 
Lunch: I make a simple soup with watercress, spinach and rocket with ginger and coriander seeds and a little coconut cream – my favourite recipe from my friend Syndi Duke, The Ayurveda Alchemist. The bitter greens feel cleansing but when eaten warm and blended with the coconut, they are easier to digest.
Supper: The family request a curry tonight, so I make my go-to chicken curry with coconut, cardamom, lime, ginger, turmeric, cumin and coriander. It bakes in the oven in a roasting tray, which means you can get on with other things while it cooks. One of the best investments I've ever made was a really good rice cooker – I chuck the basmati rice in there and leave that and the curry to do their thing.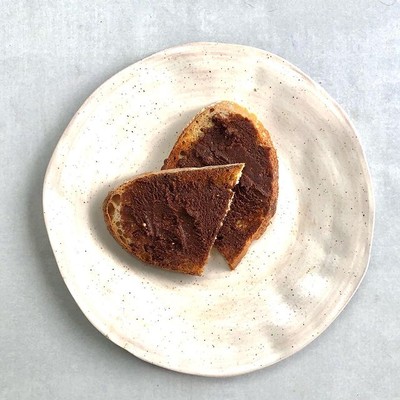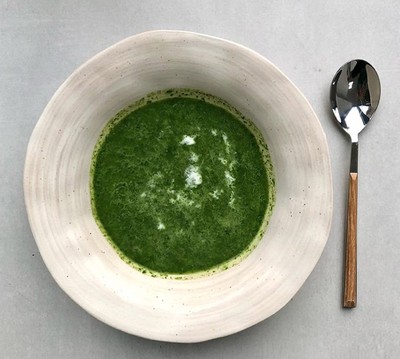 THURSDAY
Breakfast: I'm recording some meditation videos this morning for my upcoming virtual retreat, which I run every few months throughout the year, adjusting recipes and rituals to the seasons. For breakfast, I stew some apples with pears, blackcurrants, cinnamon and star anise. Ayurveda believes it's best to eat fruit on an empty stomach, so enjoying it first thing in the morning is ideal. It may be tempting to add yoghurt but Ayurveda advises not to mix fruit with dairy. 
Lunch: I spent the morning testing a few recipes for the retreat and enjoy a bowl of broccoli, leek, kale and potato soup for lunch. I also feel like something sweet, so bake a tea loaf with lots of dried fruit and chai spices. I enjoyed this with a cup of tea around 4pm.
Supper: I wasn't in the mood for anything complicated so I make coconut, lime and tofu noodles. It's such an easy and delicious recipe which combines some of my favourite flavours. I added carrot batons to the stir fry mix along with finely shredded pak choi and glass noodles. The base of the dish is a broth made with coconut, lime, ginger, garlic and tamarind.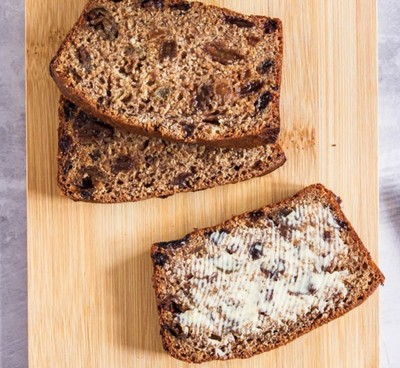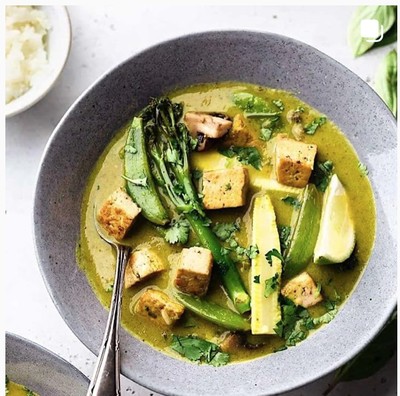 FRIDAY
Breakfast: I had an early start today as I was catching a train to London for meetings and patient consultations. Before I left, I had a bowl of rice flakes which I cooked with some ghee, almond milk, cinnamon and cardamom. I also took a flask of homemade chai tea with me, which is a great alternative to coffee.
Lunch: I believe in balance and love treating myself to a lunch out now and again, and being in London is the perfect excuse. On the Southbank so I pop to Baba Dhaba and pick up a sweet potato biryani naan wrap. 
Supper: It's my husband's turn in the kitchen tonight, and he makes a Japanese-inspired vegetable miso dish with wholewheat noodles. We love a Friday stir fry in our house – they're the perfect way to use up any leftover veg you have lurking at the back of the fridge.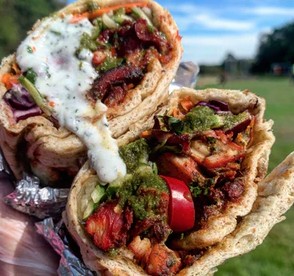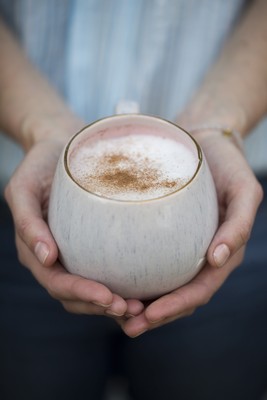 SATURDAY
Breakfast: Saturday mornings are something of a ritual for me. We visit our local artisan bakery, which sits opposite the beautiful expanse of park where I live in Surrey, and I always order a fresh almond croissant and have an almond latte, my one coffee of the week. When I worked as a music agent in London five days a week, I'd pick up a stodgy pastry and coffee on my way in every morning. There was no pleasure in it, and I always felt lethargic afterwards. Having completely transformed the way I eat, I'll still enjoy a coffee and croissant but I'm much more mindful about how often I do it – and the quality, too.
Lunch: We have friends over for a relaxed lunch, so I make hummus, falafel and roasted vegetables, which I serve with olives and wraps. I love entertaining and am always inspired by my husband's Greek family – lots of plates and bowls of delicious food from which people can help themselves. 
Supper: It's Saturday, and that means pizza. But not just any pizza – I make a dough from Sahara Rose's Eat Feel Fresh book, using chickpea flour and sweet potatoes. I top these bases with fresh pesto, goat's cheese, roasted peppers and a few leftover olives from lunchtime. I also have my first drink of the week, a craft beer from a local brewery. I don't drink very often these days as it doesn't really suit my body – I find wine, in particular, aggravates my pitta dosha and gives me headaches. Beer has more cooling properties. I always encourage patients to really listen to their body when it comes to food and drink – no matter how much you like something, if your body is telling you otherwise, you need to listen to it.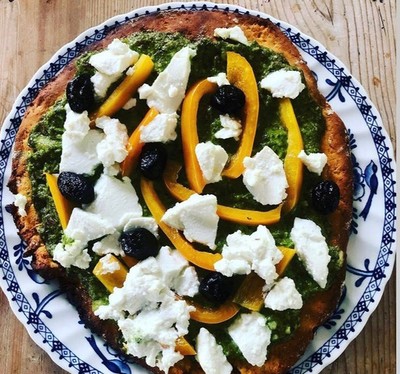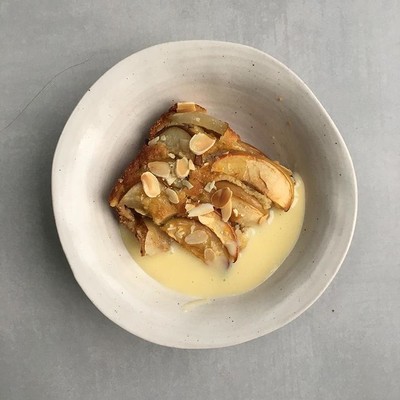 SUNDAY
Breakfast: I love getting outdoors with my husband and daughter on the weekends, and this morning we go for a stroll through the Surrey Hills. We stop at a pub on the way back and order their roast chicken for lunch. My husband isn't a pudding fan, but my daughter and I share an apple crumble. According to Ayurveda, it's not a good idea to eat heavy sweets after a meal as it can affect digestion, but I take an 80/20 approach to diet and believe it's important to enjoy food, too.
Supper: We finish our weekend with an afternoon in front of the fire and a family movie. No-one is hungry come dinner time, so I have a cup of tea around 5pm and we all have an early night ahead of another busy week. 
For more information or to book an appointment with Claire, visit TheAyurvedaCoach.com. You can also find her on Instagram @The_Ayurveda_Coach.
DISCLAIMER: Features published by SheerLuxe are not intended to treat, diagnose, cure or prevent any disease. Always seek the advice of your GP or another qualified healthcare provider for any questions you have regarding a medical condition, and before undertaking any diet, exercise or other health-related programme.
DISCLAIMER: We endeavour to always credit the correct original source of every image we use. If you think a credit may be incorrect, please contact us at info@sheerluxe.com.