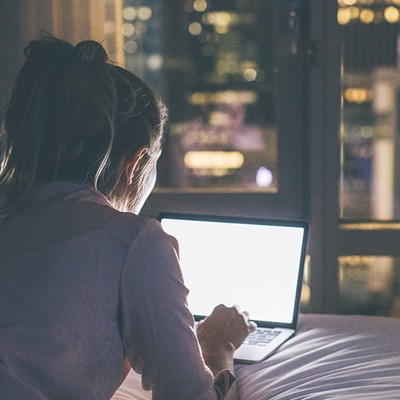 What Is The Dark Web?

The dark web is becoming ever more prevalent in our world online – providing a 'safe space' for all manners of criminal activity to occur, from buying guns to trading illegal pornography. But how dangerous can it actually get? And can anything be done to stop it?

What is the dark web?
The dark web is a vast part of the web that requires special software to gain access. Created in the mid-1990s by the US government, it allowed intelligence operatives to exchange information anonymously.
Once you're inside, you can access websites and other services through a browser, pretty much in the same way as the normal web. But some sites are essentially 'hidden' from view of the normal world wide web, which are now accessible on the dark web. This means they have not been indexed by a search engine and can only be accessed if you know the address of the site.
There are also special markets that operate within the dark web, known as 'darknet markets'. These sites normally sell illegal products that can't usually be bought online, such as drugs and guns, and are paid for in Bitcoin, a cryptocurrency that enables you to trade money almost anonymously.
Because the dark web provides almost total anonymity, it has been the place of choice for certain groups of people who want to stay hidden from law enforcement and the government. One on hand, it's a good place for whistleblowers – such as Edward Snowden – to confer with journalists without being traced and putting that person in danger, but it is much more likely to be used by paedophile rings, criminals and terrorists in order to keep their transactions a secret.

How can you access it?
Wired describes the dark web as a "collection of thousands of websites that use anonymity tools like Tor and I2P to hide their IP address." The easiest way to obscure your IP address – a prerequisite for operating on the dark web – is to download a tool known as a Tor browser. The browser looks similar to any other web browser, like Google or Bing, but it works by sending any online request – like the website you want to browse – to another person's network, and then another person's network, and then finally to the intended recipient, which makes it hard to track down precisely who is viewing what website.
After you download Tor, you are technically now on the dark web. But to access those sites specific to the dark web, most people go to reddit threads, such as r/Tor and r/onions – according to the Independent, the subreddit r/onions is a great resource for finding Dark Web URLs, as sites only accessible on Tor – short for 'The Onion Router' – end in 'onion'.
 
Why is it so dangerous?
Obviously, there are people who want to take advantage of the anonymity that the dark web provides. The most notable is paedophiles, who use the browser to access child pornography without being traced. Last year, it was reported that as many as 10,000 paedophiles joined Paradise Village, the largest dark web paedophile site, in the UK alone.
There has been many a horror story to emerge from the dark web. Just last week, a German woman was sentenced to 12 and a half years in prison for selling her son on the dark web to abusers for up to €10,000 (£8,950) a time. She and her convicted paedophile partner were convicted of forced prostitution, rape, sexual and physical abuse, humiliation, and bondage in almost 60 separate identified acts.
In May this year, three men who ran a dark web drugs business were arrested after admitting posting deadly fentanyl – which is up to 50 times stronger than heroin – around the world. The dark web has also been blamed for an increase in drugs use in Cornwall, which saw a 15-year-old girl die after taking an unknown substance purchased online.

Can the dark web be stopped?
Essentially, the dark web is too expansive to shut down completely, but there are things being done to bring down dark web sites. Although the dark web makes the job of law enforcement far more difficult, they are having more success recently – the most famous case being that of dark web operator, Ross Ulbricht, best-known for creating the black market site, Silk Road (think eBay, but for illegal drugs).
Furthermore, in April Home Secretary Amber Rudd announced the Home Office had set aside £9m to clean up the dark web. The discovery and arrest of several notorious dark web traders, such as paedophile Matthew Falder in February, shows that the techniques used by the government to unmask Tor user's real internet addresses are working so far.
 
To find out more about the dark web, including what's being done to shut it down, visit Gov.co.uk
DISCLAIMER: We endeavour to always credit the correct original source of every image we use. If you think a credit may be incorrect, please contact us at info@sheerluxe.com.