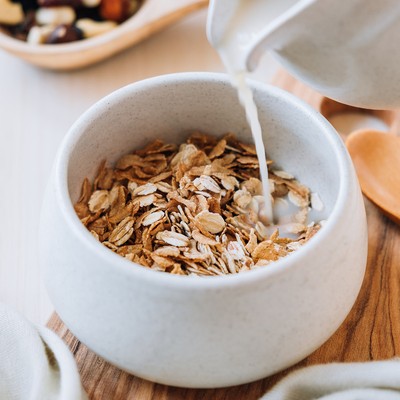 What To Think About When Buying Cereal

It might be the breakfast of choice for many, but is your bowl of cereal doing you more harm than good? From superfood mueslis to low-calorie versions, the supermarket aisles are overflowing with options. But if you're looking for something clean and nutritious, it's difficult to know which is best. To ensure you're armed with the right knowledge, we asked two nutritionists to weigh in…

Find A Balanced Blend
"Cereal is an extremely popular breakfast option – it provides energy cheaply, conveniently and quickly at the start of the day. However, the reality is many popular cereals are refined and lack essential nutrients. Plus, they're unlikely to provide a balanced meal, as many cereals don't contain a good source of protein, complex carbohydrates, fats and fruits and vegetables. Be discerning when buying cereal and start by looking for the word 'wholegrain' on a packet, which means the cereal is less processed and in its more original form. This, in turn, will provide more fibre and nutrients. Also keep a look out for cereals with nuts and seeds, rich in both protein and fats to create a more balanced meal." – Kate Delmar-Morgan, nutritional therapist at the Institute for Optimum Nutrition
Check The Label For Sugar
"All grains are carbohydrates and therefore contain natural sugars. The nutritional information on the back of a cereal packet will help you to understand how much sugar is in 100g of a product (look for 'carbohydrates of which sugars') – this figure includes any added sugars too. The lower the amount of sugar per 100g, the better. A simpler tactic is to look at the ingredients list so you can determine whether the cereal contains any additional sugars – these might be words ending in 'ose' or described as syrups or even honey. These are the cereals to avoid. The goal is to consume natural sugars rather than added sugars." – Kate 
Consider Going Gluten-Free
"Foods containing gluten also contain FODMAPs (fermentable oligo-, di-, and monosaccharides and polyols), which means they're a kind of carbohydrate that can be more difficult to digest. Instead, consider cereals made from alternative grains such as amaranth, quinoa, buckwheat, teff, millet, corn and rice, which won't adversely affect the digestive system." – Paola Langella, nutritionist 
Ditch Special K
"Special K is a cereal that has been marketed as healthy in the past, but just under 20% of the product is sugar, similar to the sugar content of Coco Pops. Avoid buying any cereal that contains sugar – this is my non-negotiable. Instead, read the label thoroughly and make sure it contains three or four ingredients at the maximum. Avoid products with a long list of ingredients, or ingredients that include numerals or ones you can't pronounce." – Paola 
… And Be Wary Of Other Traditionally Healthy Cereals
"The issue with cereals like Weetabix and All Bran is that they are wheat-based, which can irritate the gut and cause symptoms such as bloating. Plus, these cereals may seem healthy, but they all contain added sugar. Wheat bran, which is often recommended as a healthy option, also contains a high amount of phytic acid (a natural substance found in wheat), which can prevent the absorption of certain nutrients such as calcium, magnesium, zinc and iron. These cereals do, however, contain a decent amount of fibre, which can be useful for supporting bowel movements, but due to the absorption issue they should be eaten sparingly and in small amounts." – Kate 
One of my top tips is to soak your muesli in some milk or water overnight, which helps draw out the sweetness from the dried fruit, making your breakfast feel more indulgent.

Up The Oats
"Try to choose an oat-based breakfast option as this makes a change from wheat, which is often consumed in high amounts at other times of the day through foods like sandwiches and pasta. Ideally, look for a cereal that contains wholegrain oats, and the bigger the oat, the better, as this means it is less refined (for example, Ready Brek is made from very finely milled porridge oats, whereas the flakes in a more traditional porridge are much larger, meaning they'll release energy slowly, keeping energy and hunger levels on an even keel)." – Kate 
Consider A Low-Sugar Granola
"Granola is a tricky one as it contains added sugar and oils. In fact, commercial granolas often use high amounts of sugar or syrup as well as refined oils, which can cause an imbalance in the levels of healthy omega-3 fats within the body. When you are out shopping, keep an eye out for low-sugar granolas, such as Lizi's Granola Low Sugar Nuts & Seeds. Always choose a granola which includes nuts and seeds and the least amount of added sugar possible." – Kate 
Soak Your Muesli Overnight
"One of my top tips is to soak your muesli in some milk or water overnight, which helps draw out the sweetness from the dried fruit, making your breakfast feel more indulgent. Dried fruit, in the right quantities, is a great way to naturally sweeten a muesli without adding additional sugar, so look out for a healthy brand that contains dried fruit as well as coconut, nuts and seeds – Dorset Cereals, Alpen No Added Sugar and Alara Muesli are all brands to try. If you soak your muesli overnight in this way, you can add some natural yoghurt in the morning as well as an extra sprinkling of seeds and some grated apple or banana for a much more nutritious and balanced meal." – Kate 
Be Careful With Porridge
"Porridge is a great option if you add plenty of nuts and seeds, fruit and yoghurt, but the mistake many make is having a huge bowl of oats to which they add spoonfuls of brown sugar or syrup. There are also lots of instant porridge mixes available in the supermarket, but these use refined oats and additional sugars (such as Quaker's Oat So Simple pots) so should be avoided. Instead, make your own porridge using jumbo oats." – Kate 
Know The Good Brands
"My top pick is Dorset Cereals' Simply Delicious Muesli, a nutrient-rich option that contains dried fruit, seed and nuts. When buying muesli, check the ingredients for your favourite kinds of fruit and nuts, and make sure that it doesn't contain added sugar. Rude Health is another good brand to know – it offers a great range of different cereals, none of which contain added sugar. If you want to get creative, you could also try starting with a base of gluten-free oats, and mixing these with a combination of nuts, seeds and fresh fruit, topping with some dairy-free yoghurt." – Paola 
Take your pick with these nutritionist-approved healthier cereal options…
For more information visit PaolaLangella.co.uk and ION.ac.uk
DISCLAIMER: Features published by SheerLuxe are not intended to treat, diagnose, cure or prevent any disease. Always seek the advice of your GP or another qualified healthcare provider for any questions you have regarding a medical condition, and before undertaking any diet, exercise or other health-related programme.​
CREDITS: NATASA MANDIC / STOCKSY UNITED
DISCLAIMER: We endeavour to always credit the correct original source of every image we use. If you think a credit may be incorrect, please contact us at info@sheerluxe.com.