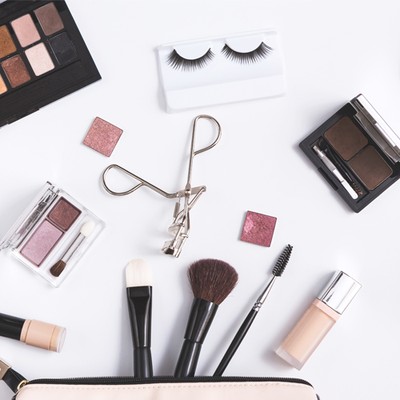 How To Declutter Your Make-Up

It seems a new sorting and cleaning revolution is taking over the world. But it's not just your wardrobes or your homes that need a good spring clean, it's your makeup bag too. When was the last time you washed your makeup brushes and cleaned the crushed bronzer from the bottom of your makeup bag? Exactly. And how you store your makeup, can make a significant difference between a clear complexion and blotchy skin. It's time your blusher has a proper home, SL Contributor, Tamara Corin gets sorting…

Separate Your Products
An organised makeup bag will save you time if nothing else. Sorting your eye products from your lips, cheeks etc… will make application quicker and products easier to find. Don't just divide your makeup into face, lips, eyes, cheeks, but sub-categorise your products too. So red lipsticks should be stored together while nude tones have a place of their own. Palettes can be harder to tidy as they're generally too big to fit into dressing room drawers or plastic containers, so instead stack them high with the most-used palette at the top of the pile. For maximum efficiency, store products in clear acrylic drawers so your whole collection is in clear view. Trish McEvoy aka The Marie Kondo of makeup organisation, firmly states: "whether you apply your makeup at home, on your commute, at the office, or all of the above, don't allow disorder or unpreparedness to force you to skip the steps that make you feel good. An organised system will free you up to enjoy your mirror time."

Pared-Down Perfection
Scaling back your makeup for travelling – whether a weekend city break, or a two-week getaway is no easy task. With a lot of what 'ifs' involved, culling down the products you want (or need) will avoid you lugging the kitchen sink with you. Be realistic about the products and colours you regularly wear. If you haven't already experimented with that highlighter stick, you're highly unlikely to do so while you're away. Think of going on holiday as an opportunity to pare down your makeup and give your skin a well-deserved break- just don't forget the SPF in sunnier climes.

Keep It Clean
We all know we should regularly be cleaning our beauty tools, but few of us actually do. Giving our brushes a quick rinse means they're working at their peak and won't pass on bacteria. Fill a small vase with marbles and pop your brushes in the pot for a pretty storage solution. Or try an Insta-worthy favourite – recycling old candle holders to use as stylish brush pots. This will ensure they're not lying at the bottom of your makeup bag harbouring dust, germs and all kinds of unsavoury gunk. Sanitize your makeup tools and your makeup bag with Beauty Blender Pure Solid Cleanser – this compact silicone pad removes stubborn build-up with no fuss. For a speedy wash, swirl brushes in MAC Cosmetics Brush Cleanser – proven to extend the life of your brushes too.
 

Does Your Makeup Have A Shelf Life?
Most women are surprised when they hear makeup and beauty products have an expiration date and can cause harm if used beyond then. For starters, if the product is past its prime, you're wasting your time smothering cream all over your face, it would simply have no effect on your skin. Holding on to the very last smudge of lipstick, will similarly not provide your lips with any moisturising benefits nor give you the bold colour and coverage it once had. Blemishes, discolouration, rashes, acne patches and eye infections are all harmful effects of using out-of-date products. So, instead of finishing your cherished pot of expensive eye cream to avoid waste, if it's passed its expiry date, quite simply chuck, it will do more harm than good. 

Here's your cut-up-and-keep guide to makeup's lifespan...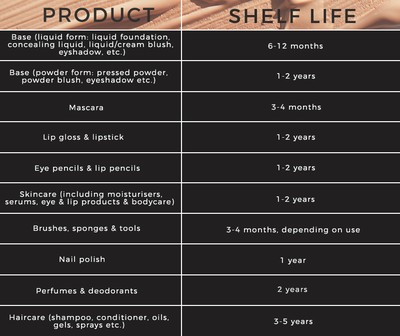 Get swiftly organised with these customised beauty buys that will save on space...
DISCLAIMER: We endeavour to always credit the correct original source of every image we use. If you think a credit may be incorrect, please contact us at info@sheerluxe.com.