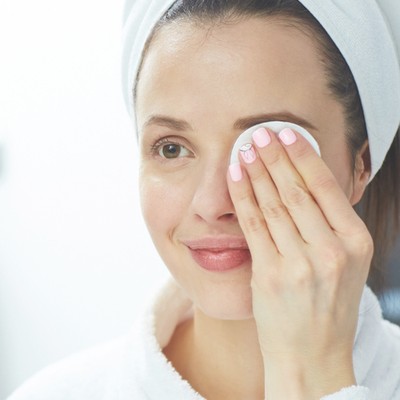 How To Remove Your Make-up The Right Way

A worrying stat recently showed a third of us are happy to sleep in our make-up. Yes, a third! Ok, we've all been there once or twice, but if you're falling into this category regularly, it's time you addressed the problem. One of the key reasons cited for this is being unsure which cleanser should be used where and what actually works. That and sheer laziness perhaps – but no judgement here. So, whether it's lack of info or lack of effort, we're here to help take your routine right back to the essentials and show you it needn't take more than 15-minutes tops. No excuses here…

1. Start with a pre-cleanse 
This sounds unnecessary but most experts agree the first step to squeaky clean skin is to use either plain water on a cotton pad, or a wipe to remove the top layer of grime. This ensures you don't mix the day's make-up with excess dirt and simply redistribute it around your face and into your open pores.  
2. Remove every ounce of make-up 
Find yourself a cleanser you love and stick to it. A lot of people still like to use basic soap and water, but this can upset the pH balance of your skin as soap is alkaline while the epidermis is acidic. Instead, try any gentle wash off cleanser available in bars, creams liquids and foams. Avoid ingredients such as lanolin or fragranced formulas as these can aggravate the skin. Once you've found 'the one', massage it over your face and let it sit for 15 seconds. Don't forget your hairline, under your chin and around your ears. Then wipe with a wet, white cotton washcloth so you can really see all the make-up is gone. Keep going until nothing else comes off on your cloth.  
3. Don't forget your neck 
Your neck is exposed to just as many elements as your face, meaning it's likely to show similar signs of ageing. Keep your neck fully cleansed too, avoid pulling downwards, instead pushing up as you go, otherwise skin can damage and stretch over time.  
4. Use a different remover for your eyes 
This isn't a necessity if you're someone who hates the multi-step process, but many dermatologists recommend it because the skin around your eyes is so delicate. Look for ones specifically formulated for this area and try using a cream or oil-based cleanser which breaks down stubborn mascara and eyeliner effectively. A top tip is olive oil works just as well, if you've run out of your go-to cleanser or need a quick fix.  
5.Not everyone needs a toner 
Opinion is divided as to whether a toner is necessary after cleansing, but really, they're only required if you have oily skin and want to counteract it. Even then, a good cleanser and water should be doing all the work you need. If you did want to try one, avoid alcohol-based toners as these can strip the skin rather than nourish it. A great alternative is a light spritz of a face spray like Caudalie's Eau De Beaute Elixir, which gives a fresh finish without any tightness.  
6. Keep exfoliation to a minimum 
Think of exfoliation as your one tool to remove dead cells and bring back a brighter complexion. The good news for the lazy amongst us, is you only need to do this step once or twice a week after cleansing. Any more and you'll end up irritating your skin and could cause a rash or peeling.  
7. Moisturiser always comes last 
A lot of people slap moisturiser on haphazardly, but you really won't reap its benefits unless your skin is completely spotless. This is because unless the pores are clean, moisturiser can just reblock them, locking in oil and existing dirt on the skin – this is when you'll begin to see breakouts and those pesky red bumps that can often appear underneath the dermis.
Try a new tool  
Come home too tired to fully cleanse? We hear you, we're not robots. But thankfully, these three new formulas are here to help, allowing us to remove make-up at lightning speed in the comfort of our own beds… 
Micellar Pads:
We're all aware of micellar waters one-swipe no-rinse philosophy and now you can get hold of the beloved formula in pre-soaked wipes. They're not recommended for daily use as they can leave residual product on the skin, which can be a little harsh. Occasionally however, these are super handy and much better than leaving any make-up sitting on the surface. We recently trialled the SkinMatrix HD Micellar Water Pads and were really impressed with how much came off. Our skin also felt incredibly fresh, especially considering we hadn't fully cleansed. 
Halo Hero:
Eco-friendly and chemical-free, these sponges were designed to remove all make-up using just water. We were sceptical, but after drenching it under the tap and giving our face a good once over, our make-up had broken down and it didn't leave our skin feeling red or irritated. The only bugbear is that you might find your mascara doesn't disintegrate as easily, if so follow up with an oil in the morning to wipe away any panda eyes. One big bonus is you can reuse these up to 200 times, just pop them in the washing machine after use. 
Magic Mitts:  
Similar to the Face Halo, this bigger mitt is made from microfibers so it's gentler to use than a face cloth but still an effective exfoliator. It emulsifies make-up, which can then be easily swiped away without disturbing the skin's natural acidic film, making it perfect for those who suffer with acne. In short, this one is pretty genius and has rave reviews galore, with some fans dubbing it life changing, while others claim it even makes light work of removing stubborn liner.  
Know Your Type
Gel cleansers:
Typically foam or lather up during use. These are formulated to dissolve oil build-up and fight blemish-causing bacteria without stripping the skin. They're great for oily or combination types prone to breakouts.  
SL LOVES: Vichy Thermale Fresh Cleansing Gel 
Cream cleansers: 
These are lightweight, water-based formulas that clean without leaving any residue. They contain oils and emollients along with cleansing ingredients and are recommended for normal to dry skin types.  
SL LOVES: CeraVe Hydrating Cleanser and LixirSkin Electrogel Cleanser  
Oil cleansers: 
Usually work best if the skin is dry but equally can be used to remove stubborn, long-lasting make-up. Especially useful when you've been wearing waterproof mascara.  
SL LOVES: DHC Deep Cleansing Oil and Clinique Take The Day Off Cleansing Oil 
Exfoliating cleansers: 
Often these contain key exfoliating ingredients such as alpha hydroxyl, glycolic and salicylic acids. These can be used a few times a week (but no more to avoid irritation) when you want to increase cell turnover. 
SL LOVES: Dr Dennis Gross Skincare Alpha Beta Pore Perfecting Cleansing Gel and REN Rosa Centifolia Gentle Exfoliating Cleanser  
Hot cloth cleansers:
These are ideal for dry or sensitive skin types. They're hydrating and perform gentle exfoliation as you wipe away product with a muslin cloth – these usually come with the cleanser.  
SL LOVES: Liz Earle Cleanse & Polish Hot Cloth Cleanser 
DISCLAIMER: We endeavour to always credit the correct original source of every image we use. If you think a credit may be incorrect, please contact us at info@sheerluxe.com.