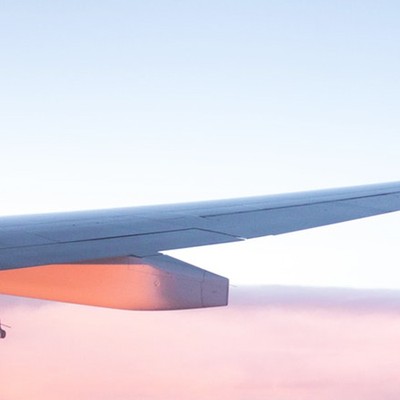 Plan Booking Your Holiday Now

Planning ahead is key when it comes to holidays. But before you go any further, check out our top tips from the travel experts – from the amount of annual leave you use to getting the lowest airfare possible, they'll help you make the right decisions for the best trip ever.

Book On A Weekday
The day you book your flights matters. Quite often we take a gander of the flight details, mull them over and come back to it at a later date. But if you're looking to buy your flights on a Saturday, it's highly likely you'll be paying more than you would any other time of the week. "Airline pricing models are fluid," SkyScanner says. "So a price you see one day (or even minute), might increase or decrease the next."
While there's no set rule about when the best time to book is, SkyScanner's data over the three years between 2015 and 2017 indicates travellers who bought tickets on a Saturday paid on average 5% more than those who booked on a Monday.

Jet Off On A Friday
Great news for fans of the weekend city break: while most believe flying mid-week gives the cheapest options, flight data collated by SkyScanner suggests that the cheapest day to depart from the UK is typically a Friday, bringing a whole new meaning to TGIF. Those who flew out on Friday instead of Sunday –the most expensive day to fly – saved a savvy 18%, which gives you plenty more spending money for dinners out, an extra night or a suitcase full of tacky souvenirs.

Learn The Art Of Code-Sharing
Code-sharing sounds really, really dull, but this little trick could save you big bucks in the long run. As Travel Supermarket say, "code-sharing is when two airlines sell seats on the same flight, but only one carrier actually flies the route. There are plenty of reasons why airlines do this, but one of the main reasons is that they can add specific routes to their itinerary without committing a full aircraft."
This means that there are often two prices for code-share flights – one from each carrier. And sometimes, one is cheaper than the other. So, how can you tell when there's a code-share flight? It won't be on every one but, travel comparison sites should always tell you who the main flight operator is, so you'll know to check that carrier's prices, too.

Get The Most Out Of Your Annual Holiday Allowance
As we advised recently, if you're thinking of doing a three-week trip but want to use the minimum amount of your annual holiday as possible, this year's bank holidays offer up that opportunity. In May and August, you can use four days holiday to get nine days off, but the best time is in April, when you can take a whopping 16 days off using just eight days annual leave. Perfect for that long-haul trip you've always wanted to take – do it quick, before your office cottons on.

Don't Book Last Minute
Despite what many tell us, booking last minute doesn't necessarily make your holiday any cheaper. Expedia say to book flights as early as possible: "Book at least 30 days before departure to save on average 20%. Even more savings can be had if you book 3 months in advance."

Go Incognito
For flight aficionados, it's one of the worst-kept secrets that searching flights more than once will cause the price to increasingly rise, in order to get you to panic and book something quick. So always open your chosen flight checker in incognito mode – that way, the site will have no idea how much you've been searching, and the flights will likely stay around the same price.
 
Pick A Good Month
Depending on whether you're planning on flying domestic or international, there are certain months that'll give you better bang for your buck. Expedia say for international flights, the best month to book your flight is May, and for domestic it's December.

Avoid The School Holidays
If you're someone who doesn't have children and therefore doesn't fancy spending your holiday surrounded by a bunch of them, it's important to know when the school holidays are:
February half-term: This year, the February half-term falls from Monday 18th until Friday 22nd, with kids officially back at school on Monday 25th.
Easter holidays: Over Easter, holidays run from Monday 8th April to Monday 22nd April.
May half term: From Monday 27th until Friday 31st May.
Summer holidays: The big one. If you're wanting to go on a nice, long, child-free summer holiday, schoolkids are off from Wednesday 24th July to Friday 30th August, return to class on Monday 2nd September.
October half-term: If you're looking for a little winter sun, then avoid Monday 21st October to Friday 25th October – that's when families are likely to be indulging, too.

Where To Go
That, of course, depends on what time of year you go, but if you want a long-haul holiday with guaranteed sun LoveHolidays.com recommend the Caribbean, Dubai, Thailand and Cape Verde as these destinations boast summer all year round.
If you're not hot weather people but were worried you'd already missed skiing season, then fear not – plenty of destinations still offer summer skiing. According to Peak Retreats, Les Deux Alpes Glacier and Tignes Glacier are ideal slopes to head to in the summer months (the former is open from 22nd June to 31st August this year).
And if you're a bit wobbly on your feet, plenty of places still run ski schools. Warren Smith Ski Academy in Cervinia, Italy, runs five day courses between July and August; the European Ski & Snowboard School at Les Deux Alpes runs from late June to early September; Snoworks at Tignes operates over a shorter peiod of time, from June 24th to July 26th; and if you're willing to travel far, Whistler's Blackcomb summer glacier camps run from June to July, and, perhaps more surprisingly, SASS Argentina also have classes throughout July and August.

Join The Club
Another of the travel world's worst kept secrets is Jack's Flight Club – the place to look for the cheapest flights. Run by Jack Sheldon and focusing on flights from the UK and Ireland, he uses a computer program that scours every fair on every route by every airline, just waiting for the cost of a seat to fall. He then emails travellers the cheapest deals to their inbox a couple of times a week: London to New York return for £99; Liverpool to Morocco return for £44 – just a couple of examples of the the low prices Sheldon has found.
This is normally because of an unannounced flash sale or a 'mistake fare': "Airline pricing systems are insanely complex," he told The Telegraph. "Say I'm an airline and I'm setting a fare. That fare then goes into a database and then perhaps into another one that feeds online travel agents (OTAs) and partner airlines, so any single mistake - in a currency conversion or fuel surcharge or airport tax or even a manual error - it goes out into the massive system that is international air fare pricing. And in that lies discounts for travellers."
To get your hands on some of Jack's best deals, simply sign up to his email service and he'll pop them into your inbox.

Don't Forget Your Jabs
It's important to remember that if you're travelling to certain areas in the world, it's likely you'll need to get a couple of jabs to protect you from getting ill. The World Health Organisation has a full list of what vaccinations you'll need to get for which countries, and the NHS state you need to start thinking about getting yourself vaccinated at least eight weeks before you're due to travel as you need to develop an immunity. They also advise that some jabs may need to be done over several weeks or months, so as soon as you know when you're going, book an appointment to speak to your GP.
DISCLAIMER: We endeavour to always credit the correct original source of every image we use. If you think a credit may be incorrect, please contact us at info@sheerluxe.com.