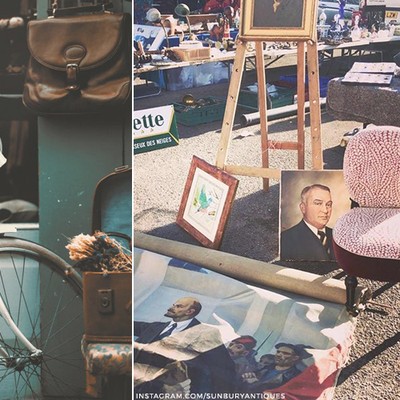 The Best Interiors Fairs In London

If you're looking for something unique to add that individual or quirky touch to your interiors, then a trip to one of the many booming antiques and collectors fairs around the country could be just the ticket. Here, SL contributor, interiors specialist Jenny Branson, brings you the best of the bunch to help you get ahead of the crowd, and make sure you bag that bargain before someone else pips you to the post…

NORTH:
Lincolnshire Antiques & Home Show
Situated on the 200-acre Lincolnshire Showground site just outside Lincoln, this popular mid-week indoor/outdoor show is an unmissable event for anyone passionate about creating a stylish living space. Indoor stalls house vendors of smaller decorative items and fine antiques, with the marquees offering larger furniture and collectables. The outdoor field pitches have all sorts of vintage items and offer the most competitive prices.
 
2019 dates: 3rd April, 29th May, 10th-11th August, 9th October, 4th December
Entry times: 10am-4pm, over-16s £5pp
Extra info: Free parking
Visit Asfairs.com
Newark International Antiques & Collectors Fair
World-renowned as the ultimate of treasure hunting grounds, this lively event is the largest of its kind in Europe. Held at the Newark and Nottingham Showground, the enormous 84-acre site can play host to up to 2,500 stands at a time. From fine antiques to the most obscure decorative items, the shopping possibilities are endless.
 
2019 dates: 31st January-1st February, 4th-5th April, 30th-31st May, 15th-16th August, 10th-11th October, 5th-6th December
Entry times: Thursdays 9am-6pm, over-16s £20pp; Fridays 8am-4pm, £5pp (Thursday ticket also allows entry on Friday)
Extra info: Free parking
Visit Iacf.co.uk
SOUTH:
Alexandra Palace Antiques & Collectors Fair
Held in the historic Great Hall, north London's answer to the antiques fair calendar regular attracts over 300 quality dealers from around the UK. Expect to see a range of 20th-century collectables alongside the more traditional antiques with producers such as Clarice Cliff and Susie Cooper on show, as well as an abundance of art deco designs. Recently, they've joined forces with Pop Up Vintage Fairs London, who've brought with them a mix of vintage clothing, jewellery and accessories, retro homeware and mid-century collectibles.
 
2019 dates: 17th February, 19th May, 1st September, 1st December
Entry times: 9:30am-4:30pm, over-16s £6pp
Extra info: Free parking
Visit Iacf.co.uk & PopUpVintageFairs.co.uk
Sunbury Antiques Market
This gem of a market is currently in its 40th year at Kempton Park Racecourse. So successful has the formula been that the organisers have recently expanded to Sandown Park Racecourse as well. Offering a huge range of antique goods as well as vintage fashion, garden ephemera, architectural salvage and 'shabby chic' furniture, both venues offer free admission and free parking. Get there early to bag the best bargains.
 
Kempton 2019 dates: 8th January, 29th January, 12th February, 26th February, 12th March, 26th March, 9th April, 30th April, 14th May, 28th May, 11th June, 25th June, 9th July, 30th July, 13th August, 27th August, 10th September, 24th September, 8th October, 29th October, 12th November, 26th November, 10th December
Kempton entry times: 6am-2pm
Sandown 2019 dates: 5th February, 2nd April, 7th May, 2nd June, 15th September, 1st October, 3rd December
Sandown entry times: 7am-1pm
Visit SunburyAntiques.com
Ardingly International Antiques & Collectors Fair
Due to its proximity to the Channel, Ardingly has an abundance of sellers from continental and eastern European countries, giving rise to an eclectic mix of French brocante and traditional folk wares alongside the usual homegrown antiques. The largest of its type in the South of England, rich pickings from the 1,700 indoor/outdoor stalls can be yours within a one-hour drive from London.
 
2019 dates: 15th-16th January, 5th-6th March, 23rd-24th April, 18th-19th June, 16th-17th July, 3rd-4th September, 5th-6th November
Entry times: Tuesdays 9am-5pm, over-16s £20pp; Wednesdays 8am-4pm, £5pp (Tuesday ticket also allows entry on Wednesday)
Extra info: Free parking; delivery service available within a 30-mile radius
Visit Iacf.co.uk
 
EAST:
Detling Antiques, Vintage & Collectors Fair
Held at The Kent County Showground, up to 400 exhibitors both indoors and out showcase a variety of antiques, vintage and collectables, proving an excellent hunting ground for interiors enthusiasts.
 
2019 dates: 12thth-13th January, 27th-28th April, 20th-21st July, 7th-8th September, 9th-10th November
Entry times: Saturdays 8:30am-4:30pm, over-16s £6pp; 10am-3:30pm, £5pp (Saturday tickets allow entry on Sunday)
Visit B2BEvents.info
Peterborough Festival of Antiques
Located at the East of England Showground in Peterborough, twice a year this fair contains a spectacular array of antiques and collectables for sale within four permanent buildings, a variety of trade marquees and several acres of outdoor pitches.
 
2019 dates: 19th-20th April, 27th-28th September
Entry times: Fridays 10am-4:30pm, £7.50pp; Saturdays 9am-4:30pm, over-16s £5pp
Extra info: Free parking
Visit FestivalOfAntiques.co.uk
WEST:
Shepton Mallet International Antiques & Collectors Fair and Giant Flea
The Royal Bath and West Showground is the site of both the Shepton Mallet International Antiques and Collectors Fair and the Shepton Giant Flea & Collectors Market. The former is the West Country's premier antiques event with 600 indoor stands selling everything from paintings and antique furniture to vintage teddies, restoration products and luxury leather goods attracting many of London's top dealers.
2019 dates: 18th-20th January, 29th-31st March, 14th-16th June, 13th-15th September, 8th-10th November
Entry times: Fridays 12-5pm, over-16s £10pp (allows entry on Saturday and Sunday); Saturdays 9am-5pm, £5pp; Sundays 10am-4pm, £5pp
Extra info: Free parking
Visit Iacf.co.uk
The Giant Shepton Flea Market
If your tastes lie more towards the vintage end of the spectrum the eclectic 250 stall Giant Flea will be right up your street.
2019 dates: 6th January, 10th March, 21st April, 21st July, 25th August, 13th October, 24th November
Entry times: 9:30am-4pm, over-16s £4.50pp
Visit SheptonFlea.com
Malvern Flea & Collectors Fair
Just outside Great Malvern against the backdrop of the Malvern hills, vendors at this eclectic fair cater to every taste. Stalls are housed inside the main exhibition hall and out into several interconnected sheds in a slightly random manner, but the formula seems to work, and the casual and relaxed atmosphere makes for an ever-popular day out.
2019 dates: 20th January, 10th February, 22nd April, 27th May, 28th July, 26th August, 15th September, 13th October, 8th December
Entry times: 7:30am-3:30pm, over-16s £5pp
Visit B2BEvents.info
12 tips for hunting like a pro…
1. Take a photo of where you park your car on your phone to ensure you can find your way back easily.
2. Rather than heading straight for the shiny main concourse, get hunting around the edges in the less polished stalls – you'll get a lot more for your buck.
3. If you're looking for a bargain, don't go dressed like you can afford much more. Dress down and dress comfortably.
4. Be prepared to barter. Marked prices are always negotiable, so go in with a lower offer and see what happens.
5. Cash is always preferred and you'll get a better deal if you have it at the ready.
6. If you want to have the first pickings then get there early. For the best bargains, wait until the end of the fair.
7. Bring something with you to carry your purchases in, as you won't be able to bring a car in until the fair is closing. A rucksack is great for smaller items, but a camping trolley is a must for larger pieces.
8. Make sure you bring your own snacks and water. These are expensive on-site.
9. Have a pack of wet wipes to hand. A lot of the items won't have seen a duster in decades.
10. If you're looking for fine antiques, take a magnifying or eye glass to check markings before purchasing.
11. Make sure you try before you buy. If it's a chair, sit in it. If it's a piece of fabric, open it out and check for holes.
12. Remember that lighting will often need to be re-wired, so make sure you factor this in to your budget.
For more interiors advice and inspiration, follow Jenny on Instagram and visit JennyBranson.com
DISCLAIMER: We endeavour to always credit the correct original source of every image we use. If you think a credit may be incorrect, please contact us at info@sheerluxe.com.