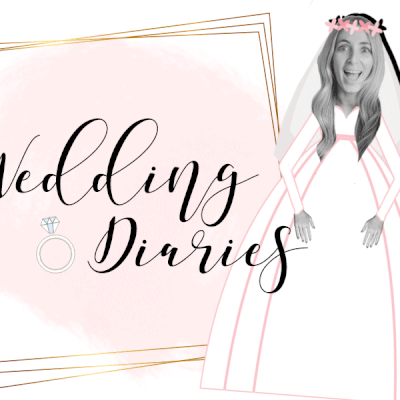 The Wedding Diaries: The Dress

With just eight months to go until her big day, SL's Fashion Editor Charlotte has officially chosen her dress. In the second of her monthly series, The Wedding Diaries, she shares her tips for finding the perfect style...

I had low expectations when it came to dress shopping. Going with friends is one thing; in the past I've enjoyed perching on a white sofa, chilled prosecco in hand, with an eclectic mix of fellow bridesmaids and other peoples' relatives, delivering my verdict like a fashion-savvy Craig Revel-Horwood. But the idea of parading around in front of my own panel of judges was, at best, daunting – trying on a selection of bright white dresses against my pasty skin in the cold light of day just didn't appeal.
This alone validated my decision to go with just my mum in tow. She's the person I run most sartorial decisions past anyway, and my inner bride loves the idea of the big reveal to bridesmaids on the day itself – it makes for excellent photographer fodder. Plus, they can't exactly chime in with their opinions once you're suited, booted and heading for the (proverbial) chapel – I can't imagine much worse than choosing a dress you love and your mates not being on board. An episode of Say Yes To The Dress this is not.
I was also disinterested in spending months stressing, and weekends schlepping around, to find 'The One.' So, I did my research. I knew exactly what I wanted - sexy, simple, silky, slip-like, a la Carolyn Bessette-Kennedy at her wedding to JFK Jr. I have never wanted a traditional meringue and am not big on embellishment; no lace, sequins, beading or tulle for me. That made the process of choosing where to go much easier; I was able to quickly rule out the much-recommended conventional labels (the likes of Philippa Lepley, Suzanne Neville, Pronovias etc.) and favour more boho, fashion-y names. But as it turns out, it doesn't much matter how strong your vision is – what you love and feel good in can, in bridal form, look completely and utterly shit.
Slip-style wedding dresses are made of heavy satin and are often cut on the bias – a combination which, unless you are 6-foot-tall and three inches wide, are to the body what casing is to a sausage. It took about five minutes to confirm I would absolutely not be wearing what I had envisaged and although most former-brides warn you that this is the case, it's certainly an adjustment. Another set-back? Turns out I look really, really good in that meringue I didn't want. A Romona Keveza architectural style at Browns had my mum swooning – if the wedding wasn't in Spain's warm June climes, that very well could have been the dress. However, determined to find the holy grail combination of comfortable, elegant, flattering and fabulous, the search continued.
Needless to say, I won't be revealing what I ended up going for. I will tell you, though, it's a shape I had previously ruled out with the designer because it's typically so bad on me. But when I tried it on with a veil, I cried happy tears. I never expected to feel anything but inconvenienced and flustered trying to find the right one, so to find a style that not only looked good but provoked a visceral reaction was a real bonus. 
So, all in all, the experience was mixed. If you're shopping for your own or just curious to know my take-aways, here are all the tips you need to know about finding The Dress...
Do Your Research
Everyone told me to only visit designers who made the style of dress I wanted. And that was helpful to a point, but really the research I should have done was into what would and wouldn't suit me. It was all very well having a roster of appointments lined up, but it only took one dress to rule out what I thought I wanted - rendering a few of those other boutiques pointless. If you're only committing to one style, you'd better make sure it's the right one, or you'll really be wasting your time.
Don't Get Disheartened
Whether you're tiny and need all the bulldog clips or you're a healthy size 12 squeezing into a sample, boutiques only offer a one-size-fits-all option. This means that, more often than not, the results of the initial try-on are a disappointment. You need a good imagination to be able to picture the outcome once it's been designed bespoke for you. However, don't let this dishearten you – when you find one that looks great against all these odds, you'll know it's the one.
Allow Plenty of Time
When you book your appointments, the first thing boutiques will ask is if the wedding is less than or more than six months away. Most suggest that eight or nine months before the big day is the ideal time to confirm your dress to have it created stress-free, so it's worth beginning your search up to a year in advance. But don't get cavalier – when I went to book one boutique in late May, the first Saturday appointment they could offer was September 27th. Get in early to avoid disappointment...
Vocalise Your Budget
Imagine finding the dress of your dreams and then finding out it's totally out of your budget. Prices can vary massively even within one store, particularly if you're visiting a boutique that stocks multiple designers, so don't be afraid to tell your assistant your bracket if they don't ask straight away.
Have A Spray Tan
It's beyond me why you would attend your dress fitting looking anything other than your best self. How could you possibly envisage what you're going to look like on your big day if your hair's a mess and your face looks tired? Feel free to replace this title with anything that makes you feel excellent, but naturally, for me, it's a good old dose of St Tropez.
DISCLAIMER: We endeavour to always credit the correct original source of every image we use. If you think a credit may be incorrect, please contact us at info@sheerluxe.com.