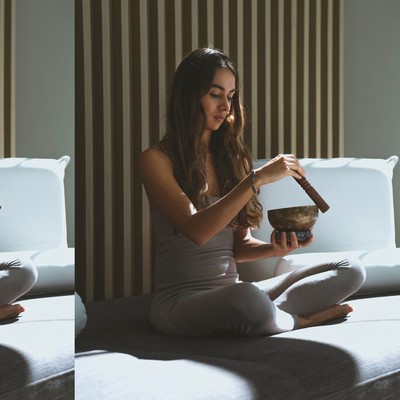 Sound Healing 101: What It Is & Where To Try It

You may not think sound healing is your thing, but devotees will tell you it's a guaranteed way to ease anxiety, improve sleep and boost your mood. To find out more – including how and where to get started – we spoke to founder of Emerald and Tiger Jasmin Harsono and sound healing guru Athena Ko…

Think Of It Like A Supercharged Form Of Meditation
Sound therapy may sound a bit 'woo-woo', but it's been used for centuries as a form of healing – even the temples and pyramids of Ancient Egypt were built to amplify sound for healing. Fast forward thousands of years and wellness practitioners across London are increasingly turning to sound – either in the form of a standalone sound bath or alongside reiki and meditation – to supercharge healing. 
"A sound healing session is a meditative experience," says Jasmin Harsono, founder of Emerald and Tiger. "During a sound bath you are literally bathed in sound waves. These waves are produced by various sounds and frequencies from gongs, drums, flutes, crystal and singing bowls, rattles and tuning forks." Plus, the beauty of a sound bath is that this healing happens without you having to do anything – it's like a fast-track meditation that accelerates the process of mindfulness without you having to actively think about trying to switch off.
Recognise Every Session Is Different
With no melodies or lyrics for the mind to attach to, sound and simple rhythms reduce brainwaves to an alpha or theta state (out of 'thinking mind'), bringing you more in touch with your subconscious, where healing happens. 
"Sound baths use repetitive notes at different frequencies to bring your focus away from your thoughts," says Jasmin. "By using particular combinations of rhythms and frequencies, it's possible to shift from your normal waking state to a more relaxed and creative state, and then further into a meditative state or sleep state. For example, 111 Hz frequency helps increase natural mood-boosting hormones and overall wellbeing. In every session, I'll choose specific frequencies to support someone's needs. The sounds shared in a session will remove stagnant energy and help restore balance in the body." 
Studies show sound baths can regulate the immune system and slow the heart rate, in turn lowering blood pressure and supporting production of sleep hormones.

Know That It Is Backed By Science
This may sound out there, but studies show there's more to a sound bath than relaxation. In fact, a recent study found signing bowl meditation helped lower blood pressure, improve breathing and circulation, alleviate aches and pains, and strengthen the immune system. A separate study on vibroacoustic therapy – where sounds and vibrations are applied directly to the body – found the practice could be an effective treatment for chronic pain and injury recovery. 
"There is lots of research to suggest sound healing reduces anxiety and stress levels," adds Jasmin. "It also regulates the immune system and slows the heart rate, in turn lowering blood pressure and supporting production of melatonin, the sleep hormone, as well as the release of mood-boosting hormones such as serotonin, dopamine, oxytocin and endorphins."
Expect To Feel The Benefits Straight Away
Unlike many other holistic treatments, with sound therapy, the benefits are immediate. "After just one session, you'll feel deeply relaxed and recharged," adds Athena Ko, sound meditation teacher from Buddhabox. 
"Most beginners fall asleep or slip into that blissful state prior to falling asleep. Exactly what you experience varies between individuals, but some people feel like they're floating while others feel grounded or melted into the floor. Others see colours and visuals, and some may have actual spiritual awakenings. It's also not uncommon to feel emotional as your body processes repressed emotions during a session. Whatever you feel, go in with an open mind and no expectations or judgement."
Do It Anywhere
Sound therapy works for everyone, and whether you do it in a studio or online, the benefits are the same. "A sound bath is definitely worth trying in person as the sound can feel more intense, but over the last two years I've been sharing sound meditations online and have received great feedback. Both are effective," says Jasmin. "Plus, it's never been easier to try sound healing as there is an abundance of sound meditations online. Just be sure to chat to your GP before starting if you are in the first trimester of pregnancy, are sound sensitive, have tinnitus, epilepsy or a pacemaker."
 If you're trying a sound bath in a studio, expect something akin to an extended savasana – you'll be lying on the floor with blankets and bolsters while you're bathed in the healing vibrations of sound – while a one-to-one session provides a more intimate, and bespoke, experience.
Want in? These are the destinations to keep on your radar…
Re:Mind: One of London's best-kept secrets, this urban sanctuary tucked away in Eccleston Yards offers crystal bowl and gong sessions throughout the week. 
Visit ReMindStudio.com 
House of Wisdom: A stone's throw from Regent's Park, House of Wisdom is the destination to know for sound, reiki and spiritual healing. 
Visit HouseofWisdomStudio.com
She's Lost Control: The go-to for all things spiritual, She's Lost Control hosts online sound baths every other Tuesday as well as one-off and 1-2-1 events. 
Visit ShesLostControl.co.uk
Jasmine Hemsley: Wellness guru Jasmine Hemsley has long been at the helm of the capital's sound movement. Experience her magic at one of her pop-ups or try one of her downloadable sound baths. 
Visit JasmineHemsley.com
BLOK: In these hour-long sessions, Blok's experts use quartz crystal bowls, gongs and Tibetan bowls to soothe the mind and heal the body. 
Visit BlokLondon.com
If you'd rather try sound healing online, these are the apps to download…
Insight Timer: Offering the world's largest library of free meditations – including plenty of sound healing sessions, gong baths and more – Insight Timer is a perfect way to dip your toe in. 
Visit InsightTimer.com
Third Ear: The brainchild of Leo Cosendai, who used to struggle with crippling anxiety before discovering sound healing, Third Ear offers an authentic sound and meditation experience. 
Visit App.ThirdEar.com
Feel Better by DE: If time isn't on your side, Deliciously Ella's award-winning app offers speedy sound baths – we love Holly Husler's 15 Minutes Of Peace. 
Visit DeliciouslyElla.com
For more information visit EmeraldAndTiger.com and BuddhaBox.UK.com
DISCLAIMER: Features published by SheerLuxe are not intended to treat, diagnose, cure or prevent any disease. Always seek the advice of your GP or another qualified healthcare provider for any questions you have regarding a medical condition, and before undertaking any diet, exercise or other health-related programme.
DISCLAIMER: We endeavour to always credit the correct original source of every image we use. If you think a credit may be incorrect, please contact us at info@sheerluxe.com.