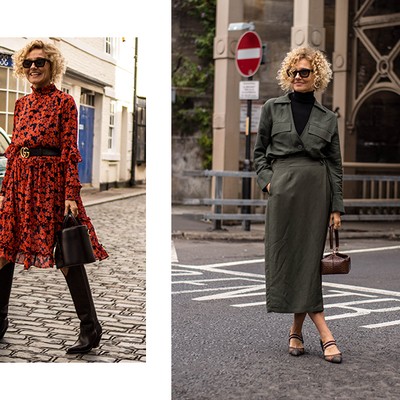 A Grown-Up Fashion Blogger's Style Tips

Who said you have to be 20-something to be an Instagram star? Ven's Wife Style is the 50+ blogger proving good style doesn't have an age limit. We sat down with the grown-up fashionista to get her wardrobe secrets…

First up, let's talk about your personal style...
I think it's a combination of classic with a modern twist and elements of current trends. I like to pair unique, statement designs with classic essentials.
How has it evolved over the years?
For many years I worked as a probation officer. I think fashion was always present in my life even when I was working in court, but back then my style was more masculine – it was more about suits and trousers. I had been toying with the idea of starting a blog for a long time, but I needed a bit of a push from my family to finally take the leap; they convinced me I should show the other side of my style.
Do you have a muse?
I love Carine Roitfeld and Lucinda Chambers. Besides them, I think Alexa Chung has amazing style. I really enjoy checking what she wears, whether it's for a party or just off-duty casual. She's a real inspiration.
This autumn/winter season is all about animal print. Don't be afraid to mix and match with other patterns like check and plaid - just make sure your accessories are simple to balance the whole outfit.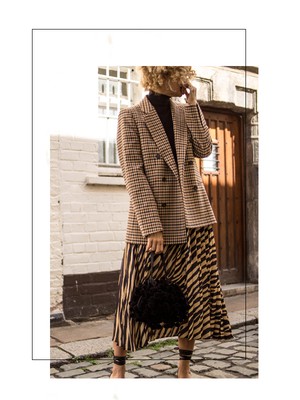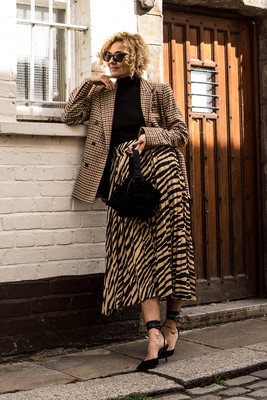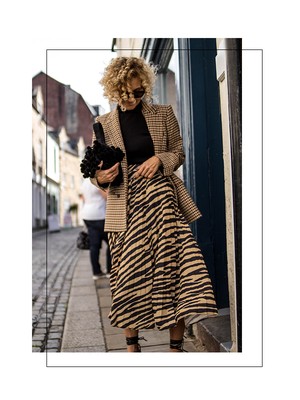 What are your go-to high street brands?
Topshop, Mango and Zara.
And designer?
Off-White, Jacquemus, Balenciaga, Cèline, and Fendi. Plus, the recent Prada collection is amazing.
What's actually worth investing in?
Shoes, bags and jewellery. I believe that every look – even the cheapest – can be elevated by great accessories.
Any pieces you're lusting over right now?
I just got a new pair of Prada shoes that I'm excited about, and next on my list are the Fendi cowboy boots.
One of the trends I'm really excited about this season are cowboy boots. Short or long, black or colourful. Most importantly they go with everything - you can wear them to trousers or to floral dresses. There are no limits!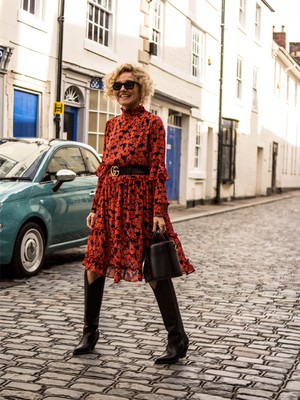 Top three styling tips for looking great in your 50s?
Always experiment: I'm always curious about new fashion trends and I like testing them on myself – I believe that in order to develop our fashion sense and style we need to experiment with clothes; to learn what styles works for us and makes us feel good about ourselves. Try dozens of clothes – even those you aren't sure of – that aren't what you would usually buy. Only this way will you find out what works for you and what doesn't. You might be pleasantly surprised.
 
Mix high-end with high street: This way you can create something truly unique. The key is to mix and match – you can wear Dior or a Fendi bag with Topshop and H&M items and look absolutely amazing, like you're walking right off the catwalk or the pages of a fashion magazine. Look out for high street clothes that look more expensive than they are, and try to add original accessories to your outfit; whether it's beautiful shoes or a bag. Every outfit can be spiced up by unique extra details.
Don't be afraid of colours and prints: They can give you and your outfit a bit of energy; even a single colourful element can transform your whole look. I like a pop of pink or yellow, especially during summer time. I'm also very excited about the fact that animal prints are coming back – don't be afraid to 'go wild' and look for something with a tiger or leopard print and mix and match them. 
The summer may be coming to an end but that doesn't mean that you have to hide your summer clothes. Just add a shirt, cardigan or turtleneck and you can continue to wear your favourite summer dresses, skirts and tops in the colder months.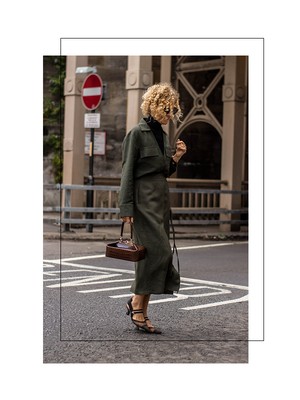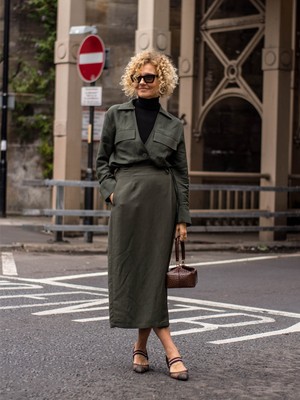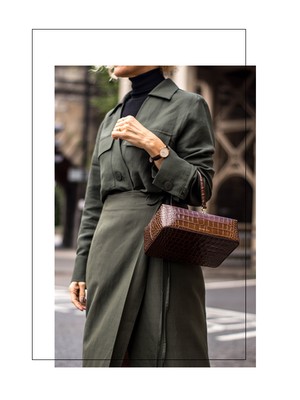 How can one make the trends work at any age?
I try to layer my clothes. I love playing with layers, mixing prints and colours – it's the perfect way to mask anything I don't want to show. Besides that, try and mix new, trendy items with something more timeless and classic – this way the whole outfit becomes more balanced and more age-relevant.
Which ones will you be trying for Autumn/Winter?
Cowboy boots (the longer the better) and darker colours (dark green, navy and black). I also love the idea of mix and matching a check pattern. I'm planning to wear long silk scarves tied under the collar of the shirt and lots of monograms (on bags, shoes and clothes, courtesy of Dior and Fendi).
And are there any you'd never wear?
It all comes down to what we believe we look good in and what we feel comfortable in – for example, I'm very self-conscious about my legs, so I don't wear miniskirts or short shorts. You need to be able to look at yourself and say "Hey, I look great, I cannot wait for my partner or my friends to see me in this". You could be wearing the most beautiful clothes but if you don't feel comfortable it can easily affect your confidence. You have to find the compromise between what looks best on you and what's going to give you the most confidence.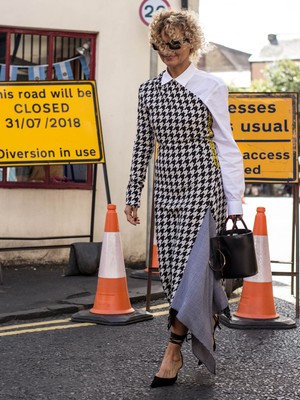 This is my perfect office look. The dress itself is unique – that's why I've added simple shoes and a bag to balance it. Look for check dresses – they'll be in high demand this season.
Talk us through your everyday look...
I always reach for my proven formula: jeans, white shirt and pearls from Chanel. This is my favourite kind of outfit; it's never failed me. That's why I believe it's worth investing in good-quality white shirts and perfectly cut jeans.
Any hack for looking glamorous at big events?
My go-to choice is a statement black dress (Temperley London's a favourite), combined with beautiful jewellery, bag and shoes.
Finally, what are the five pieces every woman should have in her wardrobe?
I can't imagine my wardrobe without a great pair of jeans. Besides that, I believe that all of us should own a high-quality (and slightly oversized) white shirt, a good quality check blazer, a beautiful trench coat and a leather pencil skirt.
For more style inspiration, follow Ven's Wife Style on Instagram and her Blog
Renata's New Season Wishlist
DISCLAIMER: We endeavour to always credit the correct original source of every image we use. If you think a credit may be incorrect, please contact us at info@sheerluxe.com.