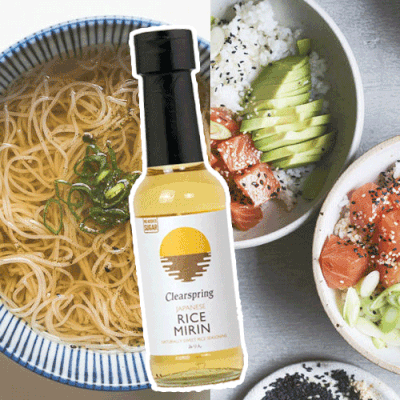 Everything There Is To Know About Mirin

If you bought a bottle of mirin once and haven't touched it since, it's worth remembering how versatile a condiment it is. An Asian rice wine, it can enhance the flavour of endless dishes, from salads to stir-fries. Consider this your guide for making the most of it…

What Is Mirin?
Mirin is a condiment used in Japanese cuisine. It is a variety of rice wine similar to sake, but with a lower alcohol content and higher sugar content. This sugar content is a complex carbohydrate that forms naturally during the fermentation process – no sugars are added. The ingredient has a bold umami flavour, which makes it a popular ingredient in Asian sauces, broths and marinades. The sugar content also means it adds shine to sauces, glazes and dressings – particularly dishes such as poke, ramen and stir-fries. Mirin is also often added to grilled fish to erase the fishy smell, as a dipping accompaniment to sushi, and as an alternative to sugar or soy sauce.
How Is It Made?
The main ingredient in mirin is koji – cooked rice and/or soya beans that have been inoculated with a fermentation culture, aspergillus oryzae. Koji is also used to make popular ingredients such as soy sauce, miso and sake. Once it has been cultivated, koji is usually added to larger quantities of rice or soya beans, together with a brine solution. In the case of mirin, it is mixed with glutinous rice and the distilled spirit shochu. The enzymes in the koji break down complex carbohydrates and proteins into amino acids, fatty acids and simple sugars. One of the amino acids released by creating koji is glutamate, which gives mirin its umami taste.
Choosing Your Mirin
You'll find three main types of mirin in Japan. The first is hon mirin, which contains about 14% alcohol and is produced by a 40- to 60-day fermentation process. The second is shio mirin, which contains alcohol as low as 1.5%. The third is shin mirin (which translates as 'mirin-like seasoning'), which contains less than 1% alcohol, yet retains the same flavour. 
In the UK, these are the most common types you'll find on supermarket shelves:
Aji-Mirin
Some bigger brands like Kikkoman will label its product as "aji-mirin" (which translates to "tastes like mirin"), which means it's probably cut with added sweeteners. If shin mirin is all you can get your hands on, don't worry – it'll more than do the trick
Mikawa Mirin
Hon mirin from the Mikawa region of Japan is considered to be the finest. It is produced by a traditional method of koji fermentation and careful ageing over nine months. Sweet rice is used instead of the cheaper starches found in the other products in the market.
How To Cook With Mirin 
We asked Clearspring director Maria Dawson why mirin is a must-use ingredient…
Why is mirin an Asian staple?
Mirin is considered one of Japan's secret ingredients – largely because of its truly unique flavour, but also because it's not as widely known as other Asian condiments and seasonings, such as soy sauce. The delicate and carefully managed fermentation process is the key to mirin's sweet flavour, which is hard – if not impossible – to create with other, more conventional ingredients.
What does mirin taste like?
Mirin has a mild, yet full-bodied sweetness, with a very light tangy afternote. Mirin does a great job in helping to bind flavours together. Its own sweetness works perfectly to add a balanced, well-rounded taste to savoury or tart-flavoured dishes. The taste of mirin can vary a lot depending on the quality of the ingredients, the length of the fermentation process and the skill of the producer. We sell mirin from the Mikawa region, which is considered the 'champagne of mirin' due to the mild weather conditions and quality of the local water.
Got any quick dinner tips using mirin?
If you want to make a quick teriyaki sauce, mix mirin with soy sauce in equal parts and you'll capture that delicious umami flavour of teriyaki. I also recommend using mirin as a glaze on vegetables – just brush on before roasting.
Can you use it in non-Asian dishes?
From salads and stews to adding it to pasta sauces, you can add mirin to almost anything. We've got a great recipe for onion gravy which uses our organic Mikawa mirin.
Have you got any tips for looking after mirin once opened?
Once opened, it's best to keep it in cool, dry conditions. Because it contains alcohol, this should help to preserve it for a couple of weeks.
Visit Clearspring.co.uk
 
Shop our favourite products below…
Feeling inspired? Try out 12 of our favourite mirin recipes, from marinated tofu steaks to prawn and mango lettuce cups…
DISCLAIMER: We endeavour to always credit the correct original source of every image we use. If you think a credit may be incorrect, please contact us at info@sheerluxe.com.