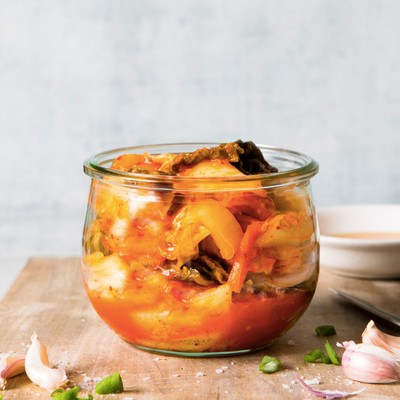 What To Know About Kimchi & How To Use It

You'll know the name and might even have tried it: kimchi is a staple Korean side dish of salted and fermented vegetables. From its health benefits to simple ways to incorporate it into your home cooking, read on to find out more about this healthy and tasty Asian ingredient.

What is kimchi?
Kimchi is a fermented vegetable mix traditionally made with napa cabbage, along with a whole host of spices, including chilli powder, spring onions, garlic and ginger. But there are hundreds of varieties of kimchi available – some people make it with cucumber, daikon radishes, bok choy, pumpkin or beansprouts – essentially, any vegetable you want to throw in there will work.
Is it good for you?
Fermented foods like kimchi are essentially probiotics, which means they're particularly good for gut health, digestive issues and inflammation, and can help boost naturally beneficial bacteria. "Healthy gut flora plays a role in boosting your defence against infectious bacteria and reducing the bloat," says Henrietta Norton, Harley Street nutritionist and founder of Wild Nutrition. "And meals that include fermented foods like kimchi will feed the growth of good bugs in your digestive system." Beyond this, kimchi is known for being an excellent source of vitamins K, C and B6, as well as being high in fibre, calcium, iron and potassium. It's also worth noting that kimchi is vegan, so can be enjoyed across all diets.
How exactly do you make it?
There are a number of ways to make kimchi. Nutritionist and personal trainer Sophie Thurner makes her own kimchi by mixing together Chinese leaf cabbage, daikon radish, carrot and spring onion. You also need a sauce made up of blended chilli, garlic, soy sauce (or tamari if you want to make it gluten free) and fish sauce or miso paste for a vegan alternative. "I also like to add sesame seeds," she explains. "To prepare the kimchi you first need to add lots of salt to the cabbage so that it becomes soft and the moisture is drawn out. Once this is done, rinse, drain and pat dry the cabbage and add all the ingredients in a mixing bowl, give it a good mix, transfer to a jar and let it stand at room temperature out of direct sunlight to start the fermentation process. How long to ferment is up to you. It typically takes 36 hours, but the longer you ferment the kimchi, the tangier and more intense the flavour will be, and the more tender the cabbage will become."
When it comes to ingredients, the choice is yours. Jamie Oliver's recipe for basic kimchi is spiced up with garlic, ginger, shrimp paste, daikon radishes and spring onions. On the other hand, food and travel blog Whip & Wander discovered a Hawaiian spicy kimchi ahi poke recipe while on holiday in Kauai, which mixes the usual veggies with ahi tuna and sriracha sauce. Meanwhile, Nigel Slater loves the sweet-and-sour approach, preparing a red cabbage kimchi that packs a punch – not enough to produce "actual teary-type heat, but at least enough to make your eyes sparkle" – with gochujang chilli paste.
Once you've made it, how do you serve it?  
Tommy Heaney, chef proprietor of Heaneys in Cardiff loves its versatility. "It goes with almost everything – although dessert could be a test!" he says. "We cook with kimchi in various forms at the restaurant, pairing it with confit Goosnargh duck crumpet, serving it with iberico pork and miso, and then using the juice to form a jus which we then serve with spider crab." For something a little easier for amateur chefs, Sophie likes to add it to lentil stews, in a sandwich with strong cheese or as a side to a steak, while vegan food writer Meera Sodha enjoys her kimchi in a vegan pancake: "When I discovered kimchi, there were fireworks. A jeon is a forgiving pancake that absorbs tofu and most vegetables, but still becomes crisp, given enough time in the pan." 
How To Cook With Kimchi
Top chefs Adam Handling and Alex Bond told us why kimchi is their must-use ingredient…
Adam Handling, Adam Handling Restaurant Group
Why has kimchi become so popular?
"Fundamentally, because it's so tasty! But it's also very good for you – it harbours good bacteria that's great for your digestive system."
What is its flavour profile?
"Fermented chilli – sweet, salty, spicy, sour, and it packs a delicious umami punch."
Any quick dinner tips using kimchi?
"If you don't like it on its own, blend it into a soup – I do it with my zero-waste lobster shell soup. You can also chop it up or blend it and use it to add extra flavour to stir-fries, barbecued meats, anything like that."
Can you use it in non-Asian dishes?
"All the time! For instance, it works really well with tomato-based pasta sauces. You can make a funky arrabiata (an Italian sauce made using tomatoes, garlic and chilli) by chopping up some kimchi and stirring it through, it's absolutely delicious. Kimchi works really well with anything you want to add an umami flavour too, I make a risotto using lobster meat which is sweet and fragrant, so the kimchi adds another layer of beautiful depth and punchiness to it."
What's your favourite way to use it?
"Using it as a seasoning rather than a dish. So, when you'd usually add salt and pepper to a dish, chop or blend some kimchi and use that instead. You can add a little extra salt to your taste, but you definitely don't need to use as much, and the kimchi adds the kick that you would usually get from pepper with an added umami flavour."
Adam's Ultimate Kimchi Recipe
Make a cauliflower kimchi that uses leftover leaves/trimmings from cauliflowers. Not only does it taste delicious, but it's a great way to prevent unnecessary food waste by utilising scraps you might usually throw away. Once you start making your own, it's very hard to go back to store-bought.
Ingredients
500g

of cauliflower leaves, stalks and trim (trimmings from roughly two cauliflowers)
25g

of gochujang (a Korean fermented chilli paste that's available in many supermarkets)
1

½

tbsp

of fine table salt
Method
Step 1
Chop any larger pieces of the reserved cauliflower – you don't want anything to be larger than around 4cm. Place in a large bowl and then sprinkle the sea salt over the top. Massage the salt into the cauliflower with your hands, then cover with cold water. Put a plate that's slightly smaller than the bowl on top of the cauliflower to keep it submerged in the water, then set aside for 2 hours.
Step 2
Drain the cauliflower, give it a good rinse, then leave to drain for 30 minutes. Meanwhile, peel the garlic and ginger, then place in a food processor with the sugar and blitz to a paste. Mix in the gochujang and table salt until combined, then set aside.

Step 3
Squeeze out any excess water from the cauliflower, then add it to a bowl with the gochujang paste. Wearing disposable, recyclable gloves, use your hands to thoroughly mix everything together. Transfer to a large clean jar and press the cauliflower down, packing it tightly so the juices rise to the top. Ensure there is still a gap at the top of the jar, then seal the lid.

Step 4
Leave the kimchi to ferment at room temperature for 2-5 days, depending on how tangy you like it to taste. Check on it every day, opening the jar to let out some gas and pressing the vegetables down further into the brine (keep the jar on a saucer in case any of the brine bubbles over while you do this). Once happy with the flavour, transfer the jar to the fridge, where it will keep for up to 3 months.

Visit AdamHandling.co.uk
Alex Bond, Alchemilla
Why has kimchi become so popular?
"It's a couple of things really – the resurgence of fermented foods and how they are good for your gut, plus the fact that kimchi is one of the fermented foods that is more accessible than most. You can find it in almost all supermarkets and restaurants." 
What is its flavour profile?
"It definitely has the umami savoury profile with acidic, spicy, salty and sour notes." 
Got any quick dinner tips using kimchi?
"It can be eaten raw in a salad with fresh mint, coriander and toasted peanuts. It's also great with a boiled or fried egg, too." 
Can you use it in non-Asian dishes?
"Yes, you can. It can give any dish a good spicy hit and it's great in a coleslaw too." 
What's your favourite way to use it?
"I love it with roast duck. I use lettuce wraps instead of pancakes and fill it with the roasted duck, spring onions and kimchi – it's delicious and balances out the sweetness of the duck." 
Alex's Ultimate Kimchi Recipe
Ingredients
For the kimchi mix:

1

piece of ginger grated (about

2

.4cm thick)
2

tbsp

of gochujang sauce
Method
Step 1
Take the cabbage and brine it for 24 hours in a 50/50 salt and sugar solution.

Step 2
Meanwhile make your kimchi mix by mixing all the ingredients together.

Step 3
Pack it all in the jar and leave it to ferment at room temperature – the longer you leave it to ferment in a cool dry place, the stronger the flavour profile. I would recommend about 5-7 days, although it is dependent on the weather so less in the summer.

Step 4
You can then put it in the fridge. Whilst it will still ferment over time, but the cold temperature will slow it down dramatically.

Visit AlchemillaRestaurant.uk
Don't feel like making your own? Here are the best ready-made varieties to choose from…
Feeling inspired? Try seven of our favourite recipes, from kimchi fried rice with crab to kimchi and mushroom noodle broth…
DISCLAIMER: We endeavour to always credit the correct original source of every image we use. If you think a credit may be incorrect, please contact us at info@sheerluxe.com.