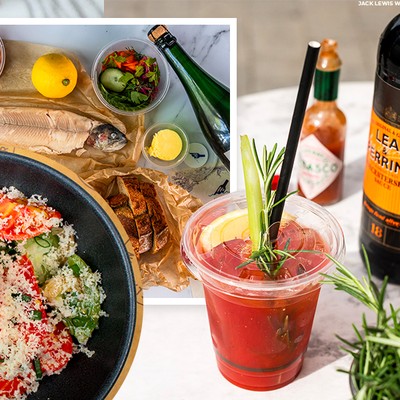 New Restaurant Concepts To Know

With restaurant dining as we know it still on hold, many of the capital's finest eateries have transformed themselves into general stores or launched a delivery service. Whether it's a new chicken joint from the team behind Patty & Bun, or takeaway pizzas by Michelin-starred Lyle's, here are the new initiatives to know about.

Cocorico
Popular farm-to-table rotisserie restaurant Cocotte has launched a new brand focused on breakfast and gourmet sandwiches – Cocorico. From the breakfast menu, there are both indulgent and light options including croissant waffles served with a choice of toppings; ratatouille and eggs served with parmesan-infused cream and sourdough toast; acai bowls; and a matcha chia pot. To accompany the food offering, Cocorico offers a selection of freshly squeezed juices and organic coffees and teas. Customers ordering from the lunch menu can expect an array of sandwich options such as a classic chicken and egg bun and a truffle croque monsieur. Sides include a selection of salads as well as french fries, sweet potato fries and truffled mac and cheese. Cocorico is available via Deliveroo and click and collect across Zones 1 and 2, daily from 8am to 3pm.
Visit MyCocotte.uk
ASAP Pizza
James Lowe and John Ogier, the pair behind Michelin-starred Lyle's and Borough Market wine bar and bakery Flor, have launched a new takeaway-exclusive brand: ASAP Pizza. Inspired by NYC pizzerias, their menu features both red and white based pizzas, allowing them to touch on both classic and modern flavour combinations, including a take on a 'Hawaiian' (pickled scotch bonnet, red onion, grilled pineapplea and cured pig's cheek), a 'Prosciutto' featuring a homemade prosciutto cotto from Gothelney Farm down in Cornwall, and the 'On and On' (green onions, new season garlic, wild garlic and wild marjoram). Diners can also order a range of small plates including burrata with asparagus and preserved lemon, plus desserts like tiramisu and ice-cream sandwiches from east London's Happy Endings.
Visit ASAP.Pizza
45 Jermyn St
45 Jermyn St is offering a delivery service for the very first time. This new service, via Supper, features a menu comprised of the restaurant's most popular dishes, from starters such as raw Cornish mackerel and caviar tacos to mains like beef wellington and spiced monkfish curry. Desserts include as salted caramel tart with honeycomb and crème fraiche or buttermilk panna cotta with strawberry and elderflower pistachio shortbread. In addition, diners will be able to choose from a well-curated wine list and order pre-made signature cocktails to accompany their feast.
Visit Supper.London
Koji At Home
Fulham sushi spot Koji has become a lockdown treat for many across south-west London. Serving its high-grade sushi and Japanese dishes from Thursday-Saturday from 5pm, customers can expect to order the likes of Japanese-style fried chicken, crispy rice with spicy tuna, yuzu squid and kitchen signatures creamy rock n' roll shrimp and black miso cod. A selection of wine and fizz by the bottle – and the case – is also available, as is sake and Japanese beer, for those after a more authentic experience.
Visit Koji.Restaurant
The Shed At Home
The Gladwin brothers have launched a new delivery and collection menu from their acclaimed Notting Hill restaurant. The Shed At Home serves meals with ingredients that have been largely sourced from the Gladwins' family farm and vineyard in West Sussex. Small plates include langoustine tails with lardon and rocket pesto; chorizo with labneh, kale and crisp bread; and burrata with garden peas and wild garlic oil, while main courses include Devon brown crab thermidor. Cocktails and wine from Nutbourne Vineyards – including Nutbourne Rosé, a delicate pale wine – are also available to buy.
Visit TheShed-Restaurant.com
London Shell Co
The team behind London Shell Co. have transformed their restaurant into a floating shop. Moored permanently on the Grand Union Canal, the store is open Tuesday to Saturday with fresh fish, pre-prepared meals, takeaway picnic boxes, gourmet sandwiches, flowers, draft beer and a selection of wines by the bottle or glass all available to purchase. Fresh fish is brought in daily from day boats in Cornwall. Changing on a regular basis, there is a wide selection of fish to choose from, from cod, mackerel and red mullet, to fresh lobsters cooked to order. Additionally, the team is serving oysters-to-go, ready to consume on the towpath with takeaway glasses of wine.
Visit LondonShellCo.com
Hām
West Hampstead's Hām has reopened its doors in time for summer.  Offering a dinner menu Thursday-Sunday and a brunch menu from Friday-Sunday, the collection-only menu reflects the very best from independent farmers, fishermen and cheesemakers. Hām at Home's menu will change every two weeks, but expect to sample dishes including burrata with courgette, pea and mint pesto; buttermilk fried chicken with satay sauce and lime coleslaw; braised beef featherblade with BBQ tropea onion, tomato and bean salad, and marjoram salsa verde; and roasted monkfish tail with seaweed potatoes, chard and miso aioli. Brunch options include a bacon and kimchi bap; and spelt pancakes with strawberries, crème fraiche and maple syrup.
Visit HamWestHampsted.com
 
The Pilgrm
The Pilgrm hotel has reopened as a grocery store. Each weekday morning, The Pilgrm Provisions shop will open at 8am, serving freshly roasted Workshop coffee to takeaway, plus bags of coffee to make at home with a just-baked croissant and other pastries. Weekends will see a slightly later start of 9am, with the weekend papers on sale and the kitchen serving The Pilgrm's signature brunch specials such as bacon butties, avocado butties and American-style pancakes. On the shelves, Bread Ahead are providing plenty of sourdough bread, pastries and baguettes; a small wine cellar stocks organic wines from Le Caves de Pyrennes and assorted ales; oils, honey and olives come from Maltby & Greek; pastas and sauces come from Cotswold Fayre, and there's ice-cream to take away from Union.
Visit Shop.ThePilgrm.com
Hicce Market
Pip Lacey and her team have created a market space in the Wolf & Badger store, underneath Hicce restaurant. Open seven days a week, the market will sell products both produced by Pip and the team, as well as those from her favoured suppliers. For picnicking nearby, there is also a picnic menu inspired by the restaurant's antipasti menu, with 'gamblers' on offer with a range of toppings – a tomato sourdough base topped with delicious ingredients like boquerones, comte, sobrassada and pork rillette.
Visit Hicce.co.uk
The Laundry
The Laundry, the Brixton all-day bistro and wine shop by award-winning hospitality entrepreneur Melanie Brown, has launched its own shop. The General Store is open from 8:30am Monday to Sunday, offering daily fresh produce and pantry staples, as well as a new permanent counter menu of salads, sandwiches and pastries to takeaway. Also on offer is coffee from Caravan, wine from Specialist Cellars – Melanie's own New World wine store – and Aperol spritzes and negronis to go.
Visit TheLaundryBrixton.com
Le Deli Robouchon 
Le Deli Robuchon is offering home delivery for the first time. Available through platforms Supper London, UberEats, Sevenrooms, City Pantry and Ritual, the menu includes a variety of breakfast, lunch, supper and snack options and a selection of freshly baked patisserie. Breakfast dishes include a French-style box featuring a pain au chocolat, croissant, mix of breads and yoghurt; salmon and avocado on toast; and a range of fruit pots. From midday, diners can expect a selection of hot and cold sandwiches alongside homemade quiches, a Mediterranean fish pie and a four-cheese pizza. An online shop is also opening soon, where guests will be able to buy a wine, tea, cheese, store cupboard goods and sweet treats, including Le Roy René nougat, Christine Ferber jams and Maison Fossier mini pink biscuits.
Visit Supper.London
Attawa
Attawa is a new restaurant offering dishes from the Punjab region of Northern India. With a menu designed by Arbinder Duggal, who grew up in Punjab and was a semi-finalist on Masterchef: The Professionals 2019, Attawa offers a modern take on Punjabi home cooking, with a mix of comforting family recipes and modern interpretations. Ravinder and Amar Madhray are the husband and wife team behind Attawa. The pair were ready to launch Attawa as a fully-fledged restaurant in Dalston in March 2020, just before lockdown threw their plans aside. Not wanting to compromise the menu they worked so hard to create, the pair – plus Arbinder – have spent the last few weeks completely redesigning the menu, testing packaging and finding out which dishes are most suited to takeaway to create the first Attawa menu. We love the sound of the pindhi chole, chickpeas slow-cooked in chana masala.
Visit Attawa.co.uk
Sidechick
The team behind Patty & Bun have launched a new concept: Sidechick. Focusing on roast chicken, Sidechick's birds are corn-fed and come from highly esteemed butcher HG Walter. The chicken is served either half or whole, with a choice of marinades: za'atar, garlic, honey, olive oil and lemon; clarified butter, herbs and lemon; or piri piri. Vegetables and salads aren't an afterthought – expect the likes of smokey aubergine with tomato compote, labneh, mint, coriander, breadcrumbs and pecorino, along with salads, crispy potatoes and a selection of sauces including roast chicken mayo. On the drinks side, there'll be a strong yet simple menu, with a standout selection of beers, three dynamite cocktails and a selection of natural wines and homemade soft drinks.
Visit Sidechick.co.uk