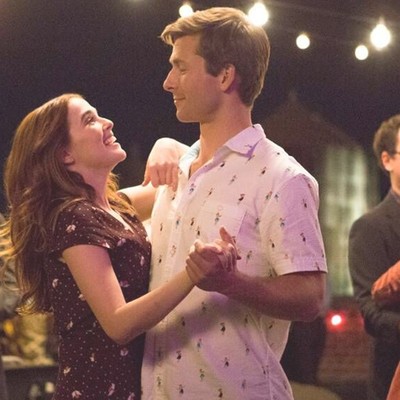 The Rom-Com Is Back In A Big Way

For many film buffs,' rom-com' has long been considered a dirty word. In between the classics such as When Harry Met Sally and You've Got Mail, there's not been much to hold on to in a sea of flawed storylines and even more flawed characters. But with Netflix bringing in a deluge of smart, confident nu-wave rom-coms, is the genre something we can finally admit to loving out loud?

Of all the movie genres, the rom-com has always been considered the most shameful. Everyone has a favourite, but no one ever wants to admit what it is. This is because good rom-coms – the genuinely good ones – are few and far between.
The smart, witty romcoms of Nora Ephron and the sweetness of John Hughes' classics have stood the test of time, but the gross-out humour of the late 90s and early 2000s replaced romance with tawdry sex and filthy laughs. Since then, good rom-coms have been few and far between, with the likes of The Holiday and Bridesmaids desperately holding down the fort.
Then, along came Netflix to sweep us up off our feet and save the day. The platform kicked off its 'Summer of Love' season with its original film The Kissing Booth, released on 11th May, followed by the critically acclaimed Netflix original Set It Up in June. Plenty more rom-coms have been promised, including an adaptation of Jenny Han's To All The Boys I've Loved Before and Sierra Burgess Is A Loser, and people are genuinely excited for the first time in a long time.
Set It Up director Claire Scanlon says that the problem with rom-coms is they all started to feel a bit too formulaic – which is true, and no more glaringly obvious than in the two 2011 rom-com releases, Friends with Benefits and No Strings Attached. The former directed by Will Gluck and the latter by New Girl's Liz Meriwether, both films revolved around two friends who sleep together just to get their rocks off and nothing more, until – gasp! – they fall in love. Don't get us wrong, the formula works – and in some cases, if it ain't broke don't fix it. But these were identical. Sure it's not broke, but it obviously needs some sort of modification. Had we really run out of good romantic plot points?
Set It Up does just that – takes those old movie tropes and modernises them. It even references a number of them explicitly. First, Charlie and Harper 'Cyrano' their bosses – a term taken from the 1897 play Cyrano de Bergerac – by taking all the information they know about the likes and dislikes of their bosses and using it to manipulate them into falling in love so they can have some well-deserved time off (although Charlie calls it 'Parent Trapping', and we'd be inclined to agree).
Then there's the 'And Yet' – the moment where one person lists all the reasons they shouldn't love the other person, but does anyway, made famous by When Harry Met Sally – and the planning of their boss's 'meet-cute'.
In a movie where we came for Lucy Lui and Taye Diggs but stayed for Zoey Deutch and Glen Powell, Set It Up takes all the classic rom-com clichés and morphs them into something that a 2018 audience can get on board with. Deutch's Harper manages to be a believer in true love without being cloying or twee about it. And her banter with Powell's Charlie isn't a constant power struggle, but more about genuine friendship.
Rom-coms are sweet, funny, and re-watchable, and let you forget about everything outside of them for an hour and a half – which is definitely something that has come at the right time.
Free of any offensive tropes, Set It Up hits all the right marks, ticking all the right rom-com boxes along the way (there's even a rush-to-the-airport scene!). The same cannot necessarily be said for The Kissing Booth. Although popular, it has been a little more problematic in its popularity: critics have been quick to point out the controlling behaviour lorded over the main character, Elle (Joey King), by brothers Lee (Joel Courtney) and Noah (Jacob Elordi). Then there's all the desperately reaching ways the movie attempts to get Elle into some state of undress, from falling in the pool in a white shirt to wearing a miniscule skirt on the first day of school. Plus, love interest Noah tells her she was "asking for it" after she was sexually assaulted by a guy whilst wearing a short skirt; Elle even goes out with the guy who assaulted her after he apologises; and Noah has major anger and control issues that are never really dealt with.
Still, both films are generally considered more progressive than the rom-coms before it, and that's part of the reason they're so damn watchable. According to Netflix, more than 80m accounts have streamed a romance film in the last year – nearly two thirds of their global audience. One in three people who tuned in to The Kissing Booth watched it a second time, which is 30% higher than the platform's average re-watch rate.
Of course, Set It Up and The Kissing Booth are no Citizen Kane. Neither is likely to win awards. But really, which rom-coms do reach that kind of critical acclaim? They occupy the same space as films like Get Over It, 27 Dresses and She's All That: they're sweet, funny and re-watchable, and let you forget about everything outside of them for an hour and a half – which is definitely something that has come at the right time.
Lindsey Beer, the writer of the upcoming Netflix film Sierra Burgess Is a Loser (starring Stranger Things' Shannon Purser) said: "We're in such dark times right now. People want movies that feel good." Particularly at such a tense time in America, that escape is a necessity for many. As Set It Up screenwriter Katie Silberman put it: "Joy and kindness and empathy — [people are] looking for it somewhere!"
But that doesn't mean it's all just meaningless fluff. Characters, particularly the female ones, are far more nuanced than they used to be. Set It Up's Harper has her eyes on just one prize throughout the film: to stop being an assistant and make the transition to writer. Love is an afterthought. Even her boss, played by Lucy Lui, manages to be both vulnerable and strong at the same time, ultimately choosing to remain self-sufficient rather than – SPOILER – becoming someone's wife. They're romantics, but they're also respected, fearless and independent.
It's these kinds of films that are stopping rom-com being such a dirty word. Set It Up screenwriter Katie Silberman said when she was pitching the film people found it hard to admit they loved a romantic plotline: "Everyone's reaction was, 'We love rom-coms,' even if the second part of that sentence was, 'but we just can't make them right now.' I felt a lot of love for the genre, even if some of them were saying it under their breath like, "Don't tell anyone I love rom-coms."
Not anymore, with believable plotlines, fully-formed female protagonists and witty repartees that actually make us laugh, there's been no better time to profess your love for the rom-com.
Visit Netflix.com
DISCLAIMER: We endeavour to always credit the correct original source of every image we use. If you think a credit may be incorrect, please contact us at info@sheerluxe.com.